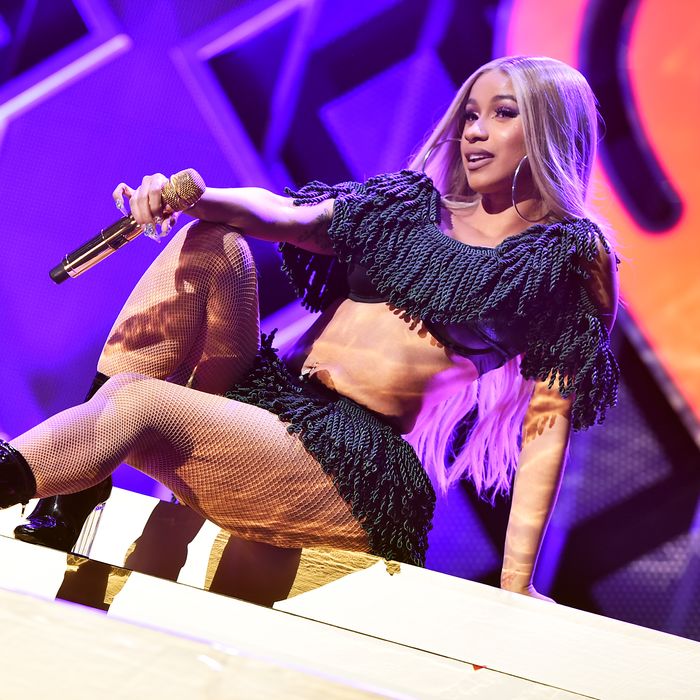 Photo: Theo Wargo/Getty Images for iHeartMedia
At a show in Chicago on Saturday night, Cardi B gave the world another update on her relationship with Offset. Last week, she announced on Instagram that she and Offset were breaking up, saying that the two "just grew out of love." Her most recent show included new lyrics about getting a divorce.
During a performance at Chicago's B96 Jingle Bash, Cardi changed the lyrics to the song Motorsport, which also features Offset. She rapped "I get up set off / I turn Offset on / I told him the other day / Yeah, we gon' get a divorce." The earlier version of the song made no mention of divorce — that last part originally went "Man, we should sell that porn."
Cardi's original announcement was immediately followed by rumors that Offset had cheated on her — rumors that were further supported when a woman named Summer Bunni came forward and apologized to Cardi and insisted that she hasn't "messed with Offset since he's had his baby."
Offset and Cardi B haven't publicly commented on Summer Bunni's statement, but Offset has shared that he's not on the same page as Cardi about their relationship. On Sunday morning, he tweeted, in all caps, that he missed Cardi.