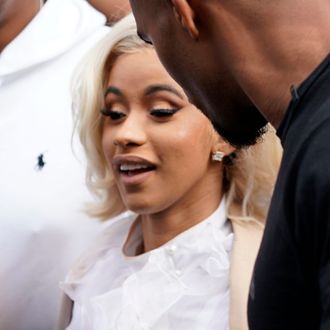 Photo: JNI/Star Max/GC Images
Cardi B didn't make a grand entrance to her scheduled court date in Queens on Monday — in fact, the flashy "Bodak Yellow" star's failure to even make an appearance led a judge to threaten her with jail time.
Cardi B, whose legal name is Belcalis Almanzar, was expected to appear in arraignment court this morning for her alleged involvement in an August altercation at the Angels strip club in Queens.
Almanzar allegedly believed that one of the two bartenders, who are sisters, had romantic involvement with her hubby, rap trio Migos's Offset. Her crew then attacked the sisters with chairs and bottles, cops reportedly said.
Shortly after 9 a.m., however, Almanzar was MIA.
Lawyers on both sides of the case spoke with Judge Sean Dunn at the bench for some 15 minutes. Almanzar's lawyers then left the courtroom and conferred in the hall until returning shortly before 11 a.m.
Almanzar's lawyers and an assistant district attorney then laid out their views of her absence.
"I apologize to the court. As you can see, my client is not here today," said Jeff Kern, one of Almanzar's lawyers. "It is due to poor communication and poor coordination — this is not an instance where the defendant is elevating her interests above the court or the people."
Prosecutor Ryan Nicolosi told Dunn that the DA's office had agreed with Almanazar's lawyers to a prior adjournment and reschedule her initial court date for today, making her absence inexcusable.
"We would ask that the court move for a bench warrant at this point," Nicolosi told Dunn, explaining that her two co-defendants had already appeared as scheduled.
"We want to treat this like any other case," Nicolosi later said. "We don't want to give preferable treatment because she is a big artist."
"We want to do what we normally do in other cases."
"Did your client know of this arraignment date?" Dunn asked Kern.
He replied in the affirmative, and Dunn pressed him for an explanation.
"As you probably know, she's a fairly notable hip-hop artist," he said. "I can tell you, my client knew the date, but there was a previously scheduled commitment today and tomorrow."
Kern said that when the conflict came up, he and the DA's office tried to reschedule again last week, but it didn't work out.
Dunn said he appreciated each side's perspective, but issued a stern warning to Almanzar.
"I want you to convey to her that it is not acceptable that she is not here today," Dunn said. "I'm going to give her a one-time chance to show she understands the importance of showing up."
"You should inform her that if she doesn't show up, that unless circumstances will change, it's very likely the court will issue a bench warrant for her arrest," Dunn said, rescheduling her appearance for Friday.
"I expect to see her at nine o'clock," Dunn said
Outside of court, Kern called the criminal case a distraction, but insisted they would appear as planned.
"We expect everyone to be there," he said, attributing the confusion to the many handlers involved in scheduling her.
"She has managers," he said.  "She has business people."
Almanzar's previous brush with a public brawl involved a spat with rapper Nicki Minaj at New York Fashion Week, after the "Anaconda" songstress allegedly criticized Almanzar's parenting, per reports. Further taunting her nemesis, Minaj recently cast the two bartenders at the center of Almanzar's court case in her "Good Form," music video despite the two rappers' having publicly declared a truce.