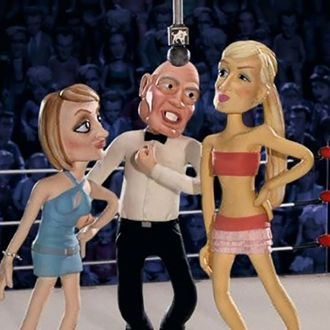 Celebrity Deathmatch.
Photo: MTV
Celebrity Deathmatch may live to see another day. MTV Studios announced today that it's teamed up with Ice Cube and original Celebrity Deathmatch creator Eric Fogel on a revival of the stop-motion series, which originally ran on MTV from 1998 to 2002. Ice Cube will executive produce alongside Fogel and provide the voice of the lead role for the proposed revival, which MTV Studios plans to "reimagine … for a new generation." The series doesn't yet have a home, but MTV Studios hopes to launch it as a weekly series.
This isn't the first time MTV attempted to bring back Celebrity Deathmatch. After the original series ended, it briefly returned to MTV2 for two seasons from 2006 to 2007, and then in 2015, MTV2 announced a plan to bring the show back "reimagined for a social media world and hourly Twitter wars." Fogel revealed in late 2016, however, that MTV decided to pass on the reboot. Maybe he'll have a little more luck now that Ice Cube's onboard.