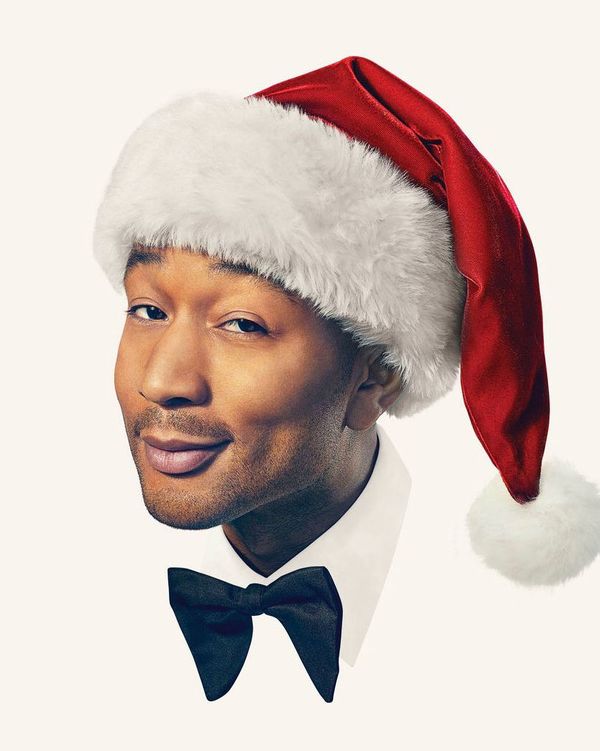 Ever, like, really think about Christmas lore? An immortal old man runs oppo research on you from his hidden empire in the polar ice caps, where mythical "helpers" craft toys at his behest that you only get if he doesn't turn up any dirt on you? It's all so bleak. Why are there so many Christmas demons? Grýla? Krampus? Zwarte Piet? How is it that a holiday about joy and giving and salvation has come to collect such a gruesome array of creepy stories? These are all thoughts I had while listening to some singer's drab rendition of "Santa Claus Is Coming to Town" as I milled around a Duane Reade last week waiting on a prescription at the pharmacy. Another thought I had is that everyone should let me micromanage their Christmas playlists. Christmas music doesn't have to suck!
John Legend, A Legendary Christmas
This fall, John Legend became the first black singer-actor to achieve EGOT status after collecting the Emmy for Outstanding Variety Special (Live) for his involvement in NBC's Jesus Christ Superstar Live in Concert special, where he played the titular role. A Legendary Christmas delivers the nightcap to an astounding professional year with a reminder of how Legend won us over in the first place. The album flexes his powerhouse vocals on a blend of soulful holiday classics and strong originals like "Wrap Me Up in Your Love." Production was handled by R&B lifer Raphael Saadiq, with guest appearances from Stevie Wonder and jazz bass wiz Esperanza Spalding. The singing is so stunning, the arrangements are so lively, and the song selection is so clever that you might forget you're listening to festive seasonal music.
Sufjan Stevens, "Lonely Man of Winter"
With all due respect to Richard of Aldovia, Sufjan Stevens is our one, true Christmas prince. The man released ten Christmas-themed EPs in six years. That's enough for a lifetime. (That's five times as far as his 50 States project ever got.) "Lonely Man of Winter" was written in 2007 for the "Great Sufjan Song Xmas Xchange," a peculiar contest where fans submitted an original holiday composition to Stevens's Asthmatic Kitty Records, and a winner was gifted rights to an unreleased Sufjan Christmas song in exchange. Writer and director Alec Duffy didn't leak the song he got when he won; instead he held private listening events for fans. This year, Sufjan's lovely, plaintive "Lonely Man of Winter" finally sees release, backed with Duffy's stately "Every Day Is Christmas" and a twee, folktronic 2018 "Lonely Man" remix.
Zaytoven and Deitrick Haddon, Greatest Gift
Zaytoven is the architect of Atlanta rap and R&B gems like Gucci Mane's "Bricks" and Usher's "Papers" and the music director of his local church on the weekends. His interest in gospel bleeds into his trap productions, and with this winter's Greatest Gift, in collaboration with pastor, performer, and reality-TV personality Deitrick Haddon, Zay feeds trap values back to gospel. The beats bang, and the writing is ace, though the sexual forwardness of lead single "Christmas Prayer" threw the church community for a loop. (Read more Song of Solomon, eh?) This EP is better than such a thing has any right to be; what better team to help restore the public profile of gospel-trap after "I Luh God" than a preacher whose choir workouts could play in a club and a beatmaker whose keys evoke an altar call? Saints need slaps too.
Old 97's, Love the Holidays
Texas alt-country vets Old 97's have been churning out freewheeling cowpunk jams and moody weepers for 25 years now. Love the Holidays, the band's 12th studio album and first holiday album, is a product of decades of finesse, of singer-songwriter Rhett Miller's evocative lyricism and his band's intuitive accompaniment. The holidays are mostly just a setpiece in this batch of Miller originals, inspiration for desperate people to come together, if only to feel a little less alone. "I Believe in Santa Claus," a yarn about a lonely man whose faith in Christmas is restored by the warmth of love, is the stuff people write mushy, beautiful cold-weather romance stories about. "Snow Angels" is the heart of the matter: "The snow fell like a peace treaty / On the fields of wheat, on the streets of the city / We all came together, and we all felt the joy / From the oldest grandmother to the littlest boy."
Jessie J, This Christmas Day
British vocalist Jessie J got a peculiar inkling on tour for her R.O.S.E. album this year and set about tracking down the titans of R&B for work on a holiday album. This Christmas Day features input from Babyface, Rodney "Darkchild" Jerkins, Kuk Harrell, Jimmy Jam, and Terry Lewis. It might surprise you that the album these collaborations landed on is mostly a drippy collection of melismatic readings of Christmas standards like "White Christmas" and "Silent Night." Thank Josh Groban and Céline Dion collaborator David Foster for the stuffy, traditional arrangements. Bless Jam and Lewis for the lone moment of contemporary R&B flavor that surfaces on Jessie's "Jingle Bells." This Christmas Day is solid, but it missed a chance to be cool.
Eric Clapton, Happy Xmas
Eric Clapton does whatever the hell he wants now, and it's sorta inspirational. You might get a tribute album dedicated to a blues player he loved. You might get offbeat blues duets, jazz standards, or reggae. This year's Happy Xmas is the British guitar god's first holiday album. It pairs popular standards with covers of holiday tunes written by Anthony Hamilton, Booker T and the MGs, and others. If you're looking for something fresh, traditional, and less melodramatic than the Jessie J set, this is your best bet, but note that the "Jingle Bells" rendition here is a trop-house/blues hybrid dedicated to the late Avicii?
WAVVES, Emo Christmas
Noise punk quartet WAVVES's two-song Emo Christmas EP serves exactly what it promises. The title track is a somber, impossibly catchy rocker about staring longingly through snowflakes looking for love. "So Glad It's Christmas" is a two-minute holiday love song every bit as giddy as track one was forlorn. You gotta hear both sides!