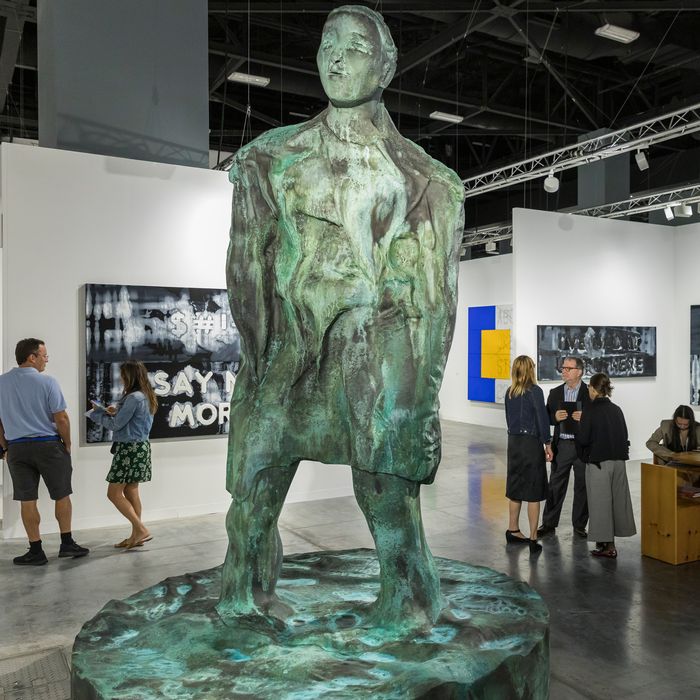 ABMB18, Galleries, Peter Freeman, Inc., PR.
Photo: Scott Rudd/Art Basel
The 2018 edition of Art Basel Miami Beach opened at 11 a.m. on Wednesday, December 5, with a preview for VIPs in the renovated convention center, which had been redone in part to better withstand the next terrible, climate-change-fueled hurricane. It was busy, according to several gallerists, at least "in spurts," one said. Though it did seem to lack some of the heady heedless frenzy of past years.
It's still TBD if sales or attendance remains solid, but while collectors shopped — a black-and-white Kara Walker work on paper from 2010 sold for $95,000 at the Sprüth Mager booth; a huge photo-realist charcoal drawing of an NFL player taking a knee by Robert Longo from 2018 sold for $700,000 at Metro Pictures; a big, glittery Chris Ofili from 1998, the canvas propped up by two hunks of elephant dung, at David Zwirner (I was told by two sources the price was $3 million, although the gallery declined to provide a price to the press) was, I was told, on reserve, at 5 p.m. on Wednesday — it was announced that carbon emissions worldwide this year reached a record high. Elsewhere on South Beach, predicted to be underwater by 2045, Pantone revealed its color of the year to be "living coral" when in fact, due to litter and pollution, coral reefs everywhere are dying.
But back at the convention center, where no one seemed to be grieving the coral, our planet, the first president Bush, or Cardi B and Offset's relationship. Hauser & Wirth reported six sales above a million dollars, including a Snow White and dwarfs silicon sculpture by Paul McCarthy sold to a private collection in Asia for $1.2 million and an oil painting from 1978 titled Shoe Head by the late Philip Guston that went for $7.5 million, besting the auction record for his figurative work.
Some of the best things I heard: "I'd rather have that than a condo," said an older woman in a rose-quartz pink suit about a gigantic, 120-foot-wide Rauschenberg assemblage from 1978 listed at $1.9 million. "Some rich people are very intelligent," said a dealer at the Essex Street booth on the salability of woke art, specifically Queens-based artist Cameron Rowland's Entitlements, a series of museum banners thematizing redlining, institutional art, and gentrification, which, by about 4 p.m., had already sold.