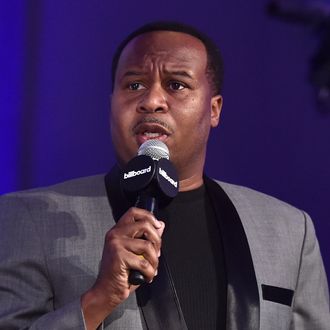 Roy Wood Jr.
Photo: Alberto E. Rodriguez/Getty Images
Netflix might be releasing 47 stand-up specials in one day next year, but Comedy Central has a whole lot of stand-up specials in the works, too. The network just announced that it will air four new hour-long specials every Friday at 11 p.m. in January, which it's also calling "Stand-up Month." First up is Ron Funches: Giggle Fit on January 4, followed by James Davis: Live From the Town on January 11, then Chris Distefano: Size 38 Waist on January 18, then Roy Wood Jr.: No One Loves You on January 25.
In addition to the hour-long specials, the network will premiere its new series Comedy Central Stand-up Featuring on YouTube, Facebook Watch, Twitter, and Instagram on January 8. The series will feature short sets filmed at Littlefield in Brooklyn from up-and-coming comedians, including Tom Thakkar, Petey DeAbreu, Dina Hashem, Natasha Vaynblat, Ian Lara, Clare O'Kane, Stavros Halkias, Hanna Dickinson, Joyelle Nicole Johnson, Yedoye Travis, Marie Faustin, Ryan Beck, Martin Urbano, and Chris Cotton.
The network also announced the next batch of comedians who will star in their own half-hour specials for the third season of Comedy Central Stand-up Presents, which will tape at the Civic Theatre in New Orleans in January and February. Here's the complete lineup, which includes Sara Schaefer, Joe Kwaczala, and Daily Show correspondents Dulcé Sloan and Jaboukie Young-White:
David Gborie is a Los Angeles-based stand-up comic, actor and writer originally from Denver, CO. Gborie's recent credits include Comedy Central's New Negroes, truTV's Those Who Can't, and MTV's Acting Out. He was selected as a New Face at the 2016 Just For Laughs Festival and one of Comedy Central's Comics to Watch at the 2015 New York Comedy Festival. Gborie has also appeared at The Bridgetown Comedy Festival, SF Indie Fest, Denver's Too Much Funstival and the SF Punchline, among others. He has previously written for F-Comedy (Fusion's digital platform) and currently co-hosts the podcast All Fantasy Everything alongside Ian Karmel which is available on iTunes.




Vanessa Gonzalez is originally from Texas and was voted "Best Stand-up Comic" in the Austin Chronicle before her recent move to Los Angeles. She was a breakout as one of the New Faces of the 2017 Just For Laughs festival in Montreal and subsequently created and starred in a web series called Ms. Vanessa for Mas Mejor, a digital platform which is part of Lorne Michael's company Broadway Video. She was recently featured on TruTV's Laff Mobb's Laff Tracks and has a short special airing on HBO Latino next year. She has performed at a variety of comedy festivals including SXSW, High Plains, Moontower, and Big Sky Comedy Festival and has toured the country with her critically acclaimed one-woman sketch shows.




Charles Gould can be seen in the first season Search Party for TBS as well as the indie feature The Big Sick. After appearing as a New Face at the prestigious Montreal Just for Laughs Comedy Festival in 2017, he made his network stand-up debut on Jimmy Kimmel Live! Gould was also named as one of Comedy Central's Comics to Watch in 2015. Gould is the creator of the critically acclaimed digital series Charles, By The Way as well as Tips For A Happier, Healthier You for Comedy Central Digital. He's currently a Creative Consultant for Will Smith's Westbrook.




Joe Kwaczala is a comedian, writer, and actor based in Los Angeles. He has written for The Onion News Network, ClickHole, and MAD Magazine, and in 2017, he was chosen to be one of Comedy Central's "Up Next" Comics to Watch. Recently, Joe released 31 original comedy videos in one day, a feat that received praise from publications like Vulture and The AV Club.




Will Miles is a LA-based comedian originally from Chicago. He is currently writing for the upcoming IFC variety series Sherman's Showcase. He was most recently an executive story editor on Comedy Central's upcoming series South Side and will be playing a recurring role on the show. Previously, Miles was a writer on truTV's The Chris Gethard Show. He can be seen in Hulu's Difficult People, Go90's Thanksgiving, HBO's Crashing and Viceland and the upcoming Comedy Central stand-up series, The New Negroes. He was recently named one of Brooklyn Magazine's 50 Funniest Comedians and Comedy Central's 10 Comics To Watch. Miles also cohosts the podcast, Hopefully We Don't Break Up. His debut comedy album Good Year is currently out.




Sara Schaefer is a critically acclaimed stand-up comedian, writer, and producer currently based in Los Angeles. She was the co-host of MTV's late night show Nikki & Sara Live. Schaefer has appeared on @Midnight, John Oliver's New York Stand Up Show, Late Night with Jimmy Fallon, and Inside Amy Schumer. She won two Emmy awards for her work at Late Night with Jimmy Fallon, and has written for Ed Helms' Comedy Central special The Fake News with Ted Nelms, Problematic with Moshe Kasher, Not Safe with Nikki Glaser and Who Wants to Be A Millionaire. Her digital series Woman Online launched on Seriously.TV in February 2017. Recently, Schaefer stand-up show Little White Box debuted to a sold-out run at the 2017 Edinburgh Fringe Festival.




Dulcé Sloan is currently a Correspondent on Comedy Central's late-night franchise, The Daily Show with Trevor. In 2017, Sloan was named one of Rolling Stone's 10 Comedians You Need to Know and one of TimeOut LA's Comedians to Watch. She was also the 2016 NBC Stand-Up Showcase Winner, a Montreal Just For Laughs New Face and a Comedian to Watch on The Steve Harvey Show. In addition to being cast in Fox's Type A and NBC's Dumb Prince, she has been on MTV's Acting Out, Comedy Central's @midnight, TBS' Conan, and truTV's Comedy Knockout. She's also made multiple appearances as a correspondent on E! News Daily.




Tom Thakkar is a New York-based stand-up comic, actor and co-host of Nikki Glaser's daytime Comedy Central Radio show You Up with Nikki Glaser on Sirius Radio. In the past year, Thakkar made his late night debut on CONAN, reached the finals of the 2017 NBC Stand-Up for Diversity Competition, performed as 1 of 8 comics at the 2018 Fox Night of Comedy showcase in Los Angeles, headlined JFL 42 in Toronto, co-headlined a show at the 2018 New York Comedy Festival and recently started performing at the venerable Comedy Cellar in NYC. Thakkar has a hilarious comedy podcast called Stand By Your Band with fellow comic Tommy McNamara and they have also been doing a live version at Carolines on Broadway, and most recently, as part of the 2018 New York Comedy Festival. In 2015, he was named a "New Face" by the Just for Laughs comedy festival in Montreal. Thakkar has been featured on Doug Loves Movies, VICE, NPR and The Todd Glass Show.




Allen Strickland Williams is a stand-up comedian and writer in Los Angeles. He has performed stand up on Conan twice and can be seen in Cooking On High on Netflix and Corporate on Comedy Central. Other TV credits include Comedy Dynamics: Coming to the Stage on Hulu and Flophouse on Viceland. He was a writer on the Trump vs. Bernie special on Fusion and was recently listed as one of the 10 Best Rising Stars in LA Comedy by The Culture Trip. Williams appeared at the 2016 New York Comedy Festival as one of Comedy Central's Comics to Watch, a showcase for the hottest up-and-coming comedians in the nation.




Jaboukie Young-White is currently a Correspondent on Comedy Central's late-night franchise, The Daily Show with Trevor. Young-White (@jaboukie) is a comedian and filmmaker from Chicago. He appeared in the Sony feature film Rough Night directed by Lucia Aniello and the Netflix feature film Set It Up directed by Claire Scanlon. Most recently, Young-White was named one of Variety's 2018 10 Comics to Watch, performed at the Comics to Watch showcase at the 2018 Just For Laughs festival in Montreal, as well as performed at Comedy Central's Up Next showcase at Clusterfest. He has performed stand-up on The Tonight Show Starring Jimmy Fallon on two occasions and can be seen on the upcoming season of HBO's series Crashing. Previously, Young-White was a staff writer on Netflix's American Vandal and just finished as a story editor on season three of Netflix's hit animated series Big Mouth.



Two more half-hour Amy Schumer Presents specials are also in the works at the network, which will feature the following:
Nore Davis is a New York-based comedian who delivers an energetic performance filled with witty quips and sharp punch lines, combined with an amazing stage presence. He has appeared on Comedy Central's Inside Amy Schumer, HBO's Last Week Tonight, MTV's Nikki & Sara Live, Sasheer Zamata's Play Time, The Artie Lange Show, HBO's Boardwalk Empire and will appear in the upcoming feature Go/Don't Go in 2019. His stand-up can be seen on Conan, and he has appeared in many videos on College Humor and was featured on WNYC's 2 Dope Queens podcast. Davis also wrote on Seriously.tv. His self-produced Amazon special You Guys are Dope is out now as well as his new album, Too Woke on Blonde Medicine.




Mia Jackson is a comedian originally from Georgia. In 2017, Jackson was selected as a New Face by the Just for Laughs Comedy Festival in Montreal and Atlanta's Creative Loafing named her the city's Best Stand-Up. She currently tours nationally with Amy Schumer and is a featured comic at festivals and clubs across the country. Her first stand up special aired in October 2018 as part of Unprotected Sets on EPIX. Jackson has appeared on NickMom's Night Out, Viceland and was a semi-finalist on Season 9 of NBC's Last Comic Standing. She has appeared on Inside Amy Schumer and the movie Mother's Day.
Here's a promo for the four new hour-long specials out next month: