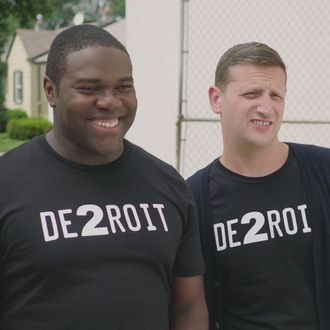 Sam Richardson and Tim Robinson on
Detroiters
.
Photo: Comedy Central
Sam Richardson and Tim Robinson's wonderfully silly and criminally underrated Comedy Central series Detroiters has seen its last day … at least, its last day on Comedy Central. Richardson revealed on Twitter today that the network has decided to not renew the show for another season, which comes six months after season two made its debut. "I want to thank everyone who watched and supported the show. It was a dream to make and I'm proud that those who did see it enjoyed it," Richardson said. "Maybe it will find a home elsewhere, who knows? But truly, thank you."
The show debuted back in February 2017, wrapped up its second season in August, and despite positive reviews has remained one of Comedy Central's most under-the-radar series in recent years. "I've talked to people who needed to give it a little bit more of a shot after the initial introduction because it has such a wonderfully weird tone," comedian Emily Heller said of the show last month. "I think that the best comedy is where I simultaneously think, This is perfect, everyone should watch this, and also, This is only for me. Like this was made specifically for me and me alone."
RIP, Detroiters, you were too good for this world. Unless another network saves you, in which case you were too good for Comedy Central.