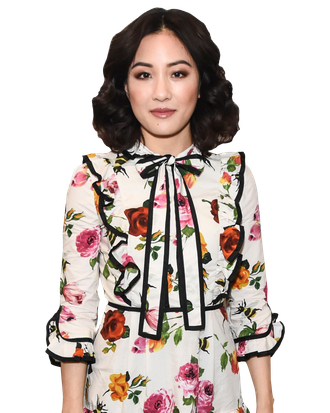 Constance Wu.
Photo: Daniel Zuchnik/Getty Images
Bok, bok, we're here! Crazy Rich Asians is capping off a very good year with two Golden Globe nominations this morning for the film itself and its lead Constance Wu, who received her first nomination in the Best Actress in a Motion Picture Comedy or Musical category for her role as Rachel Chu. Wu is in rare company, and joins just a handful of women of Asian descent to ever have been nominated in the lead movie category (drama or comedy/musical), mostly relegated to the distant Hollywood past (the list begins with Machiko Kyō for The Teahouse of the August Moon from 1956, which also stars Marlon Brando in yellowface). On the phone with Vulture this morning, Wu was poised and thoughtful about the larger significance of the nomination. And, yes, she's just as thrilled as you are that Sandra Oh is hosting.
Hi, hi, hi, hi!
How are you?
I'm having a chill morning. But how are you?
You know, it's been a pretty good morning I'd have to say.
Congratulations!
Thank you.
How are you feeling?
I'm feeling in shock. I'm feeling really, really grateful. I'm very excited. I'm really happy, and that describes it pretty well.
How did you get the news?
Well, I had my phone on Do Not Disturb mode because I'm always on Do Not Disturb mode. I didn't know that the announcements were so early! So I woke up and I saw that my phone had like a million missed calls and text messages and I was like, Wow! Well, that's really cool. That's how I found out. Then I talked to my publicist and the second person I talked to was Jon [M. Chu, the director of Crazy Rich Asians].
What did you talk about with Jon?
I mean, there is no bigger cheerleader for me and for the movie than Jon. So to have the movie be recognized [is] a recognition of his work not only as a director but as a unifier of the cast, of Asian-American culture. I really feel like he is our fearless leader, and I'm very lucky to have worked with him and hope to continue to.
Are you going to do anything to celebrate?
Actually, tonight I'm celebrating Henry Golding because I'm going to the GQ Men of the Year Party to celebrate him. He's the first Asian man to be a "Man of the Year" on GQ so that's going to be a great day! We'll probably have some Champagne.
Speaking of, it's rare to have an Asian-American woman nominated as the lead. How do you feel about the significance of that?
I feel glad this happened, and I feel hopeful that this will start the conversation on why it's important to have Asian experiences centered in and leading stories. Sure, we've had a few nominations for supporting actors, which is, like, phenomenal. But they're always supporting another culture's story for the most part. [This] says that no, not only are you just a supporting person of somebody else's culture, but your culture is something that we are interested in exploring and stories we're interested in hearing. We talked about how some Asian actors think that progress will be when you take a role where race is irrelevant. And I think what's important about this is, we're saying not only is Asianness something we don't want to neutralize, we want to celebrate it. It's something we are proud of. It is something that has formed us as people. And to grow up as an Asian in a culture where you're not the dominant culture, that affects character; there's no way that doesn't affect character.
But how meaningful is it for [a] young Asian-American, Asian-Canadian, Asian-British girl or boy to see that not only did Hollywood create and invest in this story, now the population is going to see this story reflected in the box office, and now it's getting critical acclaim and awards acclaim. That sends a message that their stories are different and valuable and that their culture isn't just skin-deep. It's not just how they look. People are going to say like, "Oh, well, what about like Zhang Ziyi," who is great! But her character and her stories can be very different because she grew up in a place where she was the dominant culture. So that's what's exciting for me, and I really, really hope that people start to see that, so we're not seen as perpetual foreigners. We are an integral part of this country's fabric and parts people want to see. That's why they went to the movie theater to see it.
We're both very big fans of Sandra Oh. Have you met her before? How do you feel about her hosting?
I met her very briefly a while ago at a party. I don't think she really knew who I was. This was a while ago. But I was so ecstatic. When she got those scripts for Killing Eve — which I am almost done with and it's so good — she said she was reading it and she assumed she was going to be the supporting role. She didn't even think that it was possible that somebody was offering her a script for the leading role because nobody had done it. And for an actress of her caliber and talent to have assumed that any script she would get wouldn't be one that would have her as the lead, I think this recognition is long overdue for her. And for her to not only be centered in the story Killing Eve, but also kind of the Golden Globes is … so cool! She's so talented, a true pioneer.
What's your favorite role of hers?
I saw her in this little Canadian indie movie called Guinevere a long time ago that Sarah Polley was the lead in. And the reason that's my favorite is because it was the first time I saw her, and it was the first time I saw an Asian woman who in her craft and her acting was fucking killing it. To see somebody with that caliber of talent unrestrained was the coolest thing.