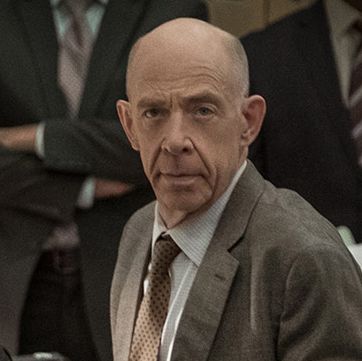 Photo: Nicole Wilder-Shattuck/© 2018 Starz Entertainment, LLC
The first episode of Counterpart's second season might just as well be considered the 11th episode of the first season. Aside from the pre-credit introduction of a new character—Naya Temple, a former FBI agent assigned to help Quayle root out any impostors within the Office of Interchange (OI) and beyond—there's very little hand-holding for new viewers who want to jump in at season two. The action picks up more or less where it left off, with Howard Alpha and Howard Prime having swapped worlds and the crossing between those world shut down due to a terrorist attack on OI by Prime extremists called Indigo. Not only are the pieces exactly where they were on the board, but the show is disinterested in even showing the board at all. It assumes those watching have just finished the previous season last week and are ready to move forward.
There are competing philosophies over whether this type of serialization is a good idea: Some feel like viewers should be able to drop into any show at any time and get the gist of it. Others feel like the continuity and world-building are harmed by having to bring newcomers up to speed. But leaving that argument aside for a moment, the biggest problem with "Inside Out," the draggy opening hour of the season season, is that it doesn't remind us why we should care. Though it isn't easy  for those familiar with the show to play catch-up—and if you're new to it, you basically have to start from the beginning—the various subplots do sort themselves out just fine. Counterpart is a deftly orchestrated spy thriller and that hasn't changed a bit so far. But the question of why we're watching it does need to be answered, and that's where "Inside Out" falls short.
To my mind, the two best episodes of the first season are the fourth ("Both Sides Now") and the seventh ("The Sincerest Form of Flattery"). "Both Sides Now" is the one where the two Howards swap worlds and have to improvise as each other. In the Prime world, Howard Alpha learns that Howard Prime has an estranged daughter, who immediately whisks him to the hospital after Emily Prime suffers an apparent overdose; in the Alpha world, Howard Prime reacts to the astonishing bureaucratic drudgery of Howard Alpha's job by walking out as soon as he gets his assignment. It's a wonderful showcase for J.K. Simmons to play two fish-out-of-water scenarios at once. "The Sincerest Form of Flattery" is a virtual standalone flashback episode about Clare, following her radicalization and training in a secret school after she's orphaned by the flu epidemic that decimated the Prime world. Suddenly, a character who was mostly present as Baldwin's handler in the early episodes became a serious driving force on the show. Now that Alexander Pope is dead, she's the face of the Prime resistance.
I use those examples to illustrate what's missing from "Inside Out": personality and stakes. The main weakness of Counterpart is that it can get so caught up in the intrigue and double-crosses of its slate-gray Berlin that it forgets the human motives that are giving it life. For doubles of the same person to exist in two separate-but-connected dimensions is a powerful idea, because the nature/nurture interplay usually wields people who are uncannily alike in some respects and utterly foreign in others. The flu epidemic that nearly wiped out the Prime population is also a powerful idea, especially if the Alpha world was responsible, as the late Alexander Pope and the Indigo crowd contend. Answering for the deaths of millions, in that case, isn't such a fringe-y notion. If the show doesn't want to recap the entire first season in episode one of the second, that's understandable. But a reminder of why everyone is fighting is essential.
As a continuation of the first season—an 11th episode, rather than the beginning of the second—"Inside Out" is reasonably satisfying, turning on the weird intimacy of strangers figuring out how to live together. In the Alpha dimension, Emily Alpha has regained consciousness and moved back home after the car "accident" that nearly took her life, but her disorientation and memory loss is exacerbated by the fact that Howard Prime is assuming Howard Alpha's identity. Though not known for his sensitivities, Howard Prime has the decency and good judgment to keep his distance and allow her to acclimate herself. Considering that Emily Alpha was living a double life under her husband's nose before the maiming—and considering that she was passing information to Howard Prime about the Indigo conspiracy—they share a genuine connection. But the relationship is still in flux.
The marriage between Peter Quayle and Clare has been upended by the revelation that their entire relationship has been a lie, part of a long-in-the-works scheme to kill off high-placed Alphas and replace them surreptitiously with their Prime counterparts. Clare's blown cover seemed like a massive enough betrayal for Peter to turn her in, but for various reasons, not least the child they share together, Peter has decided to keep it under wraps. But there remains, naturally, some tension between a couple whose union was an act of supreme, humiliating sabotage. In "Inside Out," Peter tentatively sustains this marital charade, but tucks away a recording of the truth as insurance in case things go south.
Otherwise, the basic threats are still in place and the tensions amplified. Indigo has another sleeper call in the Alpha dimension that Clare has been assigned to activate to bring Prime the "reckoning" that Alexander Pope wanted. The crossing has been closed down, but enough horses are out of the barn to wreak havoc. This rigorously monitored border has proven to be porous in the past, and there's little reason to believe that the parties might realign themselves some more in season two. For now, it's a confusing getting-to-know-you session for the major characters in Counterpart—and for the viewers at home, too.
Silk Threads:
• If your reaction to Betty Gabriel's appearance here was, "I know her from somewhere," somewhere is likely Get Out, in which she played Georgina, the housekeeper with the deeply unsettling smile. She also had a prominent role in the cyberpunk thriller Upgrade and a minor turn in the most recent season of Westworld as a member of Delos' extraction team. None of these roles are like the others.
• "I don't understand the person who chose this picture." As Emily Alpha begins the slow process of remembering her old life, she's reexamining it, too, and coming to new conclusions about who she is and what values she has. From this crisis comes the opportunity for reinvention.
• In making his confession on tape, Peter arrives at a fair assessment of his evident faults: That he's too vain and dishonorable to reveal the embarrassing and dangerous lie of his marriage, that he's woefully unqualified for the position he's been given, that he's survived and thrived as much through dumb luck as anything else. He should have all the power in his situation, given what he knows about Clare, but she's the one in control.