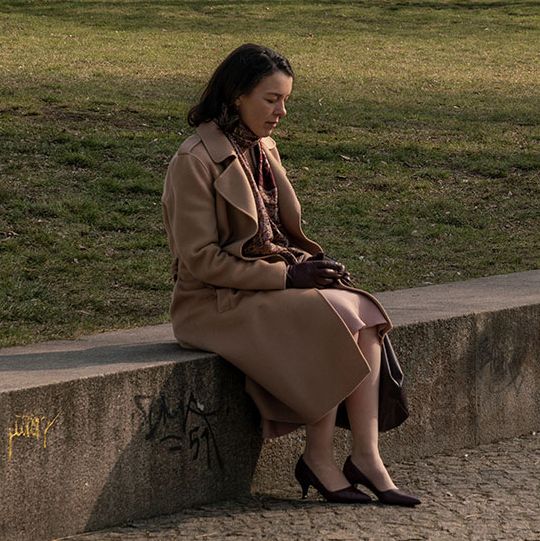 Photo: Julia Terjung/© 2018 Starz Entertainment, LLC
There are times when Counterpart seems too big an idea for the espionage genre — or, rather, Counterpart fails to make the espionage genre big enough to accommodate the ideas its premise suggests. As we busy ourselves puzzling out Emily Alpha's activities pre-coma or Baldwin Prime's mixed motivations or who's really pulling the strings on Indigo, there's the potential for another show — perhaps a show unfolding in a carbon-copy world bordering our own — that engages more directly and fully with the nature-versus-nurture questions at its center. The notion of two versions of the same person growing up in parallel is fascinating, and the possibility that they could interact is more powerful still. But too often, the show underplays the magnitude of that conceit, burying it in mind-bending intrigue rather than drawing it out. (See also: Westworld, season two.)
"Point of Departure" has a handful of terrific scenes, but it doesn't hit the theme embedded in its title hard enough. Everyone thinks about the crucial inflection points of their lives, when one event or one decision set the course for the person they eventually became. What would have happened if you chose to attend one school over another? Or you decided to stay home rather than go to the party where you met your future mate? Or you had taken a single step off the wayward path that led you to recap the fourth episode of the second season of Counterpart for Vulture? Questions like that have haunted great filmmakers like Krzysztof Kieslowski, who spent a career asking such "what if" questions through doppelgängers, parallel lives, and other such cosmic coincidences in Blind Chance (Americanized as Sliding Doors), The Double Life of Veronique, and the "Three Colors" trilogy (Blue, White, and Red). It seems likely that the makers of Counterpart have studied Kieslowski closely, but they keep getting lost in the wrong details.
There are at least two points of departure explored in tonight's episode, starting with Emily, who is still struggling to find her bearings after coming out of the coma. Regaining her memory has been like following a trail of bread crumbs, each one leading to some formative moment or relationship that's going to explain her essence and her purpose. That's no easy feat, especially considering that her Howard is Howard Prime, the wrong Howard, a man who looks exactly like her husband, but seems weirdly unfamiliar in a way that unnerves her but she cannot quite articulate. The process of recovering lost memories is, for her, the process of discovering who she is as a human being — her values, her motives, her aspirations going forward.
"Point of Departure" flashes back to Emily as a child in 1984, as she drives in a car with her mother, who prompts her into a game where they make up identities. Emily wants to be Belinda Carlisle from the Go-Go's because she loves the band — as well she should — but her mother chides her for it. "Only lie a little," she says. "If you lie a lot, people can see through it." (Cut to: A loooooong shot of the kid soaking in this piece of information like French bread in a pool of olive oil and Parmesan.) The code name "Belinda" comes up later as a secret identity for Emily Prime, our indicator that both Emilys have spent a lifetime sliding down that slippery slope where lies and obfuscation are their business, and the larger cause isn't always easy to track.
Both Emilys, however, make the effort to puzzle themselves out. Emily Prime tracks down the engagement ring she hid back in '84 when she discovered her mother sleeping with a man who wasn't her father. Emily Alpha discovers that her library copy of The Tin Drum is a secret signal to Lambert — and, eventually, seeks out Naya to meet him. The actions of both Emilys suggest not a point of departure, but a point of convergence around this formative memory when they learned about the little lies that grown-ups tell. They share an intuition about it and act accordingly.
The two Howards, on the other hand, are still worlds apart. And no one has more insight into that phenomenon than Yanek, whose entire job at Echo is harvesting the memories of Prime citizens to learn more about their Alpha counterparts. Yanek wants to know precisely when a person and his/her other splits in two, which, in this case, might explain why Howard is a sweet, ineffectual office drone in one world and an ill-tempered, calculating rogue in another. He starts with Howard's beating at the hands of fellow inmates at Echo, who have mistaken him for Howard Prime and blamed him for their incarceration. Would his other have fought back, Yanek wonders? It's certainly not in Howard's nature to do so. Yanek traces the point of departure back to their respective treatment of their father, an abusive alcoholic who squandered the family's money. Howard stayed with him until death, believing him to be a sick man worthy of rehabilitation. Howard Prime abandoned him. Howard's empathy in that situation is what we might believe makes him a better person, but Yanek suggests that Howard Prime's "clarity" might have been morally correct.
That scene represents Counterpart at its best, when it's seeking clarity of its own over what makes a person tick. The business with "Belinda" and the engagement ring plays it a bit too precious, but it's healthy for the show to question whether Howard Alpha, our chief protagonist, might not be better than his counterpart — or might not be that different from him at heart. When Howard tries to make amends with one of the men who attacked him, explaining the mix-up and speaking kindly of his counterpart in the Alpha world, the man shoves him to the floor once again. It's not that he doesn't believe Howard's tale of mistaken identity, but he implicitly rejects the distance that Howard is trying to establish between himself and his Prime version. Maybe there are points of departure, but deep down they're still the same.
Silk Threads:
• Add the weird "management" communicator to the tradition of coveted suitcases that began with the glowing apocalypse box of Robert Aldrich's Kiss Me Deadly and was later referenced by Quentin Tarantino in Pulp Fiction, who used it more as a valuable whatsit than a portent of doom. With Mira now in control of the suitcase, those portents of doom apply again.
• The tense domestic situation between Emily and Howard Prime is fascinatingly intuitive on her part. He offers to patch up their latest quarrel with dinner out and she'd rather him cook something at home. She may not remember her Howard per se, but she has a sense of how he might behave.
• R.I.P. one version of Lambert, killed by Baldwin in her latest bloody escape from peril. It wasn't clear to me which Lambert is gone, but last week established that they're both on the same page.
• Huge revelation for Clare about her own past: Apparently her parents were not victims of the flu pandemic, but she was led to believe they were in order to become a tool for Indigo. That stands to change her mission dramatically, especially as her allegiance to Quayle and her family starts looking more authentic by comparison.