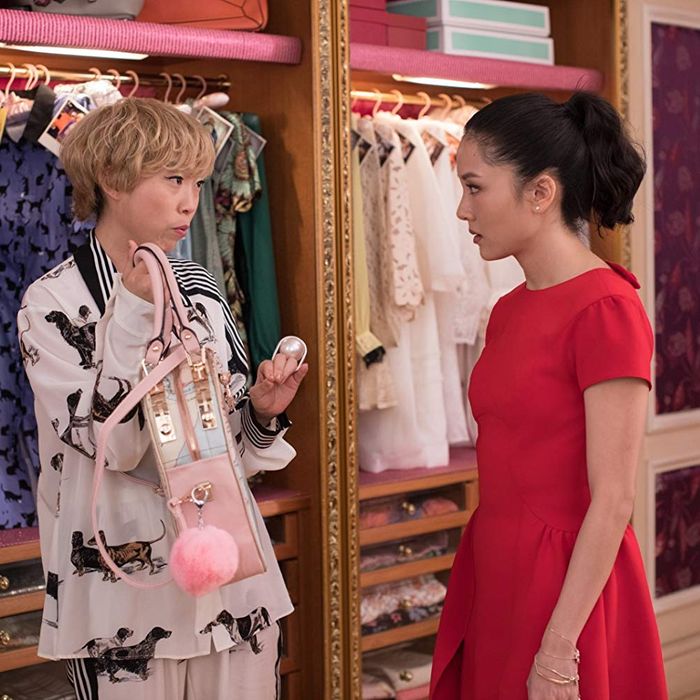 Awkwafina (left) and Constance Wu in
Crazy Rich Asians
.
Photo: Crazy Rich Asians
Since arriving in theaters in August, Crazy Rich Asians has been on a seemingly unstoppable march toward both critical and commercial glory. The romantic comedy — the first Hollywood studio film to feature a predominantly Asian cast in a contemporary setting since 1993's Joy Luck Club — eclipsed financial expectations, taking in $237.9 million in worldwide ticket sales, to become the top-grossing rom-com of the last decade, as well as the sixth highest-grossing film in that genre of all time. In addition to making a bona fide movie star out of novice actor and first-time leading man Henry Golding, the $30 million movie (based on a best-selling novel of the same name by Kevin Kwan) almost single-handedly dragged industry expectations regarding Asian-American movies' commerciality into the 21st century. Now, CRA is squarely in the awards-season conversation, the recipient of a robust Best Picture "For Your Consideration" push by its distributor Warner Bros.
Which is why it comes as something of a shock that Crazy Rich Asians has been received so dismally in China. Although the crowd-pleasing film performed strongly across East Asia and Australia (which has a large Asian population) throughout the fall, over its debut weekend in Chinese theaters last weekend, CRA sold just $1.2 million in tickets — earning lackluster reviews and provoking withering scorn from some Chinese moviegoers who took to the Yelp-like crowd-sourced review platform Douban to express their displeasure with the movie's perceived lack of authenticity and racial stereotyping. "It feels like a bunch of rubbish in the carnival!" wrote one viewer, adding that CRA is "insulting the Chinese." Asked another: "So Chinese people in the eyes of Europeans and Americans are just about clans, extravagant snobbery, a blind sense of superiority, and stubbornly clinging to outdated rules and ideas?"
So what made China less than crazy for CRA?
According to sources with knowledge of the way Crazy Rich Asians was distributed and marketed, the Jon M. Chu–directed film's hostile reception in the Middle Kingdom can be attributed to a pupu platter of mitigating factors — some cultural, some aesthetic, others political — that conspired to derail its box-office prospects in the world's second-biggest movie market.
Chinese authorities delayed CRA's release
Of the 30 or so foreign movies annually approved for Chinese release, each is carefully vetted by censorship authorities (Exhibit A: Disney's CGI fantasy-drama Christopher Robin was allegedly banned earlier this year due to the popularity of a meme likening Chinese president Xi Jinping to Winnie the Pooh.) And only once the films have been approved, the Communist government — as opposed to a film's distributor — chooses the release window. Crazy Rich Asians was not "dated" by these authorities until mid-October, nearly two months after its American rollout. And that long vetting period led many industry observers (and some studio executives) to conclude that local censors were uneasy with the film's ostentatious displays of wealth, as well as its correlation of Asian with "crazy."
While a lag between a film's Stateside release and Chinese bow is not uncommon, that three-and-a-half-month gap effectively diminished enthusiasm for the romantic comedy, which came to be considered "yesterday's news" by Chinese consumers. ("Aquaman is all anyone over there is talking about right now," says one executive, acknowledging another Warner Bros. film opening in China on Friday.) And since Crazy Rich Asians came out digitally on November 6, anecdotal evidence suggests that it had already been widely pirated by the time it hit theaters, further helping to suppress viewer turnout.
Rom-coms don't travel
In China, locally made Chinese-language romantic comedies frequently ride the Zeitgeist and can be hugely lucrative. But Hollywood rom-coms? Pretty much exactly the opposite. Bridget Jones's Baby, the last studio-backed romantic comedy to get past censors and crack the Chinese multiplex, met a fate similar to CRA, earning a dismal $746,000 in China and slinking from theaters after a single weekend in 2016.
Then there's Crazy Rich Asians' inability to play the race card. Despite the fact that the cast hails from across the Asian diaspora and that it was green-lit by Kevin Tsujihara, Hollywood's only Asian-American studio boss, overwhelmingly, Chinese audiences still regard the movie (whose title was translated as An Unexpected Gold-Digging Romance) as American and distinctly foreign. Hence, while CRA won praise for its ethnic "diversity" over the course of its domestic release — some much-needed positive representation for a historically underserved Asian-American moviegoing audience — the film could not rely on that type of counterprogramming dynamic to generate positive word of mouth in China.
"Part of what we saw here in the states was just this incredible hunger and pent up demand for a movie like this that takes you to a place you've never been, introduces you to this great cast of characters who felt really fresh," says Crazy Rich Asians producer Nina Jacobson. "In the south East Asian markets, we really overperformed. But in other markets where they have a lot of romantic comedies, and a lot of movies with Asian characters, some of the things that made such a huge demand here weren't as intensely felt. Also, I think a lot of folks didn't see it coming. [They] didn't know that it would be such a thing."
Additional reporting by Zoe Haylock