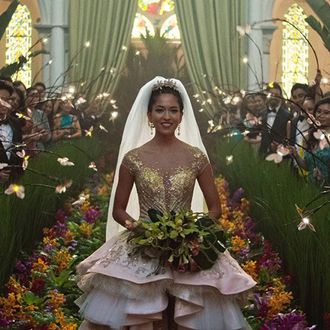 Photo: Sanja Bucko/Warner Bros.
After a lengthy review process on behalf of the Chinese state to determine whether or not Crazy Rich Asians was fit for release in Chinese theaters, the American romantic comedy finally made its debut there this past weekend. Unfortunately, people didn't love it, and according to The Telegraph the romantic comedy beloved by American audiences only managed to bring in about $1 million while receiving middling to poor reviews. Feedback from movie-goers on the Chinese film-rating site Douban included one commenter saying, "So Chinese people in the eyes of Europeans and Americans are only about clans, extravagant snobbery, blind sense of superiority, and stubbornly clinging to outdated rules and ideas?" Another wrote that, "It feels like going to a Chinese restaurant in America to eat General Tso's chicken."
Many negative reactions to the film, as translated off of Douban, expressed displeasure with what audiences saw as Chinese characters defined by American stereotypes and a disconnect from how Chinese people really live their lives — that it's a "fairy tale for ABCs," a shorthand for "American-born Chinese," instead of an actual Chinese story. It's worth noting, however, that a central aspect of Crazy Rich Asians, which was adapted from Kevin Kwan's book of the same name, is the divide between Asians and Asian Americans, and the challenges that Asian Americans can face when trying to find a sense of place in the countries and communities of their ancestral origin. There is something we can all agree on, however: the climactic stare-down between Rachel Chu (Constance Wu) and Eleanor Young (Michelle Yeoh). "So many good details in that mahjong scene that show the battle," said one commenter on Douban. And Vulture quite agrees.