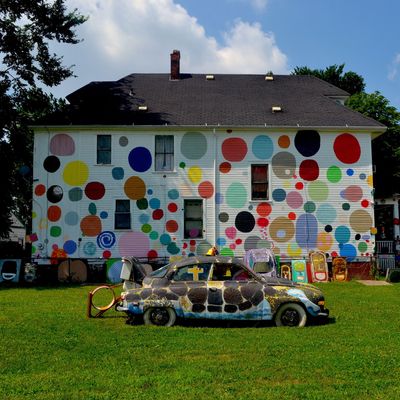 Tyree Guyton's Heidelberg Project in Detroit.
Photo: HP archives
Tyree Guyton, famous for his whimsically apocalyptic Heidelberg Project in Detroit, has often been categorized more as an "outsider" than as an "artist," but now he's moving inside. Literally: There is an elegantly and pristinely curated show of his work at the Museum of Contemporary Art Detroit (MOCAD). But also inside the art world: He's joined the Martos Gallery in New York, which will do a show with him next fall, and in the meantime, they've brought his work at the NADA fair in Miami.
The Heidelberg Project, the polka-dotted, complicatedly metaphorical outdoor art installation that he created over the last 32 years out of accumulated, painted, and arranged consumer-culture distaff over several blocks of mostly abandoned houses in the neighborhood that he grew up in, became a symbol of postindustrial Detroit. What it symbolized, exactly, was up for debate. Some Detroiters found it an oppressively self-indulgent wallow in the city as garbage dump, and in response, the city government repeatedly ordered him to clean it up, and bulldozed several of the empty houses that he'd festooned with detritus. Others saw in it something like hope, an insistent, obsessive, and miraculous conjuring of something magical out of a great deal of not very much at all. Guyton saw it that way, too, which is why his slogan for it has long been "2+2=8."
As its fame spread — articles, books, documentaries — it became something else entirely: a kind of mystical tourist attraction, a holy site of Detroit's DIY ingenuity, attracting people from around the world to this quirky and sweepingly earnest man's gnomic creation, and in that creating a new idea for an old city.
But Guyton always considered the work "medicine." For him, and for the community. Maybe for humanity as a whole. As he put it in the catalogue for the show at MOCAD, "We live in a world today where we are very wasteful. We throw away things and we throw away people." His examples of reuse salves that psychic and ecological wound.
The question today is how to keep the Heidelberg Project from the ash heap of history. When he started the project, the once-tidy working-class neighborhood he grew up in had lost its good factory jobs — the ones that attracted so many African-Americans looking to better their lives, who came north as part of the Great Migration — and, like the city as a whole, never quite recovered from the 1967 riots, themselves a rebellion set off by the racial oppression of the local police and political system. Guyton has said, "The Heidelberg Project is located in an area that is broken."
But what happens when it gets fixed up? Investment is pouring into Detroit right now and the question becomes whether the inclusive spirit of his project can survive this transformation.
In no small part because of his work, and the thousands of visitors who came to marvel at it every year, Detroit gained a reputation for a place where you could make something creative happen. People with money who grew up there but fled to the suburbs began investing in the city again, attracting out-of-town real-estate speculators and, yes, ruin-porn enthusiasts, not to mention people who think that Detroit might be a well-sited refuge in the era climate change. As the urban context for the Heidelberg Project has changed, Guyton is changing with it.
After arson burned down several of the houses in 2013 and 2014, Guyton switched tracks and decided to disassemble the project, store it, sell parts of it as art, and exhibit other parts of it. (Not incidentally, Guyton is 63 and, after doing this work for free for decades, needs to save some money.) Meanwhile, the neighborhood that spawned Heidelberg Project is starting to gentrify. Even as his artworks are being catalogued and warehoused, he and his wife, Jenenne Whitfield, who is also the executive director of the Heidelberg Project, have plans for those blocks where he worked among the abandoned houses.
It's something they call "Heidelberg Project 3.0" and it's a shifting away from being one man's massive sprawling vision into developing a creative community, with artists in residence and housing and businesses for a mix of people. "What it means is that we're moving from an institution created by one person to something for the community," Whitfield says. She adds, dryly, "It's a gift to the city, which hasn't always appreciated it."
Detroit can be a tough town, but, one realizes quickly from talking to her, that Whitfield is a tough woman. "The very plan we have to put on the table for the city is the exact same plan we had in 1994," she says. "Nothing's changed. They just weren't ready for what we were offering them."
Part of that, she felt was that many people — including, paradoxically, some members of her own community— "thought that only great ideas that impact society and impact our world had to come from white men" and "didn't understand the fascination people had with this ghetto gem."
But the world is catching up. "We've had museums study our forms of engagement," she notes.
Now, they have something of the opposite problem: People who see it as something to co-opt. "When people are offering to help us, and they are, you have to ask what their motive is," she notes.
Their goals for what is next for Heidelberg, the community project, as distinguished from what is next for Guyton, the artist, is governed by the principles of "art, equity, and diversity," she says. "There are all kinds of layers and complications," including the desire to have people from different backgrounds living side by side there. "What has remained constant is our vision. And if you get onboard with it, you're welcome to the table."
The MOCAD show is part of this pivot, of allowing Guyton to be known for his art, separate from his work as a community activist. Although it's admittedly slightly surreal to see his work removed from its storied neighborhood context. It makes you wonder how much of the meaning is lost when it is moved inside, spotlit and sterile. But Whitfield notes that, in addition to preserving it, it's also a way to see Guyton's work anew, as well as display his studio work which was not a part of the Heidelberg project, including a wonderful series of hermaphroditic portraits inspired by his formidable mother, a single parent, who had to be "both matriarch and father figure for her children," as the museum puts it.
Ebony Haynes, director of the Martos Gallery, admits to being "such a fangirl for the work."
"People often make the mistake of calling him an outsider artist, but he is trained," she says. "Maybe his aesthetic leads you to think so." She references both Joseph Cornell and William Pope.L as better comparisons.
"People don't really know him as well as they think they do," says Whitfield. In the museum, "he wanted the works to breathe. And he was always cautious to not re-create Heidelberg."
"It is interesting to see the work in the context of a museum," Haynes says. "But Tyree always talks about art changing the world," and this new context makes the art accessible in a different way, and to different people, than it was on that street. Now, "people talk about it in a different way. It's infiltrating the art world." The Pérez Art Museum Miami already has some of his works in its collection.
"He has never shown at the Miami fairs before," she notes. They have a large booth devoted to Guyton at NADA, showing "works old and new," she says. "Some from his clock series, his faces series, some of the car hoods." (But, in a nod to the preservation issues inherent in works created out of trash: "No stuffed animals, no.") They are also installing one of his shoe-hung trees (there is one planted in the middle of MOCAD), in the fair's outdoor section.
This fall, "I'm hoping to do something really great here in the gallery," she says, "to shine light on him as the artist."
"Tyree had the question: Can the work work in an indoor setting with white walls?" Whitfield says. "His answer was, 'It will work anywhere I put it.' Things don't have to stay the same. He wants to get lost in order to be found. We're building a legacy."