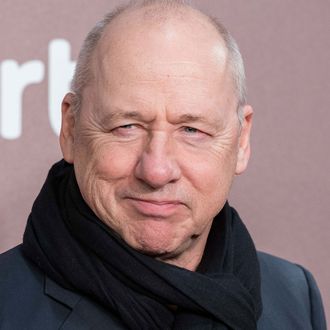 Mark Knopfler.
Photo: Gabriel Maseda/NurPhoto via Getty Images
This past spring, Mark Knopfler set the classic-rock community into a tizzy thanks to a series of carefully orchestrated power moves against the Rock and Roll Hall of Fame. His band, Dire Straits, was one of the six acts included in the 2018 induction class, but our resident Sultan of Snub couldn't give two damns about the (trumpet playin' band) honor: He refused to attend the ceremony in Cleveland and publicly gave no reason as to why, despite his bandmates imploring him to say something, anything, to their fans confused by his seemingly anti–Rock Hall stance. (The ceremony would've also doubled as the band's first reunion in over 20 years.) He never relented, birthing one of the most confusing and uncharacteristic Rock Hall inductions in its history, and making this Vulture writer speculate wildly about the ideology behind his snub. Does Knopfler hate accepting awards? Or international travel? Did fellow inductee Ric Ocasek steal his girlfriend in the '70s? Please, just tell me!
Well, apparently, Knopfler does not hate accepting awards, as he was nice enough to show up at this year's SSE Scottish Music Awards (?!?!) to accept the Living Legend Award. Yes, he is a legend — we present 3:28–4:13 of "Sultans of Swing" as evidence — but, but … why this award and not the Rock Hall?! According to his acceptance speech, we guess it's because of his fondness for the country. "When I was a little fellow lying in bed not far from here listening to the music of the River Clyde, the noise of the fog horns and the ships, I used to absorb all the sounds of Scotland," a local outlet quoted him as saying. "A songwriter couldn't ask to be born in a better place." You know a better place where a songwriter could visit? Cleveland!