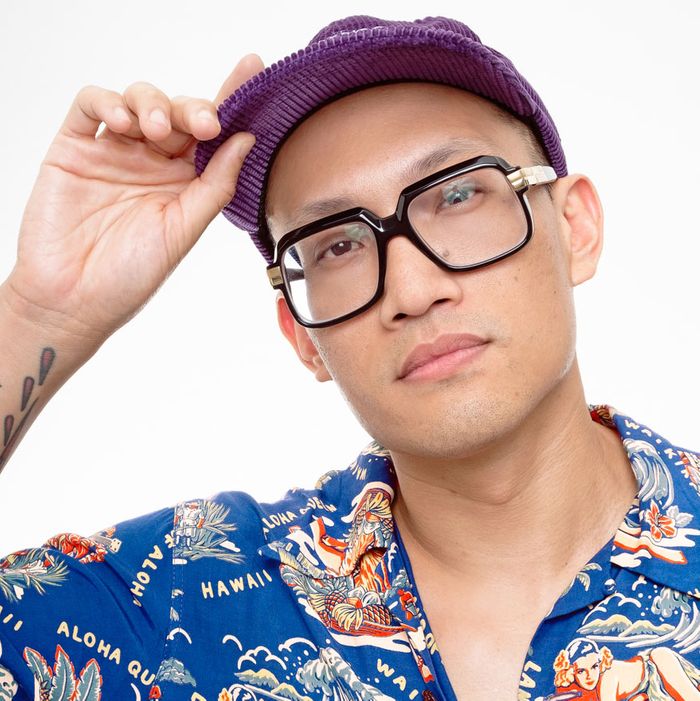 Mic Nguyen.
Photo: Phil Provencio
Mic Nguyen (@nicepantsdude) is a writer and comedian who has written for such illustrious websites as NBC News, Racked, and his mom's 60th birthday e-vite. When he's not tweeting you can find him doing stand-up onstage, working on a sci-fi short story about sneakers, or co-hosting the Asian, Not Asian comedy podcast. He lives in Brooklyn.
This week, Nguyen talked with me about podcasts, Scantrons, and jokes about science.
I joke a lot about how old I am. I'm not that old, but for a creative person at my level, I'm ancient. But with age comes wisdom and an appreciation for legal instruments for obfuscating your identity and intentions. I often fantasize about the process of claiming a lottery win, rather than what I'd do with the money. Something about going down to a government office to fill out paperwork with a lawyer gets me going.
You co-host a podcast with Fumi Abe, who we previously interviewed for this column. Tell us more about it!
Asian, Not Asian is a comedy podcast about the Asian-American experience. Before I was a comic, I was a journalist, and I grappled with what Asian America is for a long time. Fumi and I are still trying to just define what the "Asian-American experience" really is. It's an exciting time because that definition is still evolving, and with a whole new generation of Asian-American creatives and thinkers coming up, it's cool to be a part of it. It sounds heavy, but the rule is: If Fumi isn't laughing his weird hyena shriek-laugh, we've failed.
I love that voting is done via Scantron, because Scantrons suggest that there is a right answer. People don't realize it, but there is a right and wrong answer for voting, it's just that you don't know what the answer was until the sea level rises or there's a mushroom cloud on the horizon.
What do you get out of being on Twitter?
I hated Twitter for a long time. It takes me at least three sentences to be funny. See? You haven't laughed until … now. Writing on Twitter is a very specific art form and some people and crazy presidents are really good at it, so I enjoy the challenge. Most comedians I think would agree that jokes on Twitter seldom translate to other places and vice versa, but every type of comedy writing helps you overall become a stronger comic.*
*I like to talk about comedy like chess organizations talk about chess players.
Hey, I'm here to help white people out. Asian meals are often designed around sharing, but I'm always seeing a table full of white people ordering entrees and not sharing their giant plates of chow fun. It makes me sad and confused. Please, white people, when eating at a Chinese restaurant, try something that the Asian people next to you are eating, and try sharing!
How do you come up with premises for new jokes?
Our very existence, indeed the fact that we have consciousness, is ludicrous. Start from there, and everything is funny. And kind of scary.
This tweet combines some of my strengths: social media and high-school honors biology. Do you realize how amazing DNA replication is? Everyone should go read about it right now.
What topics do you enjoy tweeting about?
I really love tweeting about obscure science things, like luteinizing hormone and hydrocarbons. I'm not a scientist, but apparently neither is anyone else on Twitter. I'm very smug about my science knowledge despite getting a C- in Introduction to Integrated Biology in college.
What does your newsfeed look like?
It's a lot of other funny people, but not all comedians. There's this one menswear writer, @Dieworkwear, who is so funny despite not being a "professional" funny person. There are tons of amazing, talented writers out there with like 50 followers.
Karen Chee is a Brooklyn-based comedian who writes for The New Yorker, McSweeney's, and Shondaland, among other cool websites.