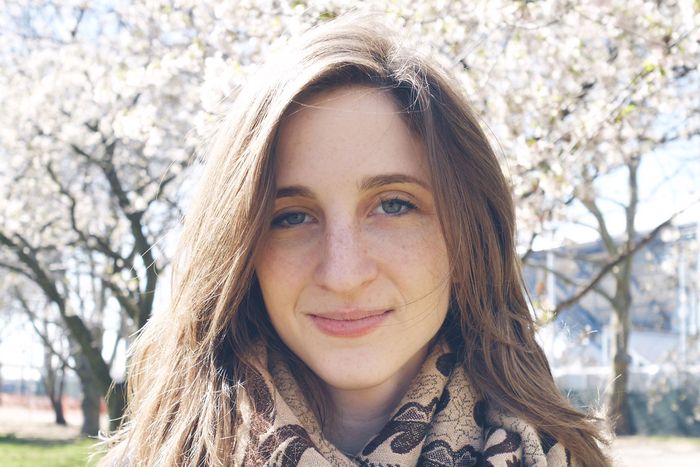 Shea Strauss.
Photo: Taylor Moss
Shea Strauss (@sheadoodles on Instagram) is a writer and illustrator in Brooklyn. When she's not avoiding stepping on dead rats, she is the editor of comics and chat stories for CollegeHumor's Dropout.
This week, Strauss talked with me about using drawing as therapy, dreaming of illustrating a children's book, and working while watching shows.
This was based on a running joke with a friend about John Mayer's lyrics. (He's a talented musician, but anyone who can sincerely start a song with  "The prettiest girl in the room, she wants me" deserves some teasing. )
What inspires you to draw?
I use drawing as therapy. Sometimes it's to process personal issues or political outrage. Other times it's a calming exercise to get a dumb song lyric out of my head.
How did you first start drawing, and where do you hope to go with your art?
A classic story of toddler-meets-crayon. In elementary school, I thought I was sooo good at art, and that unjustified ego (as well as well-funded school art programs) kept me drawing.
I'd love to illustrate a children's book, finally finish a graphic novel, and design props on the 30 Rock reboot. Calling dibs, just in case.
Pull-out drawings are especially fun to draw. This one is directly inspired by Ben Avlis's Instagram.
How do you decide whether something works better as an illustration or a written piece?
In theory, whatever will take me the least amount of time to communicate the message effectively. In practice, I mostly write and design with an audience in mind, and I draw for myself.
How long does it take you to plan, draw, and post something?
Most of my Instagram drawing is done while I'm watching a show or movie, so anywhere between one to three hours. My late-night binges of A Christmas Kiss II and Merry Kissmas feel more productive when I have something to show for it.
Recently, I've been playing around with basic pop-ups. It's a fun challenge and quite literally adds another dimension to my art!
Your pop-up drawings are incredible. How does the new dimension add to what you're trying to say?
Thanks so much! Pop-ups are fun because they include an element of surprise, so making them is similar to writing a joke. "Knock knock! Who's there? Another piece of paper!"
Karen Chee is a Brooklyn-based comedian who writes for The New Yorker, McSweeney's, and Shondaland, among other cool websites.