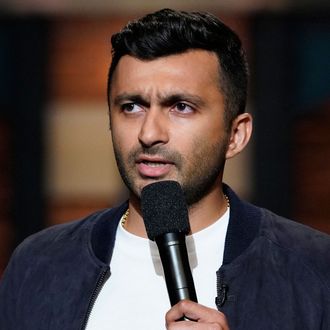 Nimesh Patel.
Photo: Lloyd Bishop/NBC/NBCU Photo Bank via Getty Images
There's been a lot of talk over the past several years about comedians performing on college campuses and whether college students are too obsessed with political correctness for it to be worth it for stand-ups. Jerry Seinfeld recently clarified in an interview that his previous comments on the issue were taken out of context. "I play colleges all the time. I would never say there's any place I don't like these audiences. My job is the opposite of that," he said. "I want to make them like what I do. I don't always succeed but that's my job. And never blame them, never. The worst possible situation — the deadest, most hostile crowd — I don't care. It's still my puzzle. That's a professional attitude that I'd never ever compromise."
Late last week, the "worst possible situation" happened when former Saturday Night Live writer Nimesh Patel was booted offstage during a charity event at Columbia University. The show, called cultureSHOCK: Reclaim, is organized every year by Columbia's Asian American Alliance, which promotes the "political, social, and personal empowerment of Asian Americans as well as other marginalized groups." According to the Columbia Daily Spectator, event organizers took issue with a joke during Patel's set in which he spoke from the perspective of a friend in New York who is a gay black man. He reportedly included the line that being gay can't be a choice because "no one looks in the mirror and thinks, 'this black thing is too easy, let me just add another thing to it.'"
About 30 minutes into Patel's set, members of AAA interrupted the performance, denounced his jokes about racial identities and sexual orientation, and provided him with a few moments for closing remarks. Compared to his other jokes, ones specifically targeting sexual orientation audibly receive less laughter from the crowd.




Patel pushed back on the officials' remarks, and said that while he stood in solidarity with Asian American identities, none of his remarks were offensive, and he was exposing the audience to ideas that would be found "in the real world." Before he could finish, Patel's microphone was cut from off-stage, and he proceeded to leave.
Students who attended the event shared differing opinions online. In the Spectator report, one student supported AAA's decision to boot Patel from the stage, saying, "The message they were trying to send with the event was opposite to the jokes he was making, and using people's ethnicity as the crux of his jokes could be funny but still offensive … He definitely wasn't the most crass comedian I've ever heard but for the event it was inappropriate." Another student, who said she watches a lot of comedy, said that none of Patel's jokes "were jokes that I hadn't heard before and none of them were jokes that elicited such a response in my experience … [AAA] should have talked to him beforehand especially because comedy is known for being ground-breaking and for pushing boundaries."
The Spectator also published two op-eds by students responding to the show, with one calling the performance a "trainwreck" and Patel's material "strangely obsessed with Black people" and arguing that he wasn't booted for offensive jokes but because "he sucked the energy out of an entire auditorium." Another op-ed written in Patel's defense argues that the event organizers should have known that inviting a stand-up comedian to an event that "seems to have had an unwritten policy that certain things couldn't be said" was not a wise choice: "Given this, it likely would have been wiser to not invite a comedian at all, or at the very least, to inform him of these boundaries before the set. And if these boundaries were too broad or ill-defined to explain, it is wholly unfair to expect the comedian to intuit them."
"We acknowledge that discomfort and safety can coexist, however, the discomfort Patel caused was unproductive in this space. We ourselves are still processing the events of cultureSHOCK and maintain different perspectives on it even within our organization. We invite and welcome dialogue concerning his remarks and our actions," the AAA said in a statement released on Facebook. "That being said, we deeply apologize for inviting him in the first place and bringing these comments into a space for inclusion and acceptance. We apologize for the hurt his words caused members of the community."