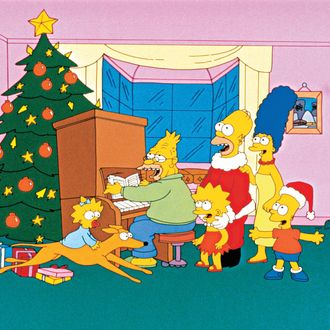 From
The Simpsons
.
Photo: FOX
To celebrate the 30-year anniversary of The Simpsons, Fox has a very special treat in store for fans this holiday season. The network announced today that it will air an encore of the first-ever full-length episode of the series, titled "Simpsons Roasting on an Open Fire," which originally aired on December 17, 1989. It will air on Sunday, December 23, at 8 p.m.; prior to that, Fox will air this season's holiday episode this Sunday, December 9, at 8 p.m. featuring guest star Jane Lynch.
Mimi Pond, who wrote the episode, shed some light on her work at the show last year when she revealed that while the script she wrote turned into the pilot episode of the series, she was never offered a job on the Simpsons writing staff. "No one ever called me or explained to me or apologized or anything. And it wasn't until years later that I found out that Sam Simon, who was the showrunner, didn't want any women around because he was going through a divorce," she said. "It had remained a boys' club for a good long time. I feel like I was just as qualified as anyone else who came along and got hired on the show, and it was just because I was a woman that I was, you know, not allowed entry into that club. I always wind up being the turd in the punchbowl because the show is so beloved and everything, and I'm sorry to burst bubbles but [laughs]. It wasn't a pleasant experience for me."
Anyway, Merry Christmas!