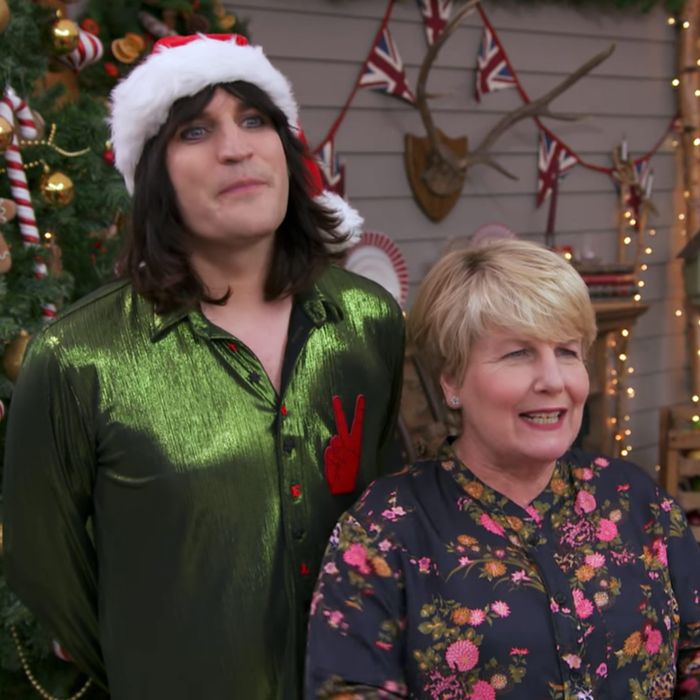 Netflix, a streaming service clearly after our hearts, opened its incredibly robust wallet this fall to give us two new seasons of The Great British Baking Show. That means two more seasons of hot tents, Paul Hollywood's blue corneas, and a whole lot of sugar! But after the 20 episodes are binged, what next? The next season isn't scheduled to air in the U.K. until next summer, leaving a tasty, confectionery hole in our lives to be filled with some kind, any kind, of bona fide Baking Show content. Lucky for us, there are three spinoffs available to stream from all the show's eras. Ready, set, watch!
The Great British Baking Show: Holidays
The holiday season is all about spending time with loved ones, and this Baking Show special found the best way to do an all-star-esque event without encroaching on its warm and fuzzy aesthetic. In the two-part Holidays, fan-favorite contestants Selasi Gbormittah, Val Stones, Rob Billington, Sandy Docherty, Beca Lyne-Pirkis, Rav Bansal, Benjamina Ebuehi, and Paul "King of the Jungle" Jagger return to tent to tackle tasty yuletide classics. The format that we know and love is the same — signatures, technicals, showstoppers, obviously — but instead of tartlets and meringues, we instead get winter-adjacent challenges like "snow globe cakes" and "magical ice cakes" as everyone competes for the title of Holiday Star Baker. Also, the tent is decorated as a winter wonderland! If you're looking for a natural extension to the newest Baking Show season, we can't recommend this highly enough.
Original airdate: November 2018
Where to stream: Netflix
The Great British Baking Show: Masterclass
"These master classes will give you the knowledge to get you baking in your own kitchen," Paul Hollywood teases about Masterclass's mission statement, but, sorry, we can't hear him over the presence of Mary Berry, culinary goddess divine! Before the show's controversial migration from the BBC to Channel 4 in the U.K., the original judging duo hosted multiple seasons of this spinoff in the hopes of teaching viewers how to replicate the most popular signatures, technicals, and showstoppers from the prior season. These episodes follow the tried-and-true instructional format you're probably familiar with on the Food Network, casting a wide net with the bakes they focus on: hot cross buns, panettone, kransekage, you name it. But frankly, most of the time Berry rags on Hollywood for being slow, and we wouldn't want it any other way.
Original airdate: 2013 to 2016
Where to stream: Netflix
The Great American Baking Show
Bad press of various sorts may have cheapened your perception of this Americanized Baking Show counterpart, but the fact remains: It doesn't dare deviate from the British version, with Berry and Hollywood alternating judging duties to give it a non-soggy-bottom stamp of approval. The tent, the challenges, the homey spirit, it's all the same, just with a vaguely Midwestern flourish. Why not give it a try?
Original airdate: 2015 to present
Where to stream: Amazon