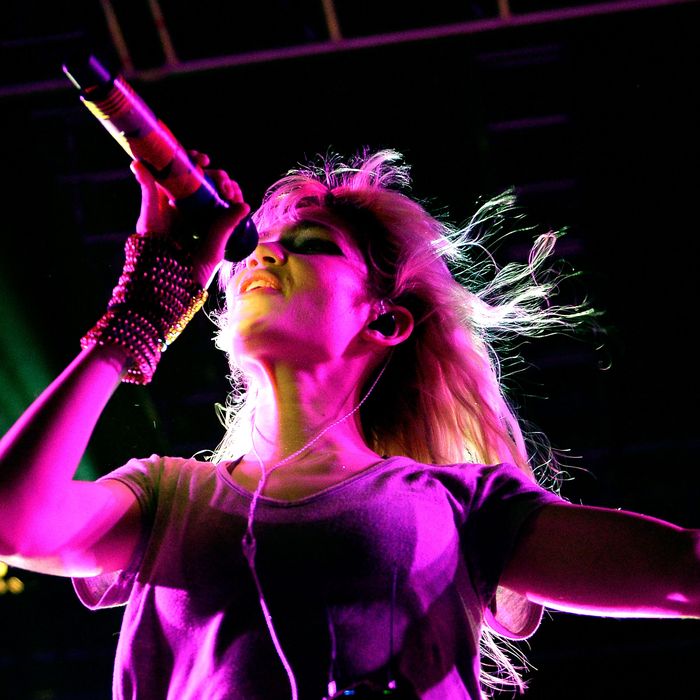 Photo: Matt Cowan/Getty Images
Few artists from this decade have seemed of this decade as Claire Boucher, the Vancouver-hailing electronic-pop wizard who writes, records, performs, and generally exists in this world as Grimes. Since the release of her 2012 breakthrough Visions, she's captured the Zeitgeist of modern media in a way that few contemporaries of the indie sphere have. Kanye West's own headline dominance seems a more accurate equivalency than any of her labelmates on the storied 4AD label — but whereas Kanye has been rightly accused of seeking out controversy and attention, Grimes's relationship with the internet-driven news cycle's perpetual churn is more complicated.
From her love-hate relationship with openness on social media that's resulted in an irregular cycle of posting, deleting, deplatforming, and replatforming to her ongoing romantic partnership with the annoyingly ubiquitous Tesla figurehead Elon Musk, Grimes's every utterance has been as prevalent in music publications' news sections as oxygen. As she gears up to release her follow-up to 2016's Art Angels, it seems totally possible that a new generation of listeners is about to discover her work — listeners who, for better or for worse, lack the timeline-clogging context of what's preceded it.
With that in mind, here's a complete-as-possible timeline of notable moments thus far in Grimes's career, from landmark releases to social-media spats and everything in between. A few notes as you read: If you find any of these items lacking additional context, there's a reason for that — Grimes's Tumblr, as well as a bevy of newsworthy Instagram and Twitter posts over the last seven years, have been wiped clean from the internet by the artist herself. Also, let's address the elephant in the room: Minus the essentials, we've decided not to get tabloid-level with regards to Grimes's relationship with Musk. It would be even more exhaustive (and exhausting), but if you're really jonesing for pictures of them pumpkin-picking (they exist), Google is indeed your friend.
January 2010: Grimes releases her debut album as Grimes, the Dune-inspired Geidi Primes, on cassette. (Subsequent reissues would take place in 2011 and 2012, as her profile continued to rise.)
October 2010: Grimes releases her second album as Grimes within 12 months, the "medieval" Halfaxa.
April 2011: In the midst of her most prolific period to date, Grimes releases a split LP with Canadian avant-electronic artist d'Eon, Darkbloom, which she contributes five new songs to. The video for one of those songs, "Vanessa," also sees release around this time and starts gaining the attention of the music press; it marks the directorial debut for Grimes, who hopped behind the camera after being disappointed with Tim Kelly's treatment for Darkbloom cut "Crystal Ball." "I felt powerless," she explained to the New York Times in 2012 regarding the latter clip. "I need to feel like I'm really involved."
January 2012: Grimes announces she's signed with current label and indie powerhouse 4AD, pushing back the release of her third LP, Visions, by a month to February 2012. "Just want 2 say i am so honoured to be releasing my next album with 4AD — a record label I have admired since I was 13 and first heard the cocteau twins and realized girls can make music, and goth is sick," she states in a since-deleted tweet.
February 2012: Visions is released to widespread critical acclaim, effectively elevating her profile close to the level that she's currently situated at. The album was recorded during a three-week period the year previous, under strict deadline by Grimes's then-manager; she later tells The Guardian that she went nine days without food or sleep while working on it. Visions goes on to feature prominently in many music publications' year-end lists and is nominated for that year's Polaris Music Prize in Canada (Feist's third LP, Metals, ends up winning).
Along with the release of Visions, the first instance of Grimes' Teflon-like resistance to music-publication newsworthiness occurs: a Minnesota Star-Tribune news story from June 2009 is unearthed that details Grimes and college friend William Gratz setting sail in a self-constructed houseboat intended to take them from Montreal all the way to New Orleans. (They made it as far as the Minnesota town of Bemidji.) Along for the ride: a sewing machine, live chickens, and 20 pounds of potatoes.
March 2012: The video for Visions standout "Oblivion" is released. Directed by Emily Kai Bock, the clip arguably still stands as Grimes's most powerful and effective visual treatment to date, as she sings along to her song while wearing headphones in settings ranging from a dirt-bike rally to a locker room. Later in the month, Grimes has her debut visual-art opening at NYC's Audio Visual Arts gallery.
April 2012: A day after putting out a casting call for "hot girls who can dance & r willing to be zombie angels and blow up cars and televisions" in preparation for filming the video for Visions cut "Genesis," Grimes announces a collaboration with Montreal sculptor and jeweler Morgan Black: Grimes pussy rings, which are exactly what they sound like.
June 2012: It's a news item that could only make sense to someone who was actively consuming music in the month of June in the year 2012: Grimes announces a supergroup-of-sorts with rapper and DJ Kreayshawn, producer and frequent collaborator Blood Diamonds, and Argentine artist Tragik. The group's name? L$D. Their only song to date? "DON'T SMOKE MY BLUNT BITCH." Indeed.
July 2012: It's not a houseboat, but it'll do: Grimes hops on an extremely unorthodox tour across Canada with Skrillex, Diplo, and a few other EDM-adjacent artists — on a train.
August 2012: Decked out in a kimono and accompanied by backup dancers, Grimes makes her television debut on Late Night With Jimmy Fallon to perform "Genesis." At the end of the month, her gear is stolen during a London gig.
October 2012: A string of canceled Canadian dates leads to the cancellation of Grimes's entire tour, due to health issues related to hearing loss and tinnitus.
December 2012: "I can only control what goes out by trying to be real, but any writer will skew a story into what they want it to be," Grimes states in a Tumblr post, one of a few around this time in which she expresses her personal feelings about the whirlwind year that accompanied Visions' release. "There are some really amazing journalists out there for sure, but I just want there to be a place where I can say what I want in a completely unedited way. So that will be happening here." Although Grimes maintained a Tumblr in some form before this point, this marked a period of time in which she was especially active on the platform…
February 2013: … That is, before deleting her Tumblr entirely several months later, following a post in which she defended her "Best Songs of 2012" list while discussing issues related to sexism, misogyny, and racism. "Nothing i write here is an official statement and i really resent this shit turning into news but i guess i should have learned my lesson the first time that happened," she states in a final post before hitting the kill switch.
April 2013: Grimes's reactivated Tumblr is updated with a post in which she discusses the scrutiny she faces, as well as the invasions of her privacy that have come with it: "I don't want to live in a world where I'm gonna have to start employing body guards because this kind of behavior is so commonplace and accepted and I'm pissed that when I express concern over my own safety it's often ignored until people see firsthand what happens and then they apologize for not taking me seriously after the fact …"
May 2013: A full five years before she appears at the event with current partner Elon Musk, Grimes makes her Met Ball debut. "I will surely trip," she tweets ahead of the experience. (She didn't.)
August 2013: Grimes co-hosts the MTV Video Music Awards Red Carpet Report for MTV Style, and in doing so discovers that she and 2 Chainz chose to wear the same pants to the event. Twinning!
October 2013: "I dunno if anyone cares about this stuff but im like obsessed with reading other peoples riders lol," Grimes explains in a Tumblr post in which she shares her own tour rider — which includes "one cute bulldog, French bulldog, pug or pomeranian (or other cute animal, such as a chinchilla or a pekingese)" "if possible." Who can relate? Later in the month, she finds herself on the defensive after booking a private show in Moscow in the wake of Russia's notorious and discriminatory anti-gay laws. "I don't think that denying and ignoring the gay community in Russia is cool," she states on Tumblr. "It doesn't hurt the government if I refuse to tour there. Just regular people. So I don't think it's wrong to be doing this. Refusing to go to Russia would only hurt fans."
December 2013: Grimes signs a management deal with Jay-Z's Roc Nation company, joining the likes of Haim, Rihanna, and Timbaland. The announcement comes partially in the form of her posting a picture throwing up the Roc diamond on Tumblr.
June 2014: Six months after signing to Roc Nation, Grimes reveals that her and Blood Diamonds wrote a song for Rihanna that was turned down. She performs it for the first time live later in the month at NYC's Governors Ball festival and eventually releases it as a one-off single.
July 2014: Grimes unearths a song she wrote in 2009 with former Majical Cloudz front man Devon Welsh when the two of them were struggling to put their shared pet cat Voignamir on a diet. "I dont know why it sounds like indie rock haha, neither of us really make music like this," she stated on Tumblr along with the song, which has since been lost to the void of Tumblr deletion.
August 2014: Another Tumblr post — this time addressing a quote attributed to Grimes in a 2012 interview with CMJ in which she discussed her use of amphetamines while recording Visions. The quote had been added and deleted repeatedly to her Wikipedia page from August 2013 on (it is currently not present on her Wiki). "Editing a website that people take seriously and reference all the time so that it looks like i think amphetamines are cool is incredibly irresponsible," she states. "People might read that and think its a cool thing to emulate. I hope you know you are doing the world a disservice."
Later in the month, she's tagged in the ALS Association fundraising Ice Bucket Challenge (remember that?) by techno producer Richie Hawtin — and publicly refuses to take part or donate, instead donating to the Malala Fund. "I don't feel great about wasting water in this california drought, but i will donate money," she explained on (where else?) Tumblr. "However I will not donate money to this foundation because of their record of testing on animals."
September 2014: Hey, wait — what about a follow-up to Visions? "[It] sucked, so I threw it out and started again," she tells the New York Times, while also addressing the fallout from her refusal to donate to the ALS Association and noting that she was asked to take part in media training following the controversy in order to figure out "how to stop saying stupid things so I stop having all these constant dramas." "I didn't really learn anything," she says about the experience.
October 2014: Following an essay penned for Rookie Yearbook Three on being a "boss" of your own professional life, Grimes refers to 4AD labelmate Ariel Pink's recent comments on Madonna as "delusional misogyny," which results in a brief and ultimately minor war of words between the two on Twitter.
December 2014: After years of claiming a sense of vagueness regarding the meaning behind the moniker Grimes, Grimes explains in a since-deleted tweet that she adopted the name when creating a MySpace page for her music back in 2007. "On myspace ur genre could be grime and u could have 3 genres so i was plural grime, b4 knowing what grime was," she stated. "I was originally too embarassed [sic] of this story so i told journalists i was named after frank grimes … [or] someone else named grimes."
January 2015: Try explaining the following sentence to someone who doesn't work or live on the internet: Along with Grizzly Bear's Ed Droste and electronic musician Baths, Grimes livetweets the series premiere of onetime ratings juggernaut Empire. (Since Grimes has deleted the majority of her past tweets, there's sadly no way to know what she thought about it — ditto for Droste.)
July 2015: While the world continues to wait for a follow-up to Visions, Grimes designs a variant cover for the comic-book series The Wicked + the Divine. Later in the month, she writes an essay about her love of Star Wars for LOVE magazine: "My name is Grimes and I first came to love Star Wars before I could even walk," she states. Same, tbh.
August 2015: Hey, an update on the follow-up to Visions! How's it going? "I'm sick of it at this point," she tells Entertainment Weekly. That doesn't sound too good! But wait: "It's the first record that I've made that I can listen to with other people around and not cringe and feel horrified. I think that's a good sign." Okay, that sounds good. In the same interview, she expresses a distaste for "Oblivion" and recent single "Realiti": "All the songs that are singles are all songs people have to force me to do. I know that if I don't like and everyone else likes it, then it's probably a single. I always hate the songs that are the singles."
Around this time, Grimes also launches her Eerie Organization co-op, which kicks off with the release of Canadian artist Nicole Dollanganger's Natural Born Losers. A conspiracy theory eventually takes hold that Dollanganger is Grimes herself (she isn't), because the internet is perpetually out of control.
October 2015: The follow-up to Visions, Art Angels, is finally announced for release the following month — but not before Grimes takes to her Tumblr to assist in a get-out-the-vote effort for Canada. "I know a lot of you don't believe in democracy or voting, but so much of what we hold dear as Canadians is under threat," she states in a Tumblr note accompanying a video.
November 2015: Art Angels is released. It is, in this writer's opinion, an instant generational classic and by far the most cohesive and emotionally impactful work from Grimes to date.
February 2016: Grimes is announced as the first signing to Jack Antonoff's Rough Customer publishing company, following their collaboration on the one-off single "Entropy" for the TV show Girls the year before. "It really couldn't be more special to start things with Claire," Antonoff gushes in a statement. "She's one of my all-time favorite artists and a wonderful person. Her work matters on the highest level and I feel deeply proud to know her, have worked with her and now be involves here as well."
March 2016: In a since-deleted Instagram post, Grimes calls Stella McCartney her "fave vegan" while announcing the pair's partnership to create an environmentally friendly perfume, Pop, which features packaging fashioned from the materials of sustainably managed forests.
June 2016: While performing Art Angels cut "World Princess part II" at NYC's Barclays Center, Grimes walks offstage mid-song. "We just had a really disturbing thing happen to us today, so sorry if my voice is shaking, it's just kind of a fucked day," she stated before walking off, elaborating the following day in since-deleted tweets that she would "explain what happened at Barclays once I can safely and legally do so." Earlier this year, she explained the walk-off was due to "a serious death threat and we didn't catch the stalker before the show and i was suffering from health problems making it hard to eat which compounded exhaustion — just an unfortunate series of coincidences."
January 2018: After a period of relative media inactivity that included heavy touring and impassioned political involvement, Grimes takes fan questions in a very Grimes-esque way: while playing the ultradifficult PS4 game Bloodborne on Twitch. She states during the livestream that she's written a song specifically made for playing Bloodborne-adjacent predecessor Dark Souls to. Maybe I'll finally get back into Dark Souls, if that song ever comes out.
February 2018: After reports that a follow-up to Art Angels would be coming soon, Grimes reverses course in a series of since-deleted Instagram and Twitter posts: "Welp no music any time soon after all … music industry is trash." She later elaborates that the delays have nothing to do with her Roc Nation connections, describing plans to release two albums, including a "final album for my shit label."
May 2018: Following a "Page Six" report on Grimes and Elon Musk's romantic relationship, the pair hit the Met Ball gala together as their first public appearance. The internet still has yet to recover.
August 2018: Rapper and shit-starter par excellence Azealia Banks finds herself sitting in Musk's home, waiting for Grimes to arrive so the two can start collaborating. She's there for a while — days, allegedly. So she does what Azealia Banks does quite frequently, taking to social media in an attempt to expose, well, everybody involved. The details of what followed are confusing, ridiculous, kind of funny, and deserving of its own article. Here's one that might be able to sum things up. Maybe.
November 2018: After a span of time that includes teasing new music (including through an Apple ad) and collaborations with Mindless Self Indulgence's Jimmy Urine, Bring Me the Horizon, and Poppy, Grimes releases "We Appreciate Power," the first single from her new album (reportedly due next year). Citing the all-female North Korean state-propaganda musical group the Moranbong Band as inspiration, Grimes explains the song's thematic bent in a statement: "Written from the perspective of a Pro-A.I. Girl Group Propaganda machine who use song, dance, sex and fashion to spread goodwill towards Artificial Intelligence (it's coming whether you want it or not). Simply by listening to this song, the future General AI overlords will see that you've supported their message and be less likely to delete your offspring."
Oh, and about that Poppy collaboration: On Friday, November 30, the YouTuber-cum-performance-artist accused Grimes of bullying while making their collaborative track "Play Destroy" in an interview with Billboard. "We planned the song coming out months ago, and she was preventing it," Poppy states. "I got to watch her bully songwriters into signing NDA and not taking credit for songs that they were a part of. She doesn't practice what she preaches. It's really upsetting to work with a female that is very outward about a topic, but behind closed doors, it's the complete opposite. It's actually very disheartening to people that are actually feminists and supporters of other females."