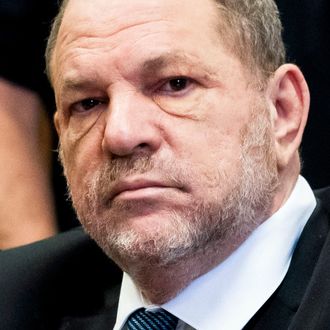 Harvey Weinstein.
Photo: Steven Hirsch/EPA-EFE/REX/Shutterstock
Harvey Weinstein is again trying to get his sexual-assault case tossed by claiming an accuser met up with him "hours" after an alleged attack — and that this information was kept "hidden" by cops.
Weinstein has been charged with having nonconsensual sexual encounters with three women. The mogul's lawyers have since insisted in numerous legal filings that prosecutors withheld key evidence from the grand jury.
This evidence includes claims that accusers maintained cordial relationships with Weinstein after the alleged attacks, according to his lawyers.
In October, one of the six counts against Weinstein was thrown out — without opposition from prosecutors — after it came to light that a detective did not disclose a witness statement that conflicted with accuser Lucia Evans's story.
Weinstein's legal team filed new paperwork on Friday once again asking Justice James Burke to consider dismissing the case "in light of what we believe to be quite startling new information."
According to Weinstein's lawyers, the woman who accused Weinstein of raping her on March 18 2013, referred to in court papers as "CW-1," attended a film screening where he was present later that night. They cite emails sent "mere hours" after the alleged rape, in which Weinstein's assistant invites CW-1's friend to this showing.  This friend — whom CW-1 allegedly "recently tried to enlist" to corroborate her rape allegation — wrote back saying she would attend with CW-1.
When Weinstein's legal team, led by lawyer Ben Brafman, uncovered these emails, they interviewed this witness "and asked her specifically about the movie screening on the evening of the same day of the alleged rape."
Not only did this witness confirm their attendance, and that they met Weinstein there, they also claimed to have told "two separate teams of NYPD detectives … more than a year ago" about the movie night, Weinstein's lawyers claim.
The defense team maintains this is "strong evidence that she was not raped … as why would an alleged rape victim go out of her way to spend time with her 'rapist' merely hours after she was allegedly attacked."
The witness also told Weinstein in an email that the accuser "adores you," the court filing says.
Weinstein's lawyers have also claimed that he and CW-1 had  extensive "loving and congenial email communications" indicative of an ongoing, consensual sexual relationship for years after the alleged attack.
Weinstein's lawyers further charge that none of this potentially "exculpatory" information was shown to a grand jury — nor given to his defense team.
If this information had been presented to a grand jury, they argue, "there is little chance that [CW-1]'s narrative would have been accepted …"
"CW-1 attempted to use this witness as a fabricated prompt outcry witness years after the alleged rape," Weinstein's lawyers write. "This new email evidence makes CW-1's attempt even more egregious because, as it turns out, the witness was with CW-1 hours after the alleged rape, yet CW-1 did not say anything about being raped; instead, she chose to spend the evening with her friend and her alleged rapist!"
Weinstein's lawyers made a point of telling Burke "that it is only through defense counsel's continuing investigation that this information was fortunately uncovered, despite it being hidden from counsel by law enforcement."
"We respectfully submit that, even in the Harvey Weinstein case, this reprehensible conduct cannot be permitted to stand," they also argued, asking Burke to throw out the indictment or order a hearing to vet investigators' alleged misconduct.
In a letter filed Friday responding to Brafman's arguments, prosecutors insisted that he "attempts to manufacture exculpatory information" and slammed their depiction of CW-1 as non-credible because of alleged communication with Weinstein.
"Again, when read in conjunction with the grand jury minutes, this is not exculpatory information," prosecutors said.
"That the defendant has a misguided and antiquated view of how a rape victim should react after having been assaulted does not change this reality."
The NYPD has long stood by its handling of the case, insisting investigators followed all proper procedures. Weinstein maintains his innocence of all charges.