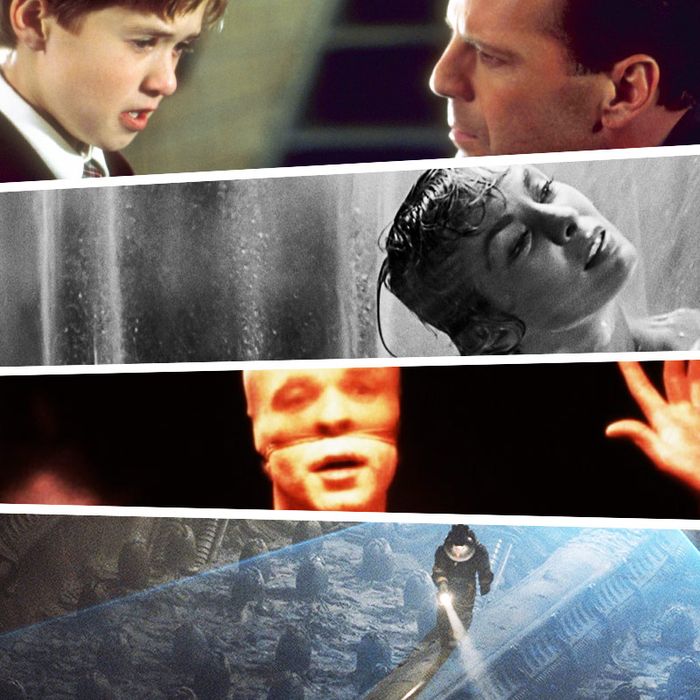 Photo: Buena Vista Pictures, Paramount Pictures, Twentieth Century Fox
With the 100 Scares That Shaped Horror, Vulture brought you a chronological breakdown of the most formative scenes in the history of the genre on film. But after 122 years of documented horror cinema, what is the year in the genre that most stands out? The one that best demonstrated its impact and its cultural vitality? To answer the question, Vulture consulted its 100 Scares brain trust, and below you will find their individual arguments for the year to rule them all.
1960
One of the most beautiful things about horror is that, more than any other film genre, it tends to have a finger on the pulse of social, political, and cultural trends happening around it. It takes these influences, redefines them, and then pushes them even further. In 1960, the forces that would help transform the ensuing decade had already been unleashed, and there was a new permissiveness in the air culturally. Meanwhile, in cinema, new movements in Europe were underway, while the unraveling of the American studio system continued apace.
Into this whirlpool of blurred boundaries and artistic experimentation stepped Alfred Hitchcock's Psycho, which transformed not just horror but the movie industry in general. But there was so much more: In Britain, Michael Powell released the seminal Peeping Tom, a film that had many similarities to Psycho but met pretty much the opposite public reception — the director was practically run out of town. In Italy, Mario Bava made Black Sunday, his first solo directorial credit and one of his absolute best works. In France, Georges Franju made Eyes Without a Face, inspired by the Hammer horror films coming out of the U.K. Back in the U.S., Roger Corman's House of Usher not only inaugurated his "Poe Cycle," but also represented its high point. And then, in Japan, Nobuo Nakagawa's surreal masterpiece Jigoku (Hell) put the Hitchcocks, Powells, Hammers, Franjus, Cormans, and Bavas all to shame, with its onscreen flayings, boilings, and beheadings. Almost none of these films could have been thinkable just two or three years earlier; that's how you know you're in the midst of a revolution. And to top it all off, the movies in question were by and large fantastic. Maybe that's another reason why I think of 1960 as being horror's best year: It was a time when the genre was still primarily the realm of artists, and had not yet been co-opted by the assembly-line attitudes and sequelitis that would come to define it in subsequent eras. —Bilge Ebiri
1979
While there had been prestige horror releases like Rosemary's Baby and The Exorcist before, 1979 was the year the genre decidedly burst beyond the realm of the drive-ins, grind houses, and midnight shows and tore into the mainstream. Alien, which set a new standard for movie-monster realism, and The Amityville Horror both placed in the top five of the year's box office; each became a classic that is still being spun off in sequels and reboots. They were just part of what Newsweek magazine (in a cover story, no less) dubbed "Hollywood's Scary Summer," packed with major-studio fright fare, including a revival of a classic character. And while Frank Langella was playing Dracula in his big-budget showcase, Werner Herzog and Klaus Kinski created a more enduring incarnation in Nosferatu the Vampyre. There were equally significant achievements on the independent side. George A. Romero's Dawn of the Dead became a landmark not just for the zombie genre, but as the first extreme horror release to defy the X rating and go out with a self-applied "No one under 17 will be admitted" tag, which would be adopted by many subsequent films. Formerly struggling Avco Embassy Pictures had a revivifying hit with Don Coscarelli's Phantasm, which pointed the way for the company to become a major player in the fright field, and a step toward the majors for John Carpenter, David Cronenberg (whose masterpiece The Brood also dropped in '79), and Joe Dante. Simply put, 1979 was a turning point for horror, one whose echoes continue to resonate in the genre today. —Michael Gingold
1986
To argue that 1986 was the best year for horror is relatively easy — all one has to do is point to August 15, a.k.a. the day that both Michael Mann's Manhunter and David Cronenberg's The Fly hit theaters. But more broadly, 1986 marked a recharging of the genre. James Cameron solidified Sigourney Weaver's Ellen Ripley as a powerhouse female character — a warrior-woman mentality he'd bring to fruition years later with Terminator 2: Judgment Day. Tom McLoughlin breathed new life into a tediously familiar formula with his electrifying Friday the 13th Part VI: Jason Lives — an entry that this writer would argue is the best in the series. Tom Atkins delivered his best performance with Fred Dekker's Night of the Creeps, a movie that would go on to inspire James Gunn when he made his super-slimy pseudo remake Slither in 2006. Frank Oz created the sweetest rendition of Roger Corman's Little Shop of Horrors, while director John McNaughton traumatized us with one of the scariest and most authentic depictions of a murderer to date, Henry: Portrait of a Serial Killer. It was a time of experimentation, when genre pictures couldn't be contained in one narrow-minded box.
And 1986 was groundbreaking in other ways, too. Back before Tony Todd's Candyman in 1992, Grace Jones seduced and savaged foolish men as Katrina the Vamp, in one of the earliest accounts of an African-American in a leading role in a horror movie. It was also a time of change for women in the industry. Genie Joseph was a tough director on the set of the overwhelmingly male-dominated Spookies film, and Carol Frank directed the Sorority House Massacre solo, helping pave the way for the future Soska twins and Mary Harrons of the world. And when one considers the most popular horror television programs at the time — The Twilight Zone, Tales From the Darkside, Alfred Hitchcock Presents, The Hitchhiker — all reflect the concepts of today's anthologies pretty closely, from American Horror Story to Channel Zero to Black Mirror. —Kalyn Corrigan
1999
As a horror fan, to fully appreciate 1999 you have to look at not only the quality of the movies released that year, but also the impact they had on defining the genre for the 21st century. The year was ruled by a pair of small films that overcame expectations to become cultural touchstones. The Blair Witch Project's success propelled "found footage" into a full-fledged horror subgenre that would multiply by the hundreds in the coming decades. As a bare-bones indie, it also foreshadowed the rise of art-house-skewed horror of the 2010s, as well as the Blumhouse template of low production costs churning out incredible profits. The Sixth Sense, meanwhile, set the stage for the "suburban haunting" movies — The Conjuring, Insidious, Sinister, Mama, etc. — that would soon dominate horror.
But 1999 was no two-horse race. Trailing The Sixth Sense by a month, Stir of Echoes was a less celebrated ghost story that was nonetheless comparable in quality. Similarly under the radar was Ravenous, a giddy blend of horror, comedy, and Western that remains a rare major-studio fright film with a female director (Antonia Bird). Even the bigger-budgeted horror releases held their own. Sleepy Hollow reveled in Tim Burton's neo-gothic charm, Lake Placid and Deep Blue Sea were fun animals-run-amok popcorn films, and House on Haunted Hill and The Mummy were visually striking pics that paved the way for the ubiquitous horror remakes of the 21st century. But perhaps most notable about 1999 was that it signaled the start of the best era for foreign horror cinema — inspiring countless Hollywood remakes — this particular year offering noteworthy entries from Japan (Audition, Wild Zero), Korea (Memento Mori) and Spain (The Nameless). —Mark H. Harris
2015
The moment right now is the best horror cinema has ever been, and we have the films that poured out of 2015 to thank for that. Standing on the shoulders of giants like David Cronenberg and John Carpenter and David Lynch, filmmakers like Karyn Kusama, Robert Eggers, Aaron Moorehead and Justin Benson, and more produced work that would signal a new era in the genre — one not defined by a few anointed masters but by a swell of small-scale filmmakers pushing the boundaries of horror. With their smart, stunning genre mash-ups, this wave of horror innovators and artists would broaden the appeal of scary movies for both high-minded art-house connoisseurs and mainstream movie fans who had for too long associated the genre with ultraviolence and slasher franchises.
Just look at this murderers' row of movies: It Follows, Spring, We Are Still Here, Creep, When Animals Dream, and Goodnight Mommy made their U.S. debuts, while The Witch and The Invitation started traveling through the festival circuit and racking up rave reviews. We got two of the all-time great horror comedies in Final Girls and What We Do in the Shadows, while late 2014 releases The Babadook from Jennifer Kent and Ana Lily Amirpour's A Girl Walks Home Alone at Night became conversation pieces as they gained momentum among American audiences in 2015. But it wasn't just a grassroots filmmaking boom, either. The quality of studio projects also soared with modern genre godfather Guillermo del Toro's Crimson Peak. Toni Collette continued her reign as horror's matriarch with Krampus, and M. Night Shyamalan returned to dark form with The Visit. Not for nothing, it's also the year Jordan Peele signed on with Blumhouse to make his film Get Out.
Horror fans know that the genre has always been political, smart, and subversive — long before the terrible term "elevated" started being tossed around by those trying to justify their enjoyment. But the movies that came out in 2015 actually managed to satisfy die-hard fans while also expanding the base, and previewing the more diverse, open future we're seeing built today. —Jordan Crucchiola