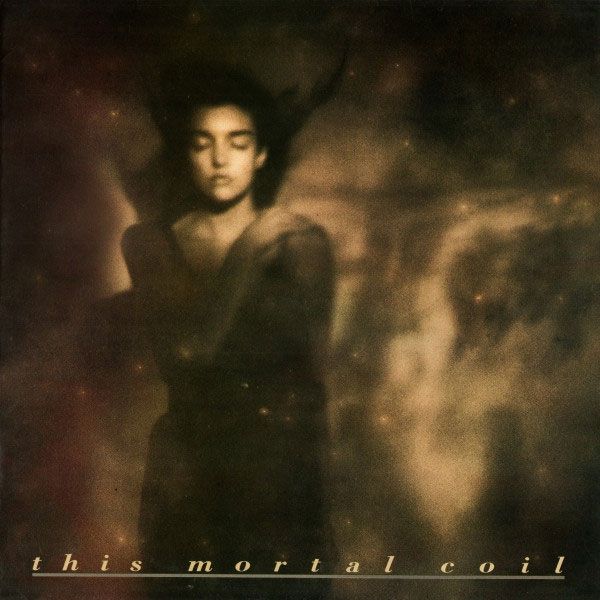 On December 7, venerated indie label 4AD released deluxe reissues of all three albums by This Mortal Coil, effectively rereleasing their ethereal dream-pop into our annual, wintry mix of sentimentality and seasonal affective disorder. The timing couldn't be more appropriate. These records should rightfully be another December tradition, right up there with "Wonderful Christmas Time" and Starbucks's latest concoction of peppermint glop. They fit so perfectly here in the twilight shadows of the season, when the heightened emotions and lack of vitamin D makes everything seem just a little more poignant and overwhelming, and all our romantic reveries inevitably get suffused with melancholy — drawing closer to our loved ones as another year turns cold and dead around us. But it's more than just smart holiday counterprogramming for the season of candle smoke or snow falling on lonely subway platforms. Although This Mortal Coil's output was short and sporadic across its eight-year run, it created a lasting influence that, these days, sounds more contemporary than ever — all of it stemming from a single, eternally haunting song.
Like most of This Mortal Coil's output, its 1983 debut single, "Song to the Siren," is a cover. The 1968 original, from the late folk singer Tim Buckley, is every bit as lovely, if slightly statelier in its sorrow, with Buckley's troubadour tenor lilting gently over the Homerian lyrics from collaborator Larry Beckett, carefully navigating their courtly, English-major's odes to doomed romance. It's all very elegiac and heartbreaking, but eh, you'll be fine. This Mortal Coil's version, on the other hand, will completely fuck up your day. It's sung with typical bravura by Cocteau Twins' Elizabeth Fraser in a way that's somber yet steely, Fraser simultaneously embodying the mythical creature that lures lovestruck men to a watery grave with her enchanting voice, the sailor fatally listing toward her, and even the grieving widow, staring mournfully at a cursed sea. Backed by gentle ripples of guitar from her Cocteau bandmate Robin Guthrie, and not much else, it's a true knee-buckler, capable of turning even a crowded subway car into a lonely, clove-choked apartment, where you sit on a bare mattress in the dark and brood over every relationship you've ever had, plus some you've just imagined. There's a reason comedian Patton Oswalt, riffing on KFC's "sadness bowls," mentioned This Mortal Coil as the obvious soundtrack for carb-assisted suicide, or that Rose McGowan's disaffected teen in The Doom Generation stares longingly at a This Mortal Coil album, sighing, "I wish I could just crawl in here and disappear forever." This is music for anyone who loves a good wallow, as promised by the title of the album "Song to the Siren" hails from: It'll End in Tears.
It's little wonder that David Lynch, cinema's foremost auteur of crying, loved "Song to the Siren." He decided he had to have it, ordering producer Fred Caruso to procure it for a pivotal scene in his Blue Velvet. So much of Lynch's career has been guided by intuition, fate, and what he calls "happy accidents," but in his recent memoir, Room to Dream, he still sounds downright pissed about the universe's refusal to gift him his favorite song. "I told Fred, 'You fucking get that thing, man,'" Lynch writes. "There are 27 zillion songs in the world. I don't want one of them. I want this song. I want 'Song to the Siren' by This Mortal Coil." But licensing it proved a bit too much for studio head Dino De Laurentiis — who, to be fair, had just financed Lynch's pricey bomb Dune, and probably didn't feel like shelling out thousands for some goth-pop obscurity. Instead, Caruso suggested Lynch just make up his own "Song to the Siren," telling him to pen some lyrics and task his newly drafted composer, Angelo Badalamenti, with crafting a reasonable soundalike.
Lynch did so, grudgingly. He scribbled a free-form, quasi-sensical verse he titled "Mysteries of Love," then asked Badalamenti to make it sound like "Song to the Siren." Badalamenti set aside his own reservations that "Mysteries of Love" lacked discernible hooks, harmony, or even a rhythm, then recruited a singer he'd known from his New York theater days named Julee Cruise to record it, overdubbing her breathy vocals until their track had that same ethereal quality Lynch wanted. By Lynch's own admission, "Mysteries of Love" ended up being "pretty perfect" for Blue Velvet — but it still wasn't as good as "Song to the Siren." In fact, Lynch would never stop chasing it, until he finally got it into 1997's Lost Highway. Still, their attempt at mimicry had produced its own happy accident, a bruised, celestial form of synth-pop that was perhaps softer and brighter than This Mortal Coil, but no less stilling.
The trio would expand on that sound further as they collaborated on Cruise's debut album, Floating Into the Night — and then most famously on Twin Peaks, where Cruise's gossamer sighs and Badalamenti's lush, sustained synth chords became the show's aching heart, capable of reducing an entire room full of people to a weeping mess. Even long after Twin Peaks ended, this sound remained an inextricable part of the Lynchian aesthetic, reverberating through Rebekah Del Rio's open-wound performance of "Llorando" in Mulholland Drive, and coloring Lynch's musical collaborations with singers like Lykke Li and Chrysta Bell. And it's inspired several generations of musicians since, scores of artists who slipped that elastic descriptor "Lynchian" into their press kits to connect their own strain of sexy-sad music back to Twin Peaks — and wittingly or not, to the original, ineffable pull of "Song to the Siren." As Lynch explains of that song's enduring, elemental strength, "It goes into this cosmic thing … They conjured magic."
Part of this innate otherworldliness, perhaps, is that This Mortal Coil didn't really exist. The band was a "supergroup" whose members were never all together, an experiment born from its own happy accident. 4AD founder Ivo Watts-Russell had been similarly smitten with a pair of early songs from Modern English, which the band had been playing as a medley during its live shows. Unable to convince the group (by then flush with "I Melt With You" success) to rerecord it as a single, he finally got two of its members to do it with Fraser on vocals. To fill out the B-side, he had Fraser and Guthrie cover "Song to the Siren" — his favorite song by his favorite singer — largely as a self-indulgence.
It was only after "Song to the Siren" became an unexpected radio hit that Watts-Russell was encouraged to pursue This Mortal Coil, going on to create other mutable ensembles from members of Dead Can Dance, Dif Juz, Colourbox, Throwing Muses, and more, then having them collaborate on yet more renditions of old psych and folk obscurities he loved, along with a smattering of originals. (Imagine a dream-pop version of Rick Ross's Maybach Music Group, or your dad's post-work jam band.) This Mortal Coil was about improvisation and free creative expression, along with letting a bunch of post-punk, goth-rock, and New Wave musicians set aside all their angular aggressions and be pretty.
Aside from Watts-Russell, the only permanent member of This Mortal Coil would be John Fryer, the producer who'd helped Cocteau Twins develop its glacial, shimmering sound from the echo pedals up. Along with his work on the Cocteau's Head Over Heels, also released in 1983, Fryer's production on It'll End in Tears heralded 4AD's shift away from the stark, serrated angst of Bauhaus and the Birthday Party toward the gauzy atmospherics with which the label has since become synonymous. There's arguably no more "4AD" band. Still, because This Mortal Coil was less of a band than a concept, it frequently gets overlooked. Chances are that, even if you're already drawn to 4AD's bleary world, you might have overlooked This Mortal Coil. (Or maybe, as I did for years, you saw the name "This Mortal Coil" and just assumed it was bleak and lacerating, self-serious goth music, rather than, well, deeply romantic, self-serious goth music.)
Thanks to the considerable shadow cast by "Song to the Siren," This Mortal Coil has also been misrepresented as just another Cocteau Twins side project — something that especially galled that band. Both Fraser and Guthrie sought to distance themselves immediately, while publicly bemoaning that it took covering someone else's song, on someone else's project, to land them on the radio. "We probably did get a bee in our bonnet about it not being Cocteau Twins, because that was Head Over Heels time, and it felt more right to have success because of Cocteau Twins music," Fraser said in a 1992 interview. Watts-Russell certainly didn't do much to dispel that notion, selling It'll End in Tears largely on the Cocteau's names and faces, which were framed in unmistakable close-up on the video. By the time of 1986's Filigree & Shadow, Fraser and Guthrie had soured on it completely (although their bandmate, Simon Raymonde, continued), leaving This Mortal Coil without its most well-known contributors, and struggling to recapture the critical and commercial success of its debut.
But This Mortal Coil wasn't just the Cocteau Twins, any more than It'll End in Tears was just "Song to the Siren." If anything, that album actually belongs to Cindytalk's Gordon Sharp, who sings three songs to Fraser's two: lending his cabaret quaver to the opening cover of Big Star's "Kanga Roo," as well as the equally stunning "Fond Affections" (whose "Let's all sit down and cry" refrain doubles as album thesis statement). And there are far more shades of gray within Tears than "Song to the Siren" might suggest, from Buzzcocks front man Howard Devoto putting a goth-fop spin on Big Star's "Holocaust"; to the Blade Runner churn of ambient instrumental "Fyt"; to a faithfully spiky pantomime of Colin Newman's "Not Me," sneered by Modern English's Robbie Grey.
On 1986's Filigree and 1991's Blood, that palette expanded along with the roster — and Watts-Russell's ambitions. Both of these are double albums, with each of Filigree's four sides a self-contained mini-suite; the emotions there range from the stirring New Wave gospel of "I Want to Live" to the postapocalyptic scrape of "The Horizon Bleeds and Sucks Its Thumb." Newer textures — and actual rhythms — were increasingly layered in; on Blood's down-tempo instrumental "Loose Beats," This Mortal Coil even gets downright funky, while "I Am the Cosmos" features an honest-to-God guitar solo. Songs by the Byrds and Talking Heads confidently entered the mix alongside more obscure, record-geek royalty like Pearls Before Swine and Roy Harper, while nearly half of each record was now taken up by originals. Meanwhile, This Mortal Coil began to form its own, distinct identity, albeit a deliberately obscured one: With the exception of Throwing Muses' Kim Deal and Tanya Donelly trading enchanting singsong on Chris Bell's "You and Your Sister" (Watts-Russell sure loves Big Star), the vocal duties on Filigree and Blood are largely handled by then-unknown singers Alison Limerick, Caroline Crawley, and Louise Rutkowski. Their relative anonymity helped create the illusion that This Mortal Coil's music emanated from some bummed heavenly choir. It was easy to imagine everything being sung by model Pallas Citroen, whose porcelain, pallid face graced every album cover.
Yet even as the sounds within swirled through lightly operatic dirges, neoclassical chamber-pop instrumentals, scratchy New Wave, and electro-industrial grind, they were all still guided by the twilight mood that "Song to the Siren" had established. And it's a spirit you can locate today, in any number of artists who plumb a similar stillness. Some of them have even cited This Mortal Coil — and "Song to the Siren," specifically — as a direct influence, from Beach House to Anohni to Troye Sivan. Covers (or covers of covers) of This Mortal Coil's songs have been performed by other obvious descendants like Bat for Lashes, Amen Dunes, and Perfume Genius. And even if This Mortal Coil is never name-checked explicitly, its legacy endures in any artist who prizes atmosphere and texture, and who explores the loneliness of infinite space: in the cavernous, cathedral hush of Grouper and Julianna Barwick; the windswept barrenness and arresting theatrics of Chelsea Wolfe, Julia Holter, and Zola Jesus; the hypnagogic chimes of Cults and Blouse; the lusty pop noirs of Cigarettes After Sex; even whispering around the edges of the XX's plaintive bedroom whimpers. Fittingly, a few of these bands even circled their way back to Twin Peaks for last year's The Return, which welcomed Chromatics, Au Revoir Simone, the Veils, and Sharon Van Etten to the Roadhouse stage. Each of those artists owe more than a little something to This Mortal Coil's heavily reverbed heartbreak, even if they came by it secondhand.
And then there is Lana Del Rey, whose languid, troubled soul is pop music's most visible (and successful) distillation of the "Lynchian" mode, a connection the director himself has acknowledged. Their respective work shares common themes: the inevitable, often-violent collision of love and misery; the dread lurking beneath a pretty veneer; curdled malt-shop memories of muscle cars, Malibu beaches, and Marilyn Monroe. But mostly, it's that sound — a seductive melancholia, rich with emotion, that can instantly shade a room. As Lynch said, it's a "cosmic thing" broadcast from somewhere both far beyond and deep within. Like Lynch, Del Rey often comes off like a radio stuck between stations, catching conflicting signals of 1960s teen-tragedy songs and 2010s cloud rap, laying one mythical American blueprint over another to find the secret shared rooms in between. It's a lot like This Mortal Coil's own repurposing of old rock and folk tunes into similarly ghostly reflections, creating music that transcends performer, time, and place.
While she may lack Elizabeth Fraser's awe-inspiring swoops, or the angel's breath of Julee Cruise, Del Rey often sings like she, too, is pining for the dead, if not death itself. Praising her music to Spin in 2012, Lynch said, "It's not the same mood as Julee Cruise, but it might live in the same building." And in that building, "Song to the Siren" still echoes faintly off the basement walls, forever beckoning new listeners to crawl down into the darkness and get lost. Look around. There's never been a better time.