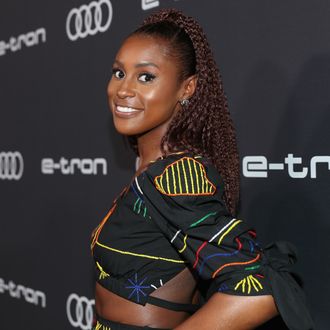 Issa Rae.
Photo: Rich Polk/Getty Images for Audi
Consumerism. Class. Motherhood. Riots. Dolls. Laura Dern. The upcoming HBO limited series from Issa Rae and Insecure writer/producers Laura Kittrell and Amy Aniobi has it all. According to The Hollywood Reporter, Rae and Dern are set to star in The Dolls, a dramatized look back at the Cabbage Patch Kids riots of the early '80s, during which, as you probably guessed, parents brawled in the aisles over the highly coveted wide-faced toys. Ah, we can smell their plastic vanilla scent even now.
The show will reportedly focus on "the aftermath of the Christmas Eve riots within two small Arkansas towns in 1983 in which violent customer outbursts erupted over Cabbage Patch Dolls." The frenzy will reportedly be the nexus of the show's exploration of privilege, race, and "what it takes to be a 'good mother.'" The series is currently in development, but hopefully they'll film it sooner rather than later. Seems insane not to drop it at this exact time next year. Almost as insane as two adult women fighting over a Cabbage Patch doll, so we guess anything is possible.