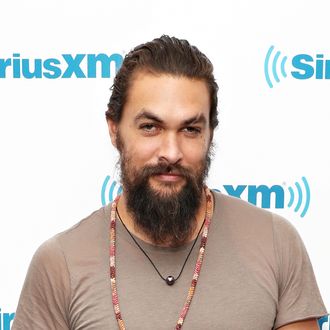 Photo: Cindy Ord/Getty Images for SiriusXM
It wouldn't be a press junket without recounting a certain number of wacky on-set hijinks. Clooney loves a prank, we all got drunk in a tiny town in the Czech Republic, etc., etc. But Amber Heard's revelations from the set of Aquaman are next-level upsetting. If Jason Momoa felt he wasn't getting enough attention from her, he would tear pages out of whatever book Heard was reading at the time. "He adopted this method of ripping out the pages of my book so I would pay attention to him," she told ABC News. "It would drive me crazy because I'd have 30 pages left and it would be gone." As Jezebel rightly pointed out, this is something Gaston does in Beauty and the Beast. What's next? Jason Momoa threatening to have Amber Heard's dad committed to an insane asylum if she won't grant him her hand in marriage? How many antlers does he use in his decorating?
Heard loves reading so much that costumers on Aquaman sewed her a pouch made of green screen cloth, so that she could have her book with her during long breaks in filming. Apparently, Heard spent hours of her life suspended in wires, reading and not paying attention to delicate hothouse orchid Jason Momoa. Your next opportunity to give or withhold attention from Momoa is Saturday, when he hosts Saturday Night Live.