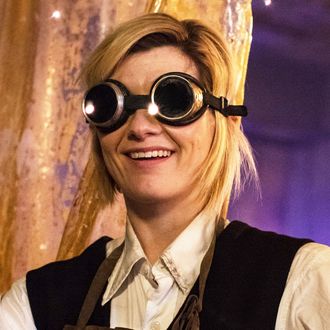 Jodie Whittaker in
Doctor Who
.
Photo: Sophie Mutevelian/BBC
The Thirteenth Doctor is proving to be quite popular with American viewers. Per Nielsen, the latest installment of the Doctor Who franchise — the first with a woman (Jodie Whittaker) playing the iconic British sci-fi character — is averaging 1.6 million viewers on BBC America over the course of its first eight episodes, including delayed and on-demand replays. That's up an eye-popping 20 percent versus last year's final run for the former Doctor, Peter Capaldi, a feat made all the more impressive in an era of nearly across-the-board ratings erosion.
Whittaker's debut season (which wraps on Sunday night, though she'll be back for a Christmas special on New Year's Day) is also drawing more viewers in America than the first outings for past Doctors Matt Smith, David Tennant, and Christopher Eccleston. BBC America's decision to switch the show to Sunday nights from its former Saturday perch has also paid off with huge gains in same-day ratings: Who has seen its overnight numbers jump by just under 50 percent in both viewers and key demographics. And among millennial women, the show's same-day ratings have doubled compared to last year's marks. While curiosity about Whittaker's historic debut inflated numbers for the first few episodes a little bit, overall audience tune-in has been steady over the past two months (and even growing a bit in recent weeks). Guess the world was ready for a female Doctor after all.