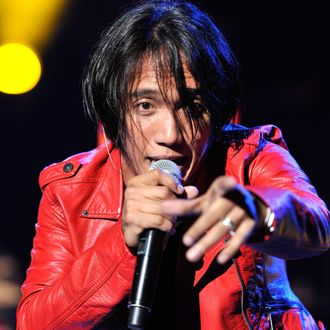 Arnel Pineda.
Photo: Kevin Mazur/WireImage
Crazy Rich Asians director Jon M. Chu has lined up one of the best stories in modern music for his latest project. Deadline reports that Chu will direct a big-screen retelling of Filipino singer Arnel Pineda's one-in-a-million journey from homelessness to relatively obscure covers artist to the latter-day frontman of Journey. (Because a biopic about the original lineup would be no fun.) Pineda was discovered by the band on YouTube, where one of his Journey covers with his old band the Zoo was posted, and brought in for the casual duty of replacing lead singer Steve Perry in 2007.
Since then, he's reignited the band's touring popularity substantially and even continued to stand in for Perry at the band's Rock and Roll Hall of Fame induction performance in 2017, when Perry declined to fully reunite with them. Chu is again teaming up with Warner Bros. on the project and seeking to license original Journey songs for the film. They've also acquired the rights to the 2012 doc Don't Stop Believin': Everyman's Journey, also about Pineda's story, for more background. Still confused? Think of it as the Queen biopic if it was about Adam Lambert instead of Freddie Mercury.