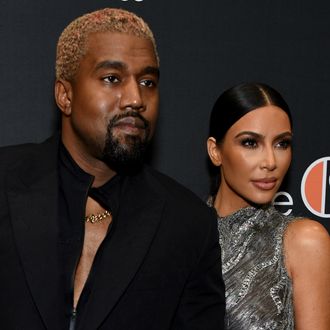 Kanye West and Kim Kardashian.
Photo: Jenny Anderson/Getty Images for The Cher Show
It would undoubtedly be distracting to see the bright glow of an audience member's cell phone in the middle of putting on a Broadway show. And then to look up and see that audience member is Kanye West? Well, it'd be a real struggle to stay focused on the life and works of Cher, which is presumably why The Cher Show cast member Jarrod Spector, originating the role of Sonny Bono, tweeted at Yeezy to chide him Monday night.
"Hey @kanyewest so cool that you're here at @TheCherShow!" he wrote. "If you look up from your cell phone you'll see we're doing a show up here. It's opening night. Kind of a big deal for us. Thanks so much."
Remarkably, Kanye replied with … well, not a denial, but definitely huge praise for the show. "The dynamics of Cher and Sonny's relationship made Kim and I grab each other's hand and sing 'I got you babe,'" he replied to Spector. "Please pardon my lack of etiquette. We have so much appreciation for the energy you guys put into making this master piece." TMZ even claims Kanye reportedly loved the show so much, he was actually taking notes on his phone, which means you can get ready for some excellent samples on Yandhi, whenever it drops.