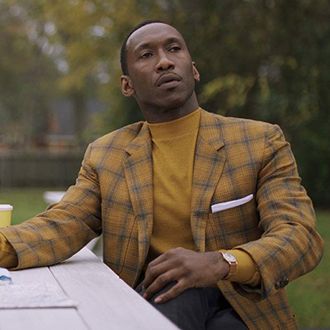 Mahershala Ali presents: mustard.
Photo: Universal Pictures
In the new film Green Book, Mahershala Ali plays Don Shirley, a genius black concert pianist who travels on a concert tour of the South with his white bodyguard and driver, Tony "Lip" Vallelonga. The movie is based on stories Tony Lip told to his son, a screenwriter on the movie, and it shows: Tony Lip frequently arrives in the nick of time to save Shirley's skin, teaches him about Little Richard, and convinces him to eat fried chicken. According to news site Shadow and Act, the living relatives of Shirley have taken issue with how the movie portrays Shirley's life.
Shirley's nephew Edwin Shirley III, and his 82-year-old brother, Maurice Shirley, both took issue with several aspects of Green Book: Shirley did not consider Tony Lip a close friend, as the movie suggests. He was always close to his family and brothers, despite a line of dialogue in the movie suggesting he'd lost track of them. He never professed to be embarrassed about his blackness or felt estranged from his race. Maurice Shirley called the movie's portrayal of his brother "a symphony of lies."
What's more, the Shirley family said the musician specifically rejected efforts by Tony Lip's son to make a movie about their friendship. "I remember very, very clearly, going back 30 years, my uncle had been approached by Nick Vallelonga, the son of Tony Vallelonga, about a movie on his life, and Uncle Donald told me about it," Edwin told Shadow and Act. "He flatly refused."
After the Shirley family made their displeasure with the film known on NPR, Edwin and Maurice heard from Ali. "I got a call from Mahershala Ali, a very, very respectful phone call, from him personally. He called me and my Uncle Maurice in which he apologized profusely if there had been any offense," Edwin told Shadow and Act. "What he said was, 'If I have offended you, I am so, so terribly sorry. I did the best I could with the material I had. I was not aware that there were close relatives with whom I could have consulted to add some nuance to the character.'" Director Peter Farrelly, speaking to Newsweek, said he was under the impression that there "weren't a lot of family members" of Don Shirley still living, and said that the movie invited them to a friends-and-family screening.