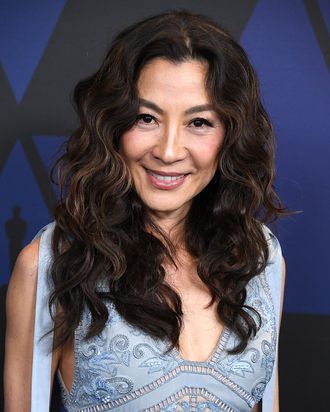 Michelle Yeoh.
Photo: Steve Granitz/WireImage
Michelle Yeoh might have been ROBBED of a Golden Globes nomination, but she will be attending the function and she will be wearing statement jewelry.
(Spoilers for Crazy Rich Asians)
Yeoh told The L.A. Times that she will be wearing her character Eleanor's emerald and diamond ring to the award ceremony. "I think I have to," she said, "because the ring is so much a character in the film. What a perfect thing! I must." In the film, Henry uses the ring to propose for a second time to Constance Wu's Rachel, demonstrating that he finally has Eleanor's blessing. Vulture revealed back in August that the ring came from Yeoh's personal collection. She bought the ring as a gift to herself. "I don't wait for people to send me flowers," she told the Times. "If I want them, I'm going to send them to myself." It's important to remember that Michelle Yeoh is an icon of independence and self-love, and that she can kick major ass when provoked.