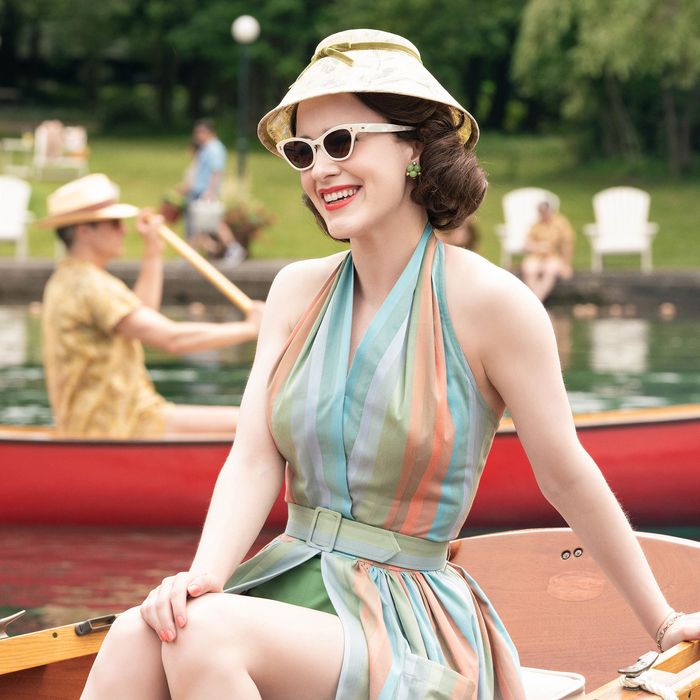 Rachel Brosnahan in
The Marvelous Mrs. Maisel
.
Photo: Amazon Studios
The Marvelous Mrs. Maisel is set in late 1950s New York, but in a version of the city that's cloaked in pastel unreality, where everyone is impeccably clothed and coiffed to match their witty, rat-a-tat dialogue. In the show's second season, even as its reach expands from Manhattan with trips to Paris and the Catskills, that sensibility remains very much intact, as Midge Maisel and her family dress their best even while adapting to a foreign city or on their summer vacation. Meanwhile, as her stand-up career starts to take off, the aspiring comedian also starts to develop a distinctive onstage style. Vulture spoke with Maisel's costume designer Donna Zakowska to find out how five of the season's key costumes explain each major character and their story lines.
Midge's Parisian transformation
Zakowska saw the show at "a real transitional season," with Midge balancing her old, childlike life with the changes that come with a career in comedy. For her trip to Paris at the beginning of the season, Midge initially veers toward the innocent, dressing, as Zakowska imagines she "might have thought, looking at magazines, what a 1950s stewardess looked like traveling, because she's never been on a plane."
Then, once she adjusts to the City of Lights, Midge switches into a lighter dress and a hat that more closely resembles a beret. She wears it when she accidentally ends up performing in a French club, and when she later sadly walks across the Seine alone. "The second look is my idea of a sort of French romanticism," Zakowska said. "That somehow, no one can avoid Paris. I wanted that last outfit to have a light color tone, like a Marie Antoinette palette, and to establish a very romantic feeling as we see her walking away in that beautiful sage silver color."
Abe and Rose's Parisian transformations
While Midge takes a whimsical approach to Paris in her clothing, her parents Abe (Tony Shalhoub) and Rose (Marin Hinkle) are won over by the city in other ways. Rose, who returns to France to reclaim the way she felt studying there when she was young, is dressed in "deep purples and deep reds that have such a Parisian feeling," Zakowska said. "It really was, for Rose, about refinding herself in her Paris identity."
Abe is more resistant, but starts to adapt once he explores the intellectual side of the city, and finds friends who discuss philosophy at a café. "Putting him in a leather jacket and a beret and taking him out of that New York–professor thing, that was a lot of fun," Zakowska said. "He just looks so good in it, too." It's also sly foreshadowing for what's to come: Later in the season, Abe starts to question more about his life and career. Zakowska said she was just "beginning to dig at" Abe's identity crisis through his Parisian clothing, and she imagines she'll get to go deeper in season three. (Congrats, Tony Shalhoub fans!)
The "childlike" Catskills outfits
After leaving Paris, the Weissmans retreat back into their old ways with a summer trip to the fictional Steiner resort in the Catskills. There, their costumes also regress into childishness: One of Zakowska's favorites is the split dress Midge wears while boating with Zachary Levi's Benjamin. "That was actually something that wasn't popular, but Claire McCardell and a lot of American designers made these dresses that opened and had shorts underneath," she said. "It was the beginning of sports attitude toward women's clothing." Zakowska then paired the fashion-forward dress with a hat on which she hand-painted butterflies. "It's a little bit like a lampshade," she joked. "The costume really mixes the period and is true to the period, but also captures the humor of it and absurdity. When [Benjamin] is sitting across from the boat looking at her he's like, Oh my God."
The swimsuit competition
Though the Catskills were a popular destination spot for New York's upper-class Jewish community throughout the 1950s and '60s, Zakowska had to work hard to find primary sources. "There are some small films that exist, and from those films I was able to figure out if the women were very into their clothing there," she said. "This was an opportunity for them to go out at night. They used to have these mini–fashion shows, lessons in putting makeup on."
Given that history, it's no surprise that Maisel's second season includes dances, dates, and even a swimsuit competition, which shows how the women dressed in ways that were "rather modest" though they "still had a glamour." But Midge isn't allowed to compete in the pageant because she's broken up with her husband, so she rebels by wearing a two-piece, which Zakowska characterized as "against the modest glamour of the Catskills," though in keeping with a "Mamie Van Doren/Bettie Page look."
The evolution of Mrs. Maisel's black dress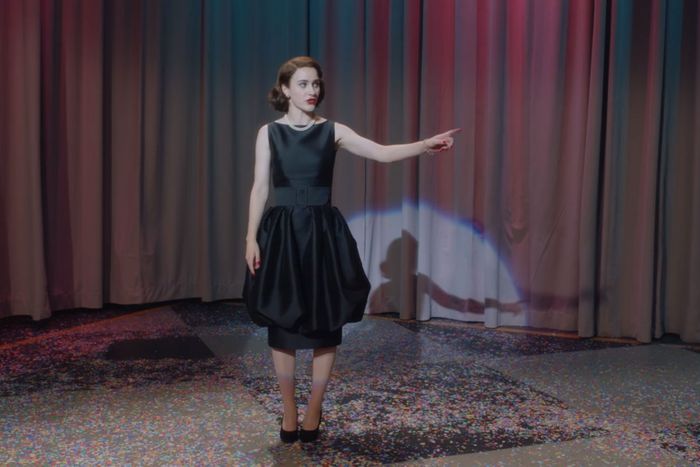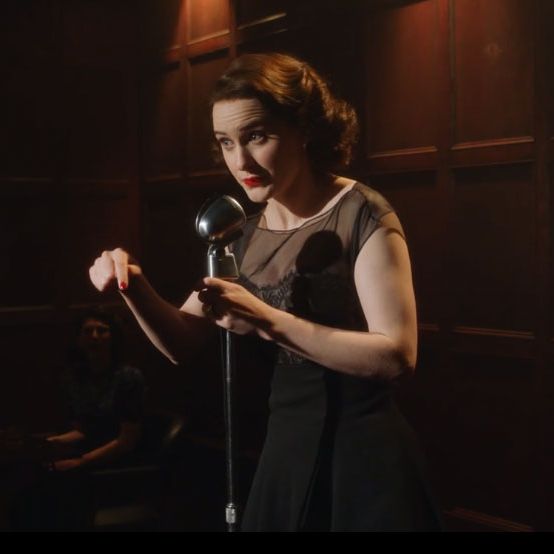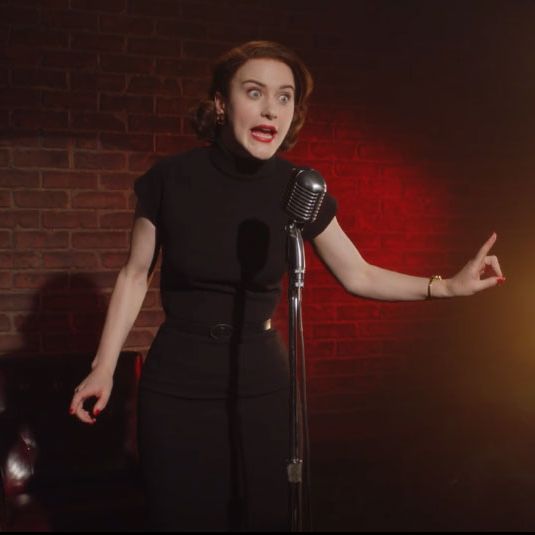 In her burgeoning comedy career, Midge pokes fun at her persona as an Upper West Side housewife who performs in grimy downtown spaces. She's also developed a signature look for her shows — a black dress — which emphasizes that persona, and also develops over the course of season two. "We tried different shapes because I wanted her to have a great deal of interest," Zakowska said of Midge's various black dresses, which experiment with a variety of silhouettes, including a bubblelike shape late in the season that moves even further away from the designs she's worn before. "You see a little bit of moving away from the late '50s [and] evolving into the '60s, just beginning to evolve into the '60s," she said.