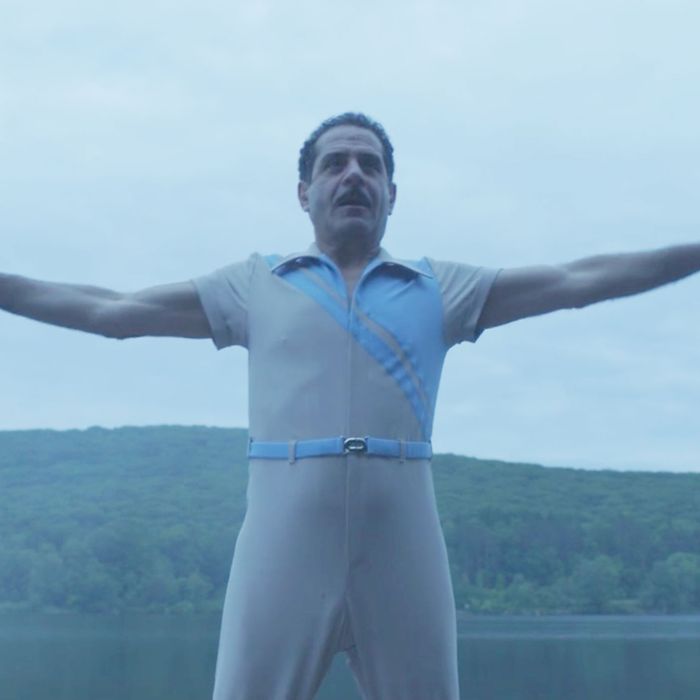 Midway through The Marvelous Mrs. Maisel season two, Abe Weissman gets to go to his happy place: a summer resort in the Catskills. Typically buttoned-up and overserious, Tony Shalhoub's character gets to unwind when he checks into the Steiner Resort, where he eagerly knocks back a few cocktails with dinner (all according to a strict plan, even if he can't follow that plan), drinks a lot tomato juice, and, of course, does his morning exercises out on the dock. But it's not just any usual exercise routine.
"Every day, before the sun's up, when everyone's asleep, I do my special outdoor calisthenics. And I wear special clothing," Abe explains to his daughter's estranged husband, Joel (Michael Zegen), after realizing that he'll be staying in their cabin. "A romper, Joel. I wear a romper."
Abe's romper is special clothing. It is taupe, with full-length straight-legged pants, short sleeves, and a pronounced set of collar lapels jutting sharply above a modestly revealing V-neck. It's highlighted with accents of sky blue, which appear diagonally across the chest and shoulder and encircle the waist. The pants strap under the arches of Abe's feet, in a way that recalls ballet clothes. The romper is also, as Joel's father later tells the family, so "formfitting" that "every cut of the mohel's knife is on vivid display."
Abe wears the romper to perform calisthenics on a lakeside dock in the blue predawn light. It's whimsical, there's no doubt. But somehow, in a season where Abe also wears a beret, a prayer shawl, and the inevitable sweater vest of a Columbia professor, it's clear that the romper represents the essence of Abe Weissman's truest self.
Shalhoub told Vulture that the romper was designed and made specifically for him (how else could such an object come into existence?), and that Abe's exercises were written into the script, although "they let me make up a few." "I don't know where I got those," Shalhoub said of his routine, though it did help him better understand the character. "I'm not just the guy in the suit in the classroom. I'm not just the guy sitting in my den reading in my cardigan sweater. I'm also the guy who exercises in a onesie at sunup on the dock."
In making the romper, Maisel costume designer Donna Zakowska took what executive producers Amy Sherman-Palladino and Dan Palladino suggested in the script, then looked for inspiration in the exercise clothing of the time. "There was this Jack LaLanne character who played a part in a lot of American households and was in this romper," Zakowska said, referencing the ubiquitous fitness guru of the era, who inspired the trends that she incorporated into Abe's outfit. "There wasn't sophisticated exercise clothing in the '50s as there is now," she added.
Although everyone's caught a glimpse of Abe in his romper, Abe himself believes that only Joel has seen it, which made the scene where Joel learns about the romper a tricky one to shoot. "Both of us kept laughing!" Zegen said. "I guess a lot of people do know, but you don't know until you're witnessing it firsthand just how funny Tony is. Him with that tomato juice cracked me up every time. He's such a brave actor for putting on a romper."