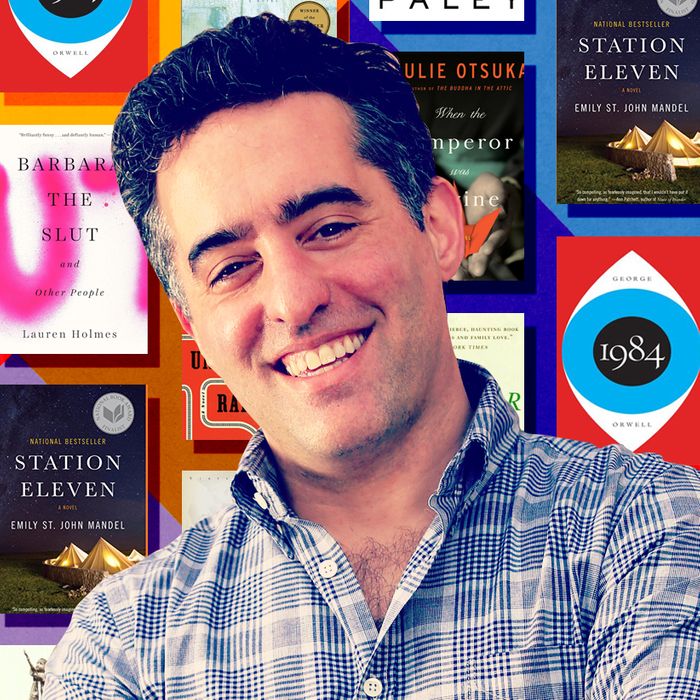 Nathan Englander.
Photo: Vulture/Glenn Koenig/Los Angeles Times via Getty Images
Bookseller One Grand Books has asked celebrities to name the ten titles they'd bring with them to a desert island, and they've shared the results with Vulture. Below is author of the forthcoming novel Kaddish.com Nathan Englander's list.
Simply, "The Nose" is a master class in voice. A man chasing his runaway honker around town trying to talk it back onto his face is, to me, perfection.
If you're only going to read one book this year about an aging Iowa pastor being quietly reflective, then this is the one for you! No one builds a sentence like Marilynne Robinson.
This goes on my short list of gigantical best sellers that, when I read it way back in galleys, made me think, "This is going to be a gigantical best seller — and truly deserves to be." It's just fantastically imagined and extraordinarily powerful.
Feeling like your world is currently imploding? Here's an I-couldn't-put-it-down dystopian novel that makes the end of days kind of cheery (in the end). I just finished reading it, and am glad to have a place to sing its praises.
As for dystopian, I'm not putting this on the list because we live in a time when those wielding power say things like, "Truth isn't truth." (Fun fact: It is!) I'm adding it because, when I was too young to grasp its cautionary aspects, this book showed me what a novel could do.
I love this poem of a novel. It's a stunningly rendered exploration of the internment of Japanese-Americans during WWII.
This book killed me dead. A sprawling, character-driven epic set in India in the 1970s. It's surely a modern masterpiece.
If there's any nonfiction book that I wish had lost its relevance, this is it. But Danticat's very personal 2007 account of her family's differing journeys seems even more urgent today, dealing as it does with emigration and asylum and political upheaval.
This one is a gem — smart, funny, and just what a debut collection should be. Also, of every story I know of that's narrated by a dog (really), "My Humans" is the joyous best.
I'm singling out a single story once again. "Goodbye and Good Luck" leaves me in tears every time I read it — every time. Also, Paley musters her neighborhood so vividly that I hardly ever walk up Sixth Avenue in Greenwich Village without thinking about her.