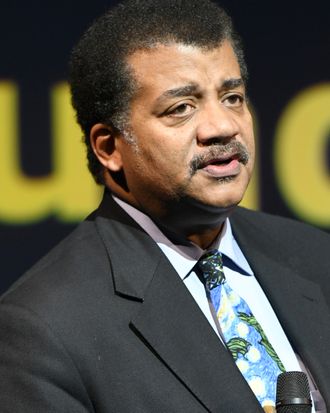 Neil deGrasse Tyson.
Photo: Craig Barritt/Getty Images for Onward18
Neil deGrasse Tyson took to Facebook to address the multiple accusations of sexual misconduct he is is now facing. DeGrasse Tyson said he had refrained from commenting previously "on the grounds that serious accusations should not be adjudicated in the press." He then immediately launched into a defense of his actions, claiming that he "clearly" can no longer stay silent. DeGrasse Tyson is accused of misconduct by two women, and of drugging and raping a third. "In any claim, evidence matters. Evidence always matters," wrote deGrasse Tyson. "But what happens when it's just one person's word against another's, and the stories don't agree? That's when people tend to pass judgment on who is more credible than whom." He then provided his accounts of what happened in each case.
Dr. Katelyn N. Allers accused deGrasse Tyson of groping her at an American Astronomical Society after-party in 2009. DeGrasse Tyson says he was trying to find Dr. Allers' tattoo of Pluto, which may have been obscured by her dress. "I was reported to have 'groped' her by searching 'up her dress', when this was simply a search under the covered part of her shoulder of the sleeveless dress," he wrote.
His assistant on Cosmos, Ashely Watson, has accused deGrasse Tyson of pressuring her into coming to his apartment for wine and making repeated passes at her. In his Facebook statement, deGrasse Tyson characterized the night as containing normal conversation and that the only time he touched her was to give a special Native American handshake that an elder had taught him at the Grand Canyon.
Musician Tchiya Amet claimed recently claimed that deGrasse Tyson drugged and raped her when they were both in graduate school. He claims their relationship was a casual dating relationship. "I remember being intimate only a few times, all at her apartment, but the chemistry wasn't there. So the relationship faded quickly." DeGrasse Tyson then cast aspersions on Amet's credibility, because she says she cannot fully remember the assault and because she uses tuning forks in her meditation practice. Fox and National Geographic are conducting investigations into the claims, which deGrasse Tyson stated "would have [his] full cooperation."