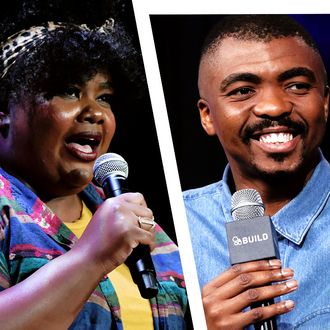 Nicole Byer, Loyiso Gola, and Neal Brennan.
Photo: Getty Images
Netflix is kicking off 2019 by giving stand-up viewers way too many specials to handle. Earlier this year, the streaming network announced its plans to release 47 stand-up specials on the same day, and today the premiere date for the so-called "stand-up comedy event series" was announced: New Year's Day 2019. The specials were taped all over the world — including at the 2018 Just for Laughs comedy festival in Montreal, as well as at venues in São Paulo, Mexico City, Mumbai, Berlin, and Amsterdam — and result in a wide-ranging mix of international specials in French, Spanish, Portuguese, Arabic, Dutch, German, and English.
Here's the lineup:
U.S.

Neal Brennan

Chris D'Elia

Nicole Byer

Nick Swardson

 

AUS/NZ

Joel Creasey

Urzila Carlson

Nazeem Hussain

Cal Wilson

 

QUEBEC

Louis-José Houde

François Bellefeuille

Katherine Levac

Adib Alkhalidey

 

CANADA

Ivan Decker

DeAnne Smith

K. Trevor Wilson

Dave Merheje

 

SOUTH AFRICA

Loyiso Gola

Loyiso Madinga

Tumi Morake

Riaad Moosa

 

U.K.

Nish Kumar

Joel Dommett

Mae Martin

Ellie Taylor

 

FRANCE

Shirley Souagnon

Jason Brokerss

Tania Dutel

Donel Jack'sman

 

MIDDLE EAST

Moayad Alnefaie

Adi Khalefa

Rawsan Hallak

Ibraheem Alkhairallah

 

MEXICO

Franco Escamilla

Hugo El Cojo Feliz

Gaby Llanas

 

BRAZIL

Afonso Padilha

Thiago Ventura

Mhel Marrer

 

NETHERLANDS

Soundos El Ahmadi

Martijn Koning

Rayen Panday

 

GERMANY

Enissa Amani

Ilka Bessin

Kaya Yanar

 

INDIA

Aditi Mittal

Atul Khatri

Amit Tandon



Comedy Central also announced some upcoming stand-up specials today, including four new hour-long specials set to premiere in January, as well as its next batch of half-hours for Comedy Central Stand-up Presents. Prepare yourself now, because the 2019 stand-up avalanche is upon us.