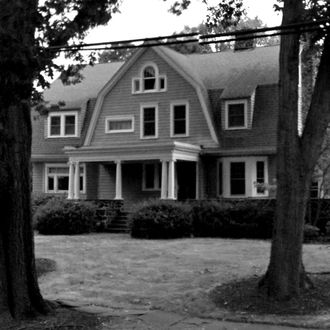 A New York article about a Westfield, New Jersey, family being stalked by a neighbor obsessed with their house is becoming a movie. According to Deadline, Netflix won a heated bidding war to adapt the viral Reeves Wiedeman report titled "The Watcher." Netflix will pay seven figures for the rights package, which includes Wiedeman's article, and the rights to the homeowners' story. Henry Joost and Ariel Schulman (Nerve, Catfish, Paranormal Activity 3) will direct.
To get the project, Netflix outbid Universal for Jason Blum, Warner Bros. for Roy Lee, Paramount for J.J. Abrams's Bad Robot, Amazon for producer Michael Sugar, and Fox for Peter Chernin, according to the report.
In the New York story, Derek and Maria Broaddus were besieged by menacing "welcome letters" from an unknown source. "My grandfather watched the house in the 1920s and my father watched in the 1960s," went one letter. "It is now my time. Do you know the history of the house? Do you know what lies within the walls of 657 Boulevard? Why are you here? I will find out."
The letters continued through the article's publication, even as the Broadduses tried to sell and rent the house. Per New York's reporting, the Broadduses received several offers for film deals but previously turned them down. In 2016, Lifetime released a movie called The Watcher, despite a cease-and-desist letter from the Broadduses. The real question remains: Does the Watcher watch … Netflix?