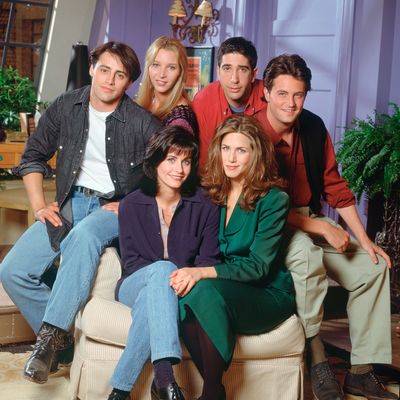 Photo: NBC/NBC via Getty Images
After a brief scare on Monday, Netflix confirmed Friends would remain on the streaming service "throughout 2019," forestalling any further freak-outs among fans who've grown accustomed to easy, on-demand access to the enduringly popular 1990s sitcom smash. But that doesn't mean the Central Perk gang will always be there for you — at least not on Netflix. There remains a not-insignificant chance that, as soon as a year from now, Friends will leave the streaming giant and move to a new subscription-based TV offering being put together by AT&T-owned WarnerMedia (the company that controls the rights to the show). So could the Friends-pocalypse still actually come to pass? And if it does, what will it mean for Netflix? Here's what we know.
Netflix doesn't want to go on a break with Friends …
It's very clear Netflix considers Friends Must-Stream TV: The company is paying Warner Bros. Domestic Television Distribution close to $80 million to keep the show as part of its vast programming library through 2019, an entertainment industry insider familiar with the deal tells Vulture. (Reps for both companies declined to comment on the terms of the deal.) Even for Netflix, that's a lot of money. "Nuts" was the one-word answer a top agent used to describe the payout. Another agent, reflecting on the current state of the showbiz economy and Netflix's run of huge overall deals with talent, wrote in an email that the sum sounded "reasonable to me because WHAT IS FUCKING REASONABLE ANYMORE?????" Still, the $80 million figure actually may not be completely out of step with other deals Netflix has made for desirable TV shows. Another agent with general knowledge of Netflix's spending on network reruns says it's not unusual for the company to drop $10 million per year on a moderately successful series with 100 or so episodes in its library. Given that Friends made 236 episodes over its 10-season run, and was a top-five show in all but its first season, $80 million is not quite as ridiculous as it sounds.
As for its current performance, Netflix famously doesn't release viewing statistics, so there's no way to know for sure how many people watch Friends on the service. But Netflix content chief Ted Sarandos told me last spring the series was very much a hit on the site, and not just among American audiences. "Friends is hugely popular all over the world," he said. And indeed, given the depth of other content Netflix has in its library, it's not a stretch to suggest that the company wouldn't be paying this much for Friends if it weren't one of its most popular titles. Remember: Netflix execs regularly point out that they make programming decisions based on what their subscribers want. Clearly the data is telling Netflix execs Friends is worth the high price tag. Netflix also wasn't the only streaming service interested in making a deal for Friends — Warner Bros. entertained offers from multiple bidders, a person familiar with the situation tells Vulture. When I asked Sarandos about the state of Netflix's Friends licensing agreement earlier this year, he told me it would be "determined by what other buyers are circling it … There will be competitors." Per Recode, the two main bidders were Hulu (quite logically) and Apple (a bit more surprising).
Another detail underscoring the show's value: Netflix's deal with Warner Bros. includes a provision that could result in Friends' streaming on both Netflix and WarnerMedia's upcoming streaming service, which is currently scheduled to launch next fall. It's not unprecedented for Netflix to share rerun rights on a show: CBS Corp.-owned Cheers, for example, can be seen on multiple on-demand services in addition to Netflix. But Cheers doesn't cost very much and isn't anywhere near as high-profile as Friends. That Netflix seems open to a future deal in which it is the non-exclusive home to Friends is telling. (Worth noting: If Friends ends up streaming on the WarnerMedia service, Netflix will almost surely pay a lot less for it.)
… but Netflix will be fine if it loses the show
As much as Netflix would like to hold on to Friends for as long as it can, the show's fate is ultimately out of its hands. AT&T and WarnerMedia will decide whether it makes more sense to share the series with Netflix or to use exclusive rights to the show to drive consumers to sign up for their own new streaming service. That's the inherent risk involved with licensing content from outside suppliers, and a key reason for why Netflix decided years ago to spend aggressively on building up its own library of originals. Netflix knew the media giants selling it shows such as The Office and American Horror Story and, yes, Friends would one day decide to get into the streaming game themselves. And when that day came, Netflix wanted to be prepared.
Last week, Saturday Night Live poked fun at the ridiculous number of new shows and movies Netflix churns out. But the streamer has been purposely making so many different kinds of shows so that its subscription numbers wouldn't suffer when favorite titles eventually disappeared. It's the same thinking that informs Netflix's increasingly quick trigger finger on its own originals: You might post a few angry tweets when Everything Sucks or American Vandal get canceled, but you're probably going to keep your Netflix subscription, because there are three other things you really love on the service. So, yes, Friends could very well end up on Netflix's dreaded list of expiring titles a year or two from now. But if it does, the odds are that very few people will flee the service as a result. And if some do? Well, Netflix will take the tens of millions of dollars it once gave to Warner Bros. and use it to make even more new shows and movies — content that will almost surely result in new folks signing up for Netflix not only in the U.S., but around the world.
The TV industry has seen this play before
While Netflix and streaming are relatively new, the underlying business model for subscription video services has been around for decades. Long before House of Cards arrived, HBO and Showtime shook up the TV world by convincing folks to pay as much as $20 a month for a steady supply of premium content. And in the early years of both networks, that content was primarily blockbuster Hollywood movies. HBO and Showtime spent years outbidding each other for the rights to various film studios' output, shelling out hundreds of millions of dollars to be the first place on TV viewers could see big feature films or classic titles. Eventually, however, the networks realized it made much more sense to control their own destinies and offer consumers things they couldn't find at Blockbuster or on a basic cable channel. About 15 years ago, Showtime dramatically slashed spending for film rights and decided to invest subscriber fees in first-run comedies and dramas. Some critics wondered whether audiences would keep paying for Showtime; the network saw its subscriber base grow by millions.
Netflix has been on a similar trajectory over the past decade. When the company first began its shift from DVDs to streaming, Sarandos and top lieutenant Cindy Holland snatched up as much outside content as they could, be it classic TV shows or feature film libraries. It grabbed DreamWorks Animation family movies from HBO, then stole Disney titles away from their former home at Starz. HBO didn't miss a beat when it lost those family-friendly titles, making up for their absence (in part) by snagging Sesame Street from PBS. And it's probably not a coincidence that in 2012, Starz made its big-budget bet on Outlander right around the same time it found out the Disney movies would be heading to Netflix. Bottom line: Losing access to other company's big content libraries didn't cripple HBO, Showtime, or Starz. History suggests Netflix will do just fine even if it's no longer the place to find your favorite TV shows from other networks.
In the end, WarnerMedia might not want to keep Friends to itself
After all the drama surrounding the show this week, Randall Stephenson, CEO of WarnerMedia parent AT&T, made news again on Tuesday by suggesting that when all was said and done, his company might be fine with sharing the streaming rights to Friends. Speaking at the annual UBS media conference in New York, Stephenson said that while the show is "content that we would definitely want on our platform" — meaning the upcoming WarnerMedia streaming service — it's not at all a given the show will end up there exclusively. "It is obviously very important to Netflix as well," Stephenson said. "Is it necessary to be exclusive to WarnerMedia on their product? No, it's not necessary, it's just important that we have the content."
While Stephenson didn't rule out that Friends could end up being exclusively available on the conglomerate's streaming platform, his cautious tone suggests the company isn't so sure it wants to give up the tens of millions Netflix is willing to pay to keep the show in some form. WarnerMedia also might not want to spend the sums necessary to stream Friends exclusively. Remember: While Warner Bros. TV produced and owns the show, it has to share a not-insignificant portion of its profits from the series with the show's creators and its stars. When series are as popular as Friends was during its initial run on NBC, studios negotiate so-called profit participation agreements, allowing key staff to share in future windfalls associated with the show — like, you know, an $80 million, one-year deal with Netflix. Warner Bros. can't just sell streaming rights to its future sibling streaming platform for $1, even though they're all part of the same company. The new streaming service will have to pay the going market rate for Friends or else risk a so-called "self-dealing" lawsuit from the producers. Given how much Netflix just paid for one season of Friends, WarnerMedia won't be able to get exclusive rights to the show for cheap.
None of this is to suggest the company can't or won't be able to do just that, but legacy media companies such as AT&T and Warner Bros. are notorious for their quarter-to-quarter thinking. They've found themselves playing catch-up with Netflix in no small part because they weren't initially willing (or able) to spend the needed money to adapt to the new streaming universe. And Matthew Ball, a former Amazon Studios exec who now analyzes the industry at Redef.com, worries that that's exactly what WarnerMedia seems to be doing with Friends. In a lengthy Twitter thread Tuesday, he said he was "stunned" by WarnerMedia's decision to renew its Friends deal with Netflix and at the company's apparent hesitancy to reclaim the show for itself. "Despite saying they were committed to winning in [subscription streaming], Big Media wants to have their cake, eat it — and then hope they get a 3rd cake," Ball tweeted.
In their defense, WarnerMedia and AT&T are just getting started on their streaming platform and haven't even worked out all the details of their new service (which, right now, is likely to take the form of three different subscription-based offerings). And unlike Netflix, whose business model allows it to deficit-spend seemingly unlimited sums, Wall Street hasn't shown a willingness to cut old media companies a similar amount of slack when it comes to spending. Turning down tens of millions of dollars just so that one 25-year-old show (albeit a very successful one) is available only on one platform isn't an easy call to make, particularly before the company has streaming data of its own to analyze. Nothing will prevent WarnerMedia from launching its streaming platform with a non-exclusive Friends and then pulling the plug on the Netflix deal a year or two later, once it gets a better feel for the direct-to-consumer space. Plus, the show has already made Warner Bros. billions of dollars over its lifetime, thanks to syndication deals with cable networks, local TV stations, and now Netflix. And because of Netflix, the series has become popular with a whole new generation of viewers. A little caution with such an important show might be warranted. After all, we all know what happens when you rush into a new relationship without thinking things through.