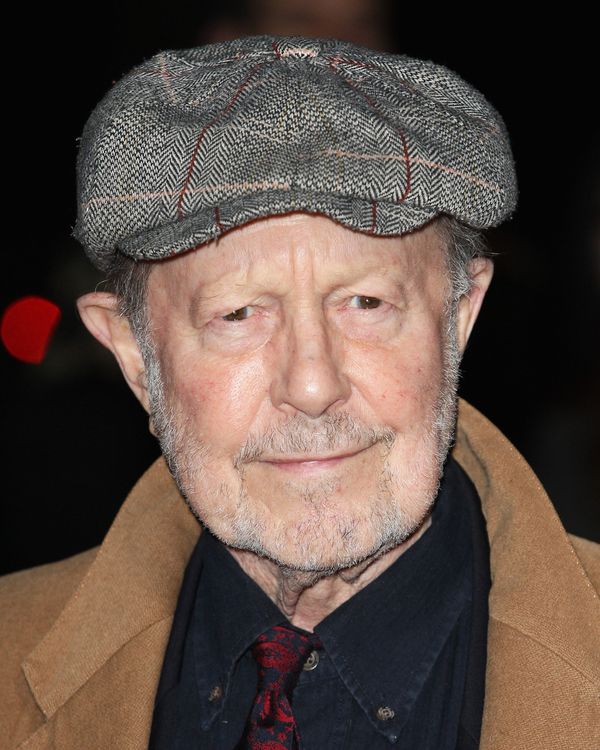 Photo: Mike Marsland/WireImage
On November 23, news broke that British filmmaker Nicolas Roeg had passed away at the age of 90. And while some of his work from the 1990s and 2000s might not have registered for many cinema fans (does Puffball: The Devil's Eyeball ring any bells?), Roeg's work from the 1970s and '80s remain totemic, from the Swinging Sixties mental breakdown, Performance, and the psychological trauma of Don't Look Now to Walkabout's hallucinatory coming-of-age story and the shattered-glass narrative of 1980's Bad Timing. Roeg had a singular eye — his many years as a cinematographer gave him the artistic freedom to deploy ballet-like jump cuts and edit in a manner that mirrors our own disjointed train of thought in his work.
But Roeg also had a musician's ear and sensibility, wedding sound and vision together in such a way that continues to reverberate well into the 21st century. It could be argued that when he plunked a Mick Jagger solo turn into the middle of his notorious co-directorial debut film Performance that he was actually creating one of the earliest music videos. He had a knack for picking effective pop songs and electronic compositions to further the destabilizing effects of his visuals. And Roeg picked up-and-coming musicians who would come to define Hollywood soundtracks in the decades to follow. He even cast rock stars to serve as his leading men, be they Jagger, David Bowie, or the painfully awkward Art Garfunkel. So as Roeg's films get a long-overdue reconsideration, keep an ear attuned for the musical sensibilities at play, too.
"Memo From Turner" from Performance.
Through most of the 1960s, Roeg worked as an in-demand DP and cinematographer, helping to turn the words of Edgar Allen Poe, Thomas Hardy, and Ray Bradbury into arresting visuals and working with everyone from Oscar winner David Lean to B-movie demiurge Roger Corman. But when he teamed with writer Donald Cammell to turn his screenplay into Performance, Roeg's camerawork and co-directing credit reimagined Ingmar Bergman's Persona for the psychedelics-heavy Swinging London scene. Now considered by the British Film Institute to be one of the greatest films of the 20th century, Warner Bros. was reluctant to put the violent and salacious movie in theaters, sitting on it for two years. And when it did emerge, reviews like, "You do not have to be a drug addict, pederast, sadomasochist or nitwit to enjoy Performance, but being one or more of those things would help" soon sunk the film. And while it was released in 1970, it set in amber the deleterious hedonism of the rock lifestyle.
At the film's pivotal moment, wherein sadistic gangster Chas (played by James Fox) and washed-up rocker Turner begin to switch identities, Mick Jagger's first solo effort (and only one until 1985's She's the Boss) comes on the radio and soon takes over the scene. And what a doozy it is. Jagger sneers about a "faggy little leather boy / with a smaller piece of stick" as a roomful of gangsters (inspired by London's real-life Kray twins) turns hallucinatory and homoerotic.
Performance introduced prominent soundtrack composers.
The film also served as the debut for a number of Hollywood soundtrack composers. Foremost among them was Jack Nitzsche. The main architect for Phil Spector's infamous Wall of Sound and confidant for the Stones and an awkward member of Buffalo Springfield named Neil Young, Nitzsche's many talents and tastes remain unheralded. But he was an astute pick for this film, bringing everything from Moog white-noise freak-outs from Beaver & Krause to the Last Poets' "Wake Up, Niggers" to provide extra voltage on the big screen. From there, Nitzsche would continue through the '70s making evocative soundtracks for One Flew Over the Cuckoos Nest, The Exorcist, and Blue Collar, before finally garnering an Oscar for — of all possible things — co-writing "Up Where We Belong."
For the soundtrack, Nitzsche also tapped hotshot session guitarist Ry Cooder to provide stinging bottleneck guitar. Once sideman to Taj Mahal and Captain Beefheart, Cooder embarked on an eclectic solo career for most of the decade. He would then turn to film scores in the 1980s, the most haunting of which would again feature his slide work front and center, providing that evocative, sidewinding sound for Wim Wenders's classic, Paris, Texas.
Oh, it's also the first film to feature Randy Newman.
Last but not least, Performance's opening credits feature soundtrack staple Randy Newman. Newman comes from long line of music-makers, with three uncles and four cousins who've made their way as Hollywood soundtrack composers, and while he co-wrote songs for Bobby Darin beforehand, Performance marked the first time that iconic voice made the big screen. But it's not quite the Randy Newman of Pixar ubiquity we've come to know and love over the years. Instead of his métier of songs about friendship and love, "Gone Dead Train" is a raunchy chugger about the perils of erectile dysfunction, since covered by the likes of Nazareth, Izzy Stradlin, George Thorogood, and Neil Young's side band, Crazy Horse (of which Nitzsche was a member). For a man who has delivered sincere and sweet lines like "We belong together/ You know, it's true/ It's gonna stay this way, forever/ Me and you," it's still unsettling to hear Newman leer lines like: "Shootin' my supply through my demon's eye."
Using Stockhausen for the opening credits of Walkabout.
Performance gave Roeg a co-directing credit, but much like its two characters, one can't always separate out Roeg's contributions to that film. But with 1971's Walkabout, his vision was unmistakable, announcing his arrival as an astonishing director in his own right. You know you're in the grip of a master when the film's opening credits feature the static bursts and piercing ring-modulated noise of Karlheinz Stockhausen's late-'60s opus, Hymnen. The German composer pioneered the use of electronics, a now-ubiquitous presence across the musical spectrum and Hymnen was his most ambitious and audacious work of the era, processing some 40 national anthems from around the world into a sonic-shattering work. Those jarring sounds introduce Walkabout and its theme accentuating the clash between the modern and primitive with ballet-like jump cuts between sun-baked outback and brick walls, ancient trees and office buildings, and chlorinated swimming pools abutting deep blue oceans. But Roeg doesn't just ride on the piece, as he artfully juxtaposes it with the deep, buzzing rumbles of didgeridoo and din of city life. Mashed together, it's hard to tell just which one makes the most jarring and alien noise.
Roeg's casting of rock stars as leading men.
Throughout the decade, Roeg often paired his stunning leading ladies (including the likes of Julie Christie, Candy Clark, and his future wife Theresa Russell) with atypical leading men. Outside of Donald Sutherland's turn in Don't Look Now, Roeg picked Mick Jagger, David Bowie, and Art Garfunkel as his leading men, turning their untrained acting and awkwardness in front of the camera into a strength. Perhaps it's a no-brainer to cast Jagger as a reclusive rock star, especially one able to mesmerize the moment an audience's gaze falls upon him. But it was inspired casting to see that beneath the sleek veneer, the Thin White Duke could easily be an alien. David Bowie's sharp facial features, mismatched eyes, strange mannerisms, and cagey demeanor meant conveying a sense of"'otherness" without much need for makeup for much of the movie.
Yet few leading men look as alien onscreen as Art Garfunkel's psychology professor, Dr. Alex Linden, in the 1980 film Bad Timing. Roeg was drawn to the folk singer and former mathematician, with the stiffness of "a man of the world, of ideas and connections," to parlay that uncomfortableness directly onto celluloid. As Roeg told the Guardian about convincing Garfunkel to take on the role: "We're shooting fragments of scenes; there's nothing to rehearse. We're in a city none of us knows, an empty landscape. I must ask you to trust that I know where I'm going."
The lost soundtrack for The Man Who Fell to Earth.
When thinking of who might play the alien protagonist in Nicolas Roeg's adaptation of Walter Tevis's sci-fi novel The Man Who Fell to Earth, Roeg said he envisioned "someone who was inside society and yet awkward in it." And after seeing David Bowie in the documentary Cracked Actor in his milk-drinking phase, Roeg had found his alien. So David Bowie seemed a natural in his acting debut. Coming in the midst of Bowie's feverishly fast-moving decade (from glam start to Martian, Crowley coke fiend to Berlin anchorite), the film also exerted an influence on his own music, with Roeg's imagery from the film becoming the cover for both 1976's Station to Station and 1977's Low.
But since there was never an official soundtrack for the film, it was long rumored that Bowie had submitted a score that was locked away in a vault somewhere. Signed to star in and compose the soundtrack, Bowie's soundtrack would have fallen between his Young Americans plastic soul and StS's Thin White Duke, meaning that Bowie was well into his Adolf Hitler appreciation phase and his cocaine, milk, and peppers diet. The instrumental passages he did complete (with some assistance from Paul Buckmaster) were a scattered mess, dabbling in everything from country music to electronic music to African mbira, none of it synced to the film. As Buckmaster recalled, "I think [Roeg] just got these disparate pieces and probably said, 'What the hell is this?'"
Hence the Wolf King of L.A.'s soundtrack
With the film's premiere imminent, Roeg turned to the Mamas & Papas' Svengali (and legendary creep and pedophile), John Phillips. The two had met back in the Performance days, and when they reconnected in Malibu, Phillips agreed to take on the film, envisioning a "real American score with banjos and folk and rock." Phillips set about laying down tracks, even recruiting former Stones guitarist Mick Taylor for the sessions (and while Mick Jagger was busy with his wife, Phillips also hooked up with Bianca Jagger).
But much like Bowie himself, Phillips was not immune to the psychotic tendencies of massive cocaine intake. During the final recording sessions for the soundtrack, Phillips kept hearing clicks and noises on the tape, so much so that he went on a tirade and replaced the recording engineer. He also kept withdrawing to the toilet to inhale massive amounts of blow, so much so that it was suspected that he was suffering from auditory hallucinations due to abusing the drug.
What might The Man Who Fell to Earth have felt like with the eerie ambience of late-'70s Bowie sound-tracking the alien's sense of estrangement rather than Phillips's decidedly cornball accompaniment? While film buffs have figured out how to sync Dark Side of the Moon to The Wizard of Oz, no one has yet to sync side two of Low or Heroes to The Man Who Fell to Earth, which would improve the film drastically. Hokey Dixieland ditties, smooth jazz, fiddle hoedowns, and bluegrass pastiche, John Phillips's soundtrack would have fit in well on an episode of Hee Haw, but it just about ruins the sci-fi film. And as to how an assortment of Japanese prog-fusionist Stomu Yamash'ta's jams also wound up padding out the soundtrack has never been answered definitively.
Bad Timing
Roeg had his fair share of artistic squabbles throughout his career, but it was a bitter pill to swallow when your film's distributor deems your latest to be "a sick film made by sick people for sick people." Such was Bad Timing's reception, given an X-rating and having the distributor's name taken off the film while also receiving the People's Choice Award at the Toronto International Film Festival and languishing out of print until Criterion finally released a DVD edition 25 years on. Part of its unavailability came from securing rights for its eclectic soundtrack, as virtuoso as anything Roeg had ever assembled for a film.
Opening with Tom Waits's "Invitation to the Blues" — imparting a gritty sound in juxtapose with the golden paintings of Gustav Klimt — Roeg makes evocative use of Keith Jarrett's The Köln Concert, Billie Holiday, and the Who, using the songs to detail mental states in his characters. "I like it overheard, or in someone's mind," as he put it in the DVD commentary. Maybe the film's most tantalizing (and still unreleased) moment comes from a heartbreaking rendition of Waylon Jennings's "Dreaming My Dreams." Jennings's asking fee for the song's use was exorbitant, so Roeg turned to former Merseybeat (and Beatle contemporary) Billy Kinsley for a spare rendition of the song.
But the film's infamous climax occurs when the music imparts a frightening, estranged energy to the horrific scene. There's Art Garfunkel disrobing to the shrill hypnotic sound of the Master Musicians of Jajouka and then forcing himself upon Russell's unconscious body to the discordance of Harry Partch's Delusion of the Fury. It remains deeply unsettling and unmatched in film.
Jim O'Rourke
Jim O'Rourke was a cinephile from the jump, his very first single name-checking French actor Michel Piccoli. And while he had released a heap of noisy improv solo albums before hooking up with Drag City, O'Rourke struck off on a new path with 1997's Bad Timing. Soon followed albums named for Eureka and Insignificance, each revealing a new aspect of O'Rourke's skills, from songwriting and arranging to singing himself. These albums no doubt helped when he went on to work with the likes of Wilco, Sonic Youth, and Stereolab in the years to come. Even his 2009 suite The Visitor contains another hat tip to Roeg, taking its title from the album that Bowie's character Thomas Jerome Newton cut near the end of The Man Who Fell to Earth.
Introducing Hans Zimmer
Hans Zimmer is now a dominant force in Hollywood, his dramatic sound inescapable and the very template for most major blockbusters. He's now composed for over 150 films and garnered dozens of nominations and awards for the likes of The Dark Knight Rises, Inception, and Interstellar. And yet the German-born composer got his start working with Nicolas Roeg in the '80s. While not always ranked with his greatest films, 1985's Insignificance introduced Zimmer to the Hollywood studios and his touch is there from the start, dreamlike, stirring, evocative. See how he makes the horrific and sublime coexist in this dreamlike sequence from the film.