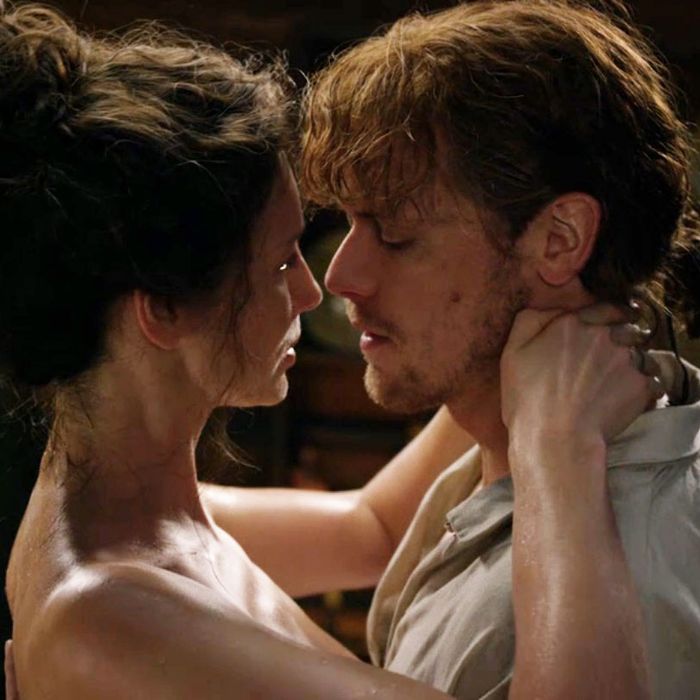 Caitriona Balfe and Sam Heughan in
Outlander
.
Photo: Starz
Back in September, when Caitriona Balfe did a Twitter Q&A to celebrate the fifth anniversary of the day Starz announced that she'd been cast as Outlander's Claire Fraser, a fan asked her to pick her favorite scene she'd filmed for the show's fourth season. She answered with one emoji: the bathtub.
In Sunday's episode, "Blood of My Blood," we finally learn why. The hour finds Claire spending days alone in the cabin with Lord John Grey (David Berry), who'd journeyed to Fraser's Ridge and promptly comes down with the measles. While Jamie takes young William on a tour of the land, Claire nurses John back to health and the two confess their jealousies: She's envious of the time he spent with Jamie after she'd gone back through the stones; he wishes he could have the look of satisfaction she wears being with a man she loves.
After John and William leave, Claire relaxes in a bath as Jamie pours warm water over her back ("So often I've burned for you. This water on your skin, caressing you. It makes me jealous of the rain itself," he says). Eventually, Jamie reveals why he'd given Murtagh one of his mother's candlesticks last episode: He'd asked him to fashion a new wedding ring for Claire, with an inscription that translates to "Give me a thousand kisses," a reference to their special poem.
For Balfe, that scene was especially poignant because it came after those intense yet ultimately uplifting conversations with Lord John. "What I love is that Claire's not insecure about her love for Jamie or Jamie's love for her. These other people may come in, and they may, in some way, claim ownership or whatever that might be, but it doesn't make Claire insecure," Balfe told Vulture. "She may feel pain, or it may not be easy to hear, but it never undermines her belief that they're soulmates to each other. At the end of that, for Jamie to give her this ring, it restated the fact that they're in sync with each other and that no one can really ever come between them again."
Sam Heughan found the scene touching as well. "Those are the moments we see Jamie and Claire really still in love and just enjoying each other's company, and we don't always get to show that," he said. "I think it's important. I think the fans will love those moments. And it's also a time for everyone to breathe and just enjoy watching Jamie and Claire together without them being, you know, attacked or trying to fight some wild animals. It's a really beautiful moment."