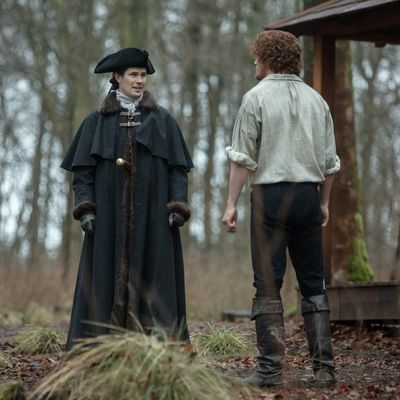 David Berry and Sam Heughan in
Outlander
.
Photo: Mark Mainz/© 2018 Starz Entertainment, LLC
After Claire Fraser and Lord John Grey last came face-to-face in Outlander's third season, actor David Berry felt there was much left unsaid. "There was a sense of being a little short-changed with the exchange between Lord John and Claire, on my end," Berry says. "You can see that there's very rich subtext going on between the two of them, a lot of tension there, and that would've really been nice to play out. But as happens in Outlander, they get picked up and thrown into another adventure and we never get that scene."
Well, until Sunday's episode, "Blood of My Blood," which finds Lord John making a stop at Fraser's Ridge with Jamie's son in tow, while on his way to Virginia to handle his late wife Isobel's estate. John falls victim to a measles outbreak, which gave him plenty of alone time with Claire at the cabin while she nursed him back to health. "It's a conversation that had been years in the making," Berry says. "It was really great to finally get to do that, and to work with Caitriona [Balfe] as well — I've always wanted to have more to do with her. It's just the dream."
There are moments in the episode when you, as Lord John, have tears in your eyes, and yet you're almost smiling. Like when Claire theorizes that John really came to Fraser's Ridge to give himself a chance to see Jamie, not to give Jamie a chance to see William, and John calls her a remarkable woman, more "devastatingly straightforward" than anyone he's ever met. He seems to appreciate that she can surprise him even as she's wounding him.
John is a man of masks. Everyone has secrets in this show, but John has a lot of secrets. A lot of those secrets reveal his vulnerabilities, and he's spent most of his life trying to hide those vulnerabilities behind those masks. The most alarming thing to him about his interaction with Claire is that Claire is just like a laser and can see right through him. Which I think he finds fascinating, but also extremely alarming because he knows she could tear him apart. But, on the same token, John is also a laser himself, and he can unthread people just as well as Claire can. He sees in Claire someone who's his equal.
When Claire tells him it's not by choice that she's this straightforward, she was born that way, John says, "So was I."
He says it to himself, but he says it out loud because there's a part of him that doesn't just want to whisper it to himself. He wants to say it, he wants to scream it in Claire's face. He wants to grab her by the shirt and say, "So was I." Like, You think that your pain is greater than mine? It's not. But I'm gonna sit here quietly and suffer, and that's what I've been doing for all my life — quietly suffering and then shedding a single tear. That's pretty much my life. If he had the courage and conviction to say it louder to Claire in that moment, he would. But he doesn't. And that is the tragedy.
He tells Claire he felt nothing after Isobel's death, so he wanted to visit Jamie to see if he could still feel anything. He says he can still feel shame, at least. How would you describe the shame he's feeling?
Shame is probably the most prevailing emotion that Lord John has. He has shame about his sexuality, shame about his feelings toward Jamie. It's the thing that navigates his take on the world. He's not able to inhabit himself in this world without shame.
The conversation heats up when a feverish Lord John tells Claire how Jamie offered himself in exchange for a commitment to care for William as his own son. But John later regrets it. Why?
Lord John is very good at keeping secrets, he's very discreet, he respects Jamie immensely, and I think he also respects Claire immensely. So it's something that he would never intentionally reveal, but in his fever and his heightened emotional state — he thinks he might be on the brink of death — it just slips out. He thinks he has a way of trumping Claire, which is basically that Jamie offered himself. He thinks if he revealed that, that would really wound her and upset her. I think he feels again those feelings of shame because John, for all of his faults, much like Claire, is a very compassionate person. In the next scene immediately after, he apologizes and he feels terrible about it.
There's a turning point when they start to understand each other. John admits it's difficult to see Claire with Jamie not because he can't have Jamie, but because he'll never have that look of satisfaction he sees on her face. And he describes the pain of being in a relationship knowing you can never give the other person that look of satisfaction — something Claire felt in her later years with Frank. How do you think they reached that point?
Just through this whole shared trauma that they go through, her caring for John and John nearly dying, they share an intimacy. There's no sex scene between Lord John and Claire, but there's a shared intimacy of what they went through that affords them a candidness and candor that was never there before. So they are able to really talk to each other as equals and with truth. As they leave each other, they're two souls that have a deep, mutual understanding, and, funnily enough, a deep love for the same man.
When John and William finally depart for Virginia, Claire tells John that he deserves that same look of satisfaction. Again, there were tears in John's eye but also a smile. It was such a well-earned moment.
He may have heard, "You deserve happiness in your life, love, and so forth," from someone else, but it's always been a lie. But Claire knows Lord John, and she gives him that gift of saying, "You deserve happiness," and she means it in the sense that he deserves happiness with another man. It really has a profound meaning for him because there's truth there.
You mentioned that Lord John and Jamie exchanged letters. Did you imagine what they had written?
Actually, before filming, I wrote a letter to Sam as Lord John. You have to ask him if he wants to read it. It was saying the things I think Lord John would say to Jamie about Willie, what's been going on in his life, just stuff like that. It's definitely a reality I tried to inject into the performance, so that when you first see Lord John and Jamie, there isn't a sense of, Oh, fuck, what are you doing here? It's like, Oh! You're here! We've had all these letters and history; it's not just a slap in the face.
What do you imagine John's life was like with Isobel?
We have so many different versions of ourselves. It's so rare and special when you find the person who you feel you can be your most authentic self with. But a lot of the time, we end up in relationships where we don't feel that way, or the connection isn't as true and authentic as we wish it could be. I think for Lord John, his expectation is not to find anyone to share that true and authentic connection with because he's a gay man, and his expectation of the time is, he will marry someone and probably never love. But Claire gives him that permission, that blessing: You are deserving, even in your time, of having that true and authentic connection with someone. I don't think his relationship with Isobel was a sad one, only one that wasn't as amazing as it could have been had he been able to connect with the perfect person. Not all of us can have the perfect relationship like Jamie and Claire. Let's not forget she had to travel through time to be with the perfect man. [Laughs.] Isobel's a woman in the 18th century who had very limited expectations as well. But I think that relationship was special and dear, all the same.
We also got to see Lord John reunite with Murtagh at Fraser's Ridge. At dinner, they got into it over the royal governor's taxes and the Regulators. How fun was that tension to play with Duncan Lacroix and his eyebrows?
[Laughs.] His eyebrows? Do they get a credit?
They should.
If they get a credit, I hope my eyebrows get a credit as well. It was actually a hysterical day on set because, as most times are when you're filming things with multiple people in a scene, they take hours to film, and that particular scene just went on and on and on. We were all losing our minds by the end of it. So that's the naked truth of it, but in earnestness, it was really great to play that really awkward dinner scene. You've all had Thanksgiving there. No one wants there to be a blowup through dinner. [Laughs.] But inevitably, if you get a few different people there, and maybe a bit of alcohol — we were drinking grape juice on the day — there's gonna be a blowup at some point. I loved how Duncan played that scene.