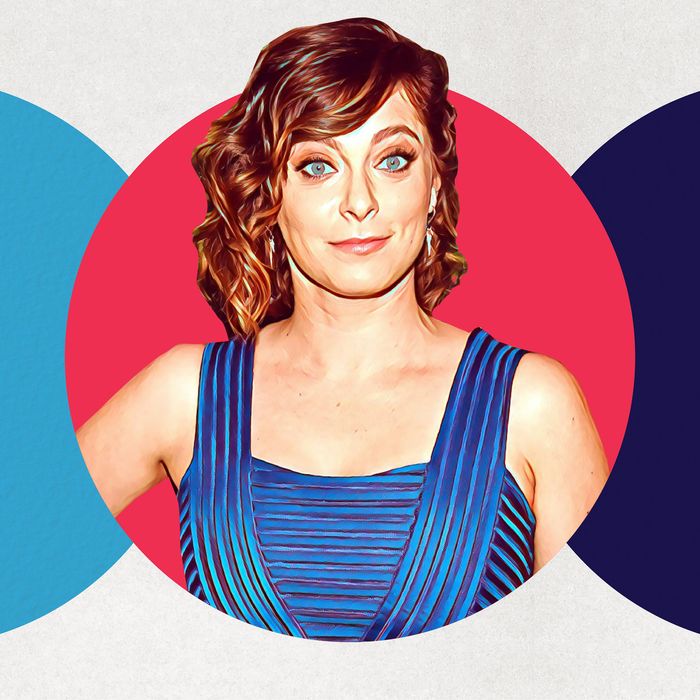 Rachel Bloom
Photo: Vulture/Getty Images
Rachel Bloom seems so natural in her role on Crazy Ex-Girlfriend, both on camera and behind it, that it's hard to imagine that there was a time when she wasn't combining her musical-theater and sketch backgrounds. But … there was. For all of NYU, there was a bit of a church-and-state separation between the work Bloom was doing studying musical performance and what she was doing in sketch comedy. Enter the Monstars, all roided up on the essences of NBA legends and Shawn Bradley.
It all began with this song.
"Space Jam" was Bloom's musical-comedy big bang, starting her on a track to "Fuck Me, Ray Bradbury," the viral video that put her on the map, and eventually to Crazy Ex-Girlfriend. And it is the subject of this week's episode of Good One, Vulture Comedy's podcast about jokes and the people who tell them. Listen to the episode and read a short excerpt of the discussion below. Tune in to Good One every Monday on Apple Podcasts, Spotify, or wherever you get your podcasts.
What was your relationship to Space Jam growing up?
Space Jam was one of the first albums that I owned. In elementary school, at our first talent show, we did a group dance to the song "Space Jam." My whole life, I had imaginary friends. And a lot of my imaginary friends were characters who were animated. I had a very, very elaborate fake marriage in my head in third grade with Bonkers D. Bobcat, the star of the TV show Bonkers. So, anything that involved live-action people interacting with cartoons, be it Who Framed Roger Rabbit or Space Jam, where it was like my imaginary friends come to life, it was my world come to life. Also, at the time that Space Jam came out, I had a huge crush on a boy who loved basketball, so I wanted to love basketball, too. So, it was this perfect storm. Also, Space Jam is a very weird movie. It's a patchy movie. It's inconsistent. Some parts are amazing; some parts are like, "What the fuck?" It's just like a crazy movie.
Beyond the song, Space Jam was also in your SNL audition?
It was my go-to non sequitur. It's become a cheap thing of like, "What's a weird movie that people remember and they're like, Oh my God that weird movie, I haven't seen it in a while." Because I like random specifics of stuff that you kind of remember. It was very, very primal.
Obviously, Space Jam was a reference point for you, but what got you to actually writing the song about it, considering that to that point you hadn't combined your musical-theater background and your sketch training?
Originally, I wanted to be a sketch comedian, and I didn't really want to audition for musical theater. I just wanted to be known for sketch, so I had a show go up at UCB shortly after I graduated that I'd written with some friends. They passed on the show, and I was like, Okay, from now on, I want to write something alone, so that if I get rejected, at least I know it was me being rejected. So, I started writing another show, and it was in the structure of the musical A Chorus Line. It was literally just gonna be sketches that illustrated different people coming forward in the show, like they do in A Chorus Line, to tell their stories. And finally I thought, Okay, well this is a sketch show from a musical, I have to eventually do a song. I'd written a couple songs before. I took a summer program with a graduate musical-theater writing program, and I was like, Oh, well, maybe I can write a song that is funny in the way sketches are. I hadn't really done that before. And I thought, Okay, well, what's a good sketch premise? Oh, someone in A Chorus Line finally singing after 30 minutes of watching a nonsense show, and they just sing about the movie Space Jam.
How was it then to perform a song, this song, in a sketch context?
I did it at the first show I had at UCB called Sing Out Louise, which was the title of a show within the show. It was a cable-access show hosted by two hosts. Kind of like a Taxi TV feel. The musical sketches were "Let's see what is on Broadway this year." Everything was in the context of "Let's see what's on Broadway." Like, "This was a new version of A Chorus Line with a cut song." But, what happened was, I played "Space Jam" for my boyfriend — now husband — and he was like, "This is your show. The sketch stuff, everyone else is doing. No one is doing this." Then, I took some time, and I was like, "You're kind of right." I thought, What if I did an all-musical sketch show?