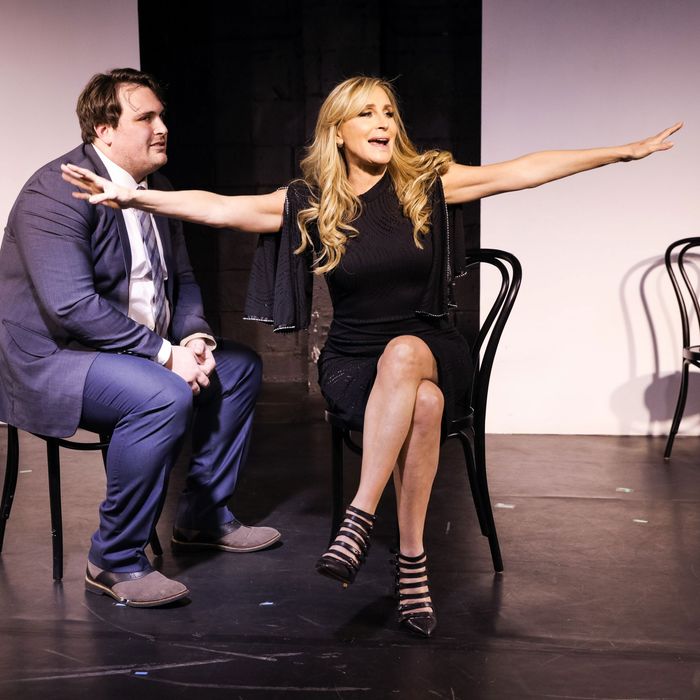 Trevor Livingston and Sonja Morgan.
Photo: Thomas Concordia/Courtesy of Improv Asylum
What isn't Sonja Morgan? She is a longtime cast member of The Real Housewives of New York City. She is the former wife of J. Pierpont Morgan's great-grandson. She is an international fashion lifestyle brand. She is a gourmet toaster-oven chef. She is a caburlesque performer, as well as an alumna of Off Broadway's Sex Tips for Straight Women From a Gay Man. She was, at least at one time, the Upper East Side's foremost employer of unpaid, in-townhouse interns. She is, possibly at this very moment, wearing a tiara as she watches TV in bed, or standing right behind you because you chanted, "Smoky eye, updo, Gstaad!" three times into your bathroom mirror.
As of last Friday, Sonja Morgan is something new: an improv comic. What is improv, but the sublimation of shame, the lack of embarrassment as an art form? And if not for that, then what have the Bravo paychecks been for?
The Boston-based improv and sketch-comedy theater Improv Asylum tapped Sonja as the celebrity guest host for the VIP opening night of its New York City location. "Sonja has been very vocal about her affinity for comedy and the arts so she was an obvious choice," a spokesperson for Improv Asylum wrote in an email. "We reached out to her and she was totally up for having some fun and putting herself out there in a new and daring way."
No one could ever accuse Sonja Morgan of not putting herself out there. Specifically, half an hour before the Improv Asylum show was scheduled to begin, she had already put herself into a front-row seat. There, the three-time winner for best comedic performance at the Real Housewives Awards played with her phone, batted her long false lashes, and danced to Fitz and the Tantrums for the benefit of somebody's camera. As always, she looked like she was having a great time. Sonja wore strappy heels and a lacy black dress with bell sleeves that, she would later announce with a twirl, was "Sonja Morgan New Yoooooork."
In a faint echo of Tipsy Girl versus Skinnygirl, Improv Asylum has taken over the same subterranean Chelsea theater that was for many years home to the UCB. The crowd at the opening night were mostly in their 20s and 30s, with two notable exceptions. The reserved seats beside Sonja remained unoccupied until just before showtime when, I swear on my own unfertilized eggs, I sensed the presence of Tinsley Mortimer's exact shade of icy blonde the moment before she entered the room. Her Royal Highness Ramona Singer soon followed, and the Improv Asylum–branded step and repeat languishing by the venue's entrance finally got some use. Though the show was set to begin "promptly" at 7:30, come 7:40, the only people on the stage were several photographers for whom Sonja, Ramona, and Tinsley were expertly posing.
I mean no disrespect to Improv Asylum's very competent ensemble when I tell you that being seated directly opposite three Housewives could sometimes make it hard to pay attention to much else. Tins, to her credit, proved to be a generous laugher. Ramona — whose friendship with Sonja appeared to be back in cuddly, BFF shape — spent most of the first scene look down at her phone, but absolutely lost her mind when someone said "vodka" in a kooky voice. The evening even got its own Jovani moment, when, mid-unrelated scene, Sonja shouted, "Ramona blue! Ramona blue!" about the color of actress Dana Shulman's jumpsuit.
Finally, half an hour into the show, troupe member Trevor Livingston summoned Sonja to the stage — to riotous applause — for an interview. "How are you?" he asked. "Commando," she answered, and promptly announced she'd already had four "Sonja cocktails" (mint, lemon, soda water, a generous pour of Blue Raspberry Svedka) at the theater bar.
It was a little like witnessing an unedited confessional in real life. The audience learned that Sonja recently burned her hand cooking for her Tuesday/Thursday intern, a musical theater actor with "zero body fat." Her charities are "artists and children and animals and LGBT." She's currently filming season 10 of RHONY. "No, it's 11, Sonja!" Ramona called out from her seat.
Sonja's stream-of-consciousness was punctuated by characteristic Mae West via Grey Gardens one-liners and aggressive flirting — this is, after all, a woman whose unabashed, legendary horniness once cost her a tooth. What time does she wake up? "When I have to." What's her daughter like? "A scholar, but she also happens to be gorgeous." What does she do for fun? "Well, I normally am banging the shit of guys." Sometimes, her answers did not necessarily have much to do with questions she'd been asked, as when "Who's the first person you see in the morning?" led to Sonja's describing her preference for muumuus. "That's a caftan," she explained.
The troupe used all this as the basis for a series of improv scenes starring a fictionalized version of Sonja, played by Vicki Hanes. "I have a muumuu on, but that's it!" Improv Sonja trilled, and Real Sonja nearly fell out of her chair with delight.
After a brief intermission, although not so brief as to preclude the possible consumption of additional Sonja cocktails, the guest of honor was called upon once more. "This is why we're here," the woman sitting next to me said aloud, to no one in particular. The troupe wanted to do an improv scene with Sonja, Livingston explained. "Did we do improv before?" she asked.
Before anything resembling improv could begin, Sonja wrapped one of the actors up in her arms. "I want him to live with me. I wanna support you," she said. "Fake it till you make it!" she shouted encouragingly at Shulman, the cast member in Ramona blue. "Is my hair still in?" she asked the crowd, explaining, "I went to the bathroom with Tinsley and my hair was falling out."
For the purposes of this scene, the actors could select pieces of paper with audience-written lines and read them aloud at any time. It was decided that the setting would be a bathroom line. From there, pandemonium ensued. Sonja addressed the performers as if they were still characters they'd played earlier in the show, deftly resisting their gentle attempts to guide her to a narrative.
"Well, Luann really has to go to the bathroom all the time — I said I wouldn't talk about the Housewives! Okay, ready," Sonja chirped. She studied one line card with disbelief: "Who wrote this?" she yelled.
Calling it "improv" might be a stretch, but whatever it was, it was genuinely hilarious. Sonja did not, for a moment, give any indication that she was playing a character other than herself. That would have only been messing with perfection.