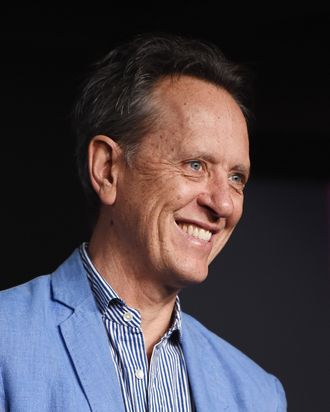 Richard E. Grant.
Photo: Amanda Edwards/Getty Images
Richard E. Grant scored his first Golden Globe nomination Thursday morning for Can You Ever Forgive Me? As Jack Hock, he becomes the convivial companion to Melissa McCarthy's lonesome forger. The two zip around New York's bookstores and rare bookshops out to spread some of Lee Israel's forgeries of author letters. It's a winning, energetic performance: Lee isn't exactly won over by Jack's rambunctiousness, but he's awfully hard to leave.
The Globe nomination is the latest laud for Grant's performance: Next month, he'll pick up his New York Film Critics Circle Award for Best Supporting Actor. Last week at the Gotham awards, Vulture heard that he was an avid awards-season watcher. Is the rumor true? "Well, I've been an actor for so long and a moviegoer ever since I can remember, because the country that I grew up in didn't have television. The movies are something that I've been obsessed with and I've subscribed to movie magazines all my life, since I was a child," he said. "So, knowing what happens at the awards is always kind of a gamble on a horse race. It's always interesting predicting who's going to make it and who isn't. I just never imagined that I might be part of that one day." He talked to Vulture about Can You Ever Forgive Me? and filming scenes in the iconic gay bar Julius'.
Congratulations! This is a big morning for you.
Thank you. Unbelievable. I'm absolutely astonished. I'm levitating! I never thought anything like this would happen in my life. I'm absolutely amazed. I cannot hide it.
You've had a good awards season so far, right?
Yes. It's the first time I've ever been in the season, if you like, but I never thought this would happen.
Tell me more about how you're feeling right now. How did you hear about it?
I'm in the Cotswolds in the countryside in England. I was having lunch with my wife and got a call from my agent in London. It was quite a noisy restaurant, so I just heard her shouting and people in her office shouting "congratulations" at the same time. I was discombobulated, I didn't know what was going on. And then they said, "Oh, you've been nominated for a Golden Globe." My phone has not stopped pinging and messaging and tweeting and Instagramming since that call. It's been an avalanche of good news, for which I'm very grateful and astonished.
I loved your performance in Can You Ever Forgive Me? Can you tell me about finding the Jack character?
There was very little in the memoir that Lee Israel wrote, but Nicole Holofcener and Jeff Whitty's script and Marielle Heller's direction made it very, very clear. They filled in lots of the background of him. In the beginning he's dying of AIDS, so that meant that all the scenes and the joie de vivre that he brought to trying to live his life in the day, for the day, on the day, was always undercut by the sense that, for him, it might be his last.
I think it's a good thing that you only find out at the end that that's what's happening to him, so you don't judge somebody. I have a friend who died recently who made a point of not telling anybody, so that he didn't become stigmatized by all of his, you know, as somebody who's dying. So I thought that was a good handle or key into how to play Jack.
Jack and Lee have this funny, oddball chemistry. They feel like an odd couple.
Yes. They are, exactly. I drew great inspiration from the '70s movie Midnight Cowboy, with Jon Voight and Dustin Hoffman that had this … they're two people from the wrong side of the tracks who form this platonic, co-dependent relationship and are nearly destitute in one of the richest cities and densely populated places on the planet. The friendships that form in that circumstance, where it's not the glossy version of Manhattan. That made it interesting and gave it great texture. You go through all the stages of the friendship from the loyalty to the final betrayal and then the reconciliation, which is very poignant because they both know that he's dying but they don't actually talk about it in so many words.
I also loved that the reconciliation scene happened in Julius'. It's one of my favorite places in New York.
Yeah. And the oldest gay bar in New York, too. That was very generous of them to allow us to shoot there, considering these two people are not the most morally upright, clean-living people. The fact that no judgment on that, fair dues to them for allowing it to shoot there.
I felt like these two wouldn't be at Stonewall, or somewhere that felt more trendy. Julius' was like the perfect place.
Yeah. I absolutely agree.