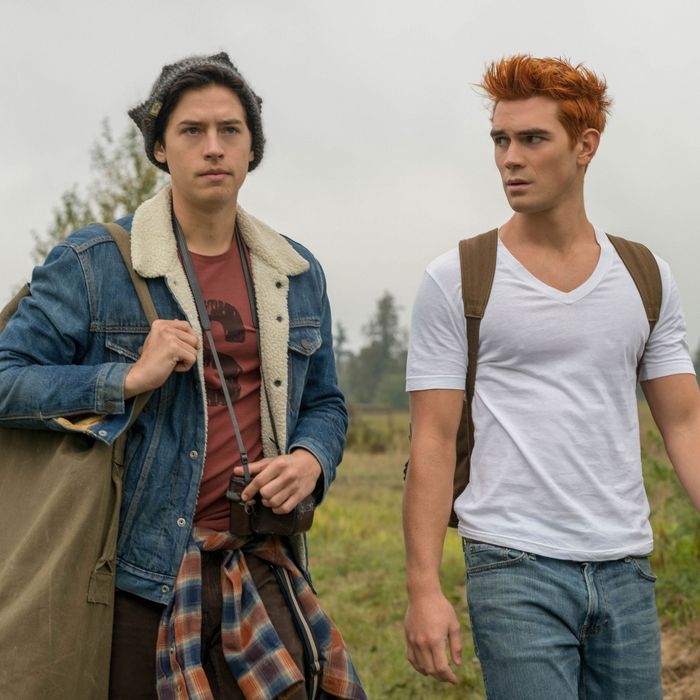 Photo: Cate Cameron/THE CW
Archie and Jughead are very much on the lam, though Mr. AP Studio Art still insists on pausing to snap moody photographs of trains and shit. That Archie hasn't actually become a murderer over the course of the last few days is a credit to him. In need of shelter for the night, they head towards a spooky farm, where the boys introduce themselves as Cal and Biff from Centerville — sure — to Laurie Lake (played by Riley Keough, who literally tweeted her way into a part on Riverdale, blessed are we) and her rifle-toting little sister.
Despite the fact that it appears to be 48 degrees and misty outside, they all dine alfresco on mystery stew. Laurie explains that the men in town — including their father and brother — are all "at a job down the river." She invites them to sleep in the barn, which proves to be very Schrute Farms Irrigation Room chic, in exchange for some help with the farm work.
The next morning, Archie shirtlessly (you are usually safe to append "shirtlessly" between Archie's name and most verbs) throws some bales of hay around. Jughead heads into near-empty town with his cah-mah-rah, admiring rusty vintage cars, an old lady with a you-can't-get-there-from-here accent sitting stoically in front of abandoned gas station, plus runes and Gargoyle King-themed graffiti. Instagram gold.
A trio of long-haired Manson girls are playing G&G and snacking on fizzle rocks in the bed of a nearby pickup truck. One of them, let's call her Squeaky, conveniently informs Jughead that the "job" all the men are working on is a prison. And, Squeaky even more conveniently adds, the prison is also a fizzle-rocks drug lab. The whole thing — the whole town — is run by "the man in black." Whomstsoever could he be?
Back at the farm, Laurie sensually shaves Archie with a straight razor in the barn. (Again: Someone's very specific flavor of porn.) She straddles him and they make out, the blade just a few inches from his neck (very specific.) But he rebuffs her, on the grounds that he still loves Veronica, and for good measure filling Laurie in on exactly where he's from, his real identity, and also the full name of his sort-of ex-girlfriend's evil father. Cool! Laurie feeds him eggs and then knocks him unconscious with the skillet she cooked them in. (Do you think it's a Lodge? That's one for my fellow cast-iron heads. Keep seasoning, you crazy kids.)
Jughead returns just in time to see Hiram arrive at the farm, having promised Laurie that delivering Archie to him would erase the "debt" owed by her family members. Juggie manages to get to the barn first and free a tied-up Archie, but his best friend is, as usual, a dowsing rod for the worst possible plan, lobbying for them to stay, pretend he's still restrained, and then kill Hiram with a pitchfork or whatever, despite all the guns that everyone (apart from them) seems to have. Fortunately, Jughead manages to talk Archie down from the precipice of murder, and they take off running. Next stop: Mama Jughead's place.
In protest over the mysterious disappearance of Sheriff Manetta, in addition to her running list of approximately 4,000 parental grievances, Veronica packs up and leaves the Pembroke to crash on a couch at Le Bonne Nuit (though not without her customary silk teddy and eye mask). Reggie suggests a "side hustle" to supplement their middling $5 mocktail trade. Ronnie knows exactly who to turn to: Elio's Pizza. He'll set up Veronica — who's taken out a second mortgage on Pop's — with games and high rollers for a one-night-only casino at the speakeasy, for 25 percent of the profits.
But what if the house doesn't win after all? When casino night rolls around, Elio can't lose. It's almost like the enterprising scion of a crime family renowned for its immoral behaviors is — don't say, don't even think it — cheating. Unfazed, Veronica takes a seat at the blackjack table herself and proposes a single winner-takes-all hand, with the deed to Pop's hanging in the balance. Elio's dealt 20; she boldly hits on 19 and gets a 2. Twenty-one! It's a Christmas-slash-Thanksgiving-slash-Martin Luther King Jr. Day-slash-holiday appropriate for whatever season it's supposed to be on Riverdale miracle!
As Veronica will explain to Reggie, the plaid-tuxedo-pants-wearing Nicky to her Ace (you already know who Ginger is), her father warned her of Elio's intentions in advance, and even suggested she hire a confederate to serve as dealer to make sure the right cards would come her way. Gee, Veronica wonders, what if Hiram isn't so bad after all? Just kidding! Sheriff Manetta's corpse has been discovered, minus his hands and head.
Betty, cloistered against her will in the Sisters of Mercy, does her best to conceal her real, fucked-up reactions to the inkblots Sister Woodhouse shows her with more upbeat interpretations. That's not a dead body — it's a toy! Why, that Black Hood-looking blob sure reminds me of a butterfly!
She's served a clinical paper cup full of fizzle rocks, which she promptly dumps in her trash can — just as her new roommate, Ethel Muggs, strolls in toting a gargoyle-themed vision, excuse me, "warrior board." I am happy to report that Ethel is thriving in an institutional environment, the one-woman Plastics (Plastic singular, I guess) of the Sisters of Mercy. She's been kicking it with the Gargoyle King himself, if Betty must know, a privilege reserved for nobodies like her only if they "misbehave."
All this weirdness grows weirder still when Betty spots both Uncle Father Claudius Blossom and Hiram "Here Comes the Man in Black He Won't Let You Remember" Lodge, whose calendar of nefarious deeds is busy this week, arriving to do business with the nuns. In terms of its plotting, season three increasingly reminds me of one of those novelty Bloody Marys that comes garnished with celery, olives, three gherkins, half a dozen tater tots, and an entire bacon cheeseburger.
Betty locates what is almost certainly the Gargoyle King's chamber, unless there are multiple secret locked rooms with crypto-religious décor and screaming girls trapped inside (then again, this is the Sisters of Mercy). She's eager to flip through the medical archives and figure out exactly why sugary meth crystals are being inflicted on vulnerable young brains, but she'll have to get into the infirmary first. And so she starts a very public, very fake fight with Ethel over her supposed jealousy over her smooch with Jughead. "Ethelhead?" Betty asks pityingly of their "ship," then fakes a seizure. (Couldn't she have faked a seizure without the fight? I don't think arguing over boys is a medical prerequisite for having a seizure.) In the infirmary, she finds her own file and discovers that an increase in her morning doses of "bullio lapis" (Latin for, roughly, "bubbling stone" — kiss me, Riverdale, you lovable dork) has been personally ordered by "HL."
This seems like as good a time as any to get the fuck out of here, so Betty heads for the dank basement to find the escape route that Veronica and Toni previously used to break out Cheryl. But lo and behold, the former door to freedom has been walled off. That's precisely where Ethel, Sister Woodhouse, and some burly orderlies find her, and where they waste no time in shoving a dose of fizzle rocks down her throat. This time, it's Betty's turn to be locked away in the Gargoyle King's chamber.
We rejoin Randle Patrick McBetty in another Rorschach session. This time, she's far too out of it not to speak her inkblot truth to a very pleased Sister Woodhouse: dead body. Black Hood. Gargoyle King.