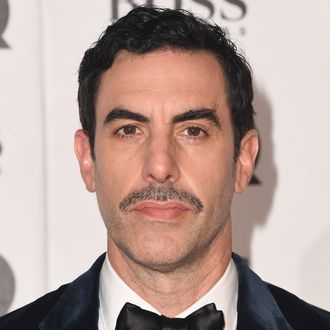 Photo: Stuart C. Wilson/Getty Images
Perhaps the show of the summer, whether you want to admit it or not, was Sacha Baron Cohen's Who Is America?, which successfully duped a variety of political figures into doing some truly stupid things. (And duping some regular folks into doing some pretty endearing things, too.) While the spectrum of controversy varied throughout the show's seven episodes, Cohen's many characters managed to cajole most of his subjects into engaging in some shocking behavior, but for all those O.J. Simpson hangs and liberal assassinations, there was one segment that even Cohen refused to air for being far too grim. As he recalled in a new Deadline interview, Cohen interviewed a Las Vegas concierge as his Gio Monaldo character, and the conversation took a 180 turn that was less humorous and more litigious. Take a deep breath:
We were shooting some of this at the time of Harvey Weinstein. We wanted to investigate how does someone like Harvey Weinstein gets away with doing what … get away with criminality, essentially. And the network that surrounds him. During the interview, I revealed that basically Gio has molested an eight-year-old boy. Now, mind you, this is extreme comedy and we thought that the guy would leave the room. Instead, this concierge stays in the room and I go, listen, you've got to help me get rid of the problem. And this guy starts advising Gio how to get rid of this issue. We even at one point talk about murdering the boy, and the concierge is just saying, 'well, listen, I'm really sorry. In this country, we can't just drown the boy. This is America we don't do that.' And then, in the end, he puts me in touch with a lawyer who can silence the boy. I became really dark stuff.
And if you thought that was bad, just keep on reading for what Cohen deemed as "too dark and wrong" to put on television:
And then at the end of the interview I say, listen, I want to go out and celebrate now. Can you get me a date for tonight? He says, 'what do you mean, a date?' I go, you know, like a young man. He says, 'well, what kind of age?' I say, lower than Bar Mitzvah but older than eight. And he says, 'yeah, I can put you in touch with somebody who can get you some boys like that.'
Cohen said his Who Is America? team "immediately turned over the footage to the FBI" in the event there was, indeed, a pedophile ring operating out of Las Vegas for wealthy clients. "This concierge had said that he'd worked for politicians and various billionaires," he added. "But in the end the FBI decided not to pursue it." Cohen would later earn a Golden Globe nomination for his acting work on the show.