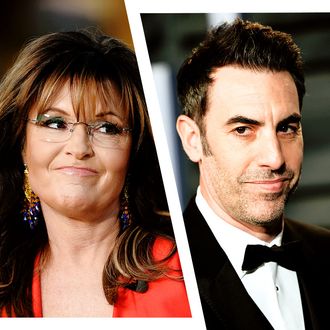 Sarah Palin and Sacha Baron Cohen.
Photo: Getty Images
Sacha Baron Cohen scored a Golden Globe nomination this morning for Best Performance by an Actor in a Television Series, Musical, or Comedy, for his work on his Showtime series Who Is America? To celebrate, he's inviting the woman officially credited on the series as his "Special Publicity Consultant (Inadvertent)" to accompany him at the ceremony. Following his nomination, Baron Cohen released a statement today, in which he extended an invitation to Sarah Palin to attend the Golden Globes with him as his date:
I appreciate the Hollywood Foreign Press for recognizing me, which luckily is something that none of the guests on the show did. This is such a special honour for me as the HFPA are always among the first to really appreciate my ever evolving humour. I am humbled to be recognised among such a wonderful group of nominees, all of whom I admire. This show was a labour of love for over two years. It is a shame they overlooked the amazing performances by the rest of the cast, particularly Dick Cheney and Roy Moore. Meanwhile Ms Palin, despite being cut from the show, I hope you will accept my invitation to be my date for the ceremony.
The saga between Palin and Baron Cohen erupted online before Who Is America? even premiered and is arguably more entertaining than the show itself. First Palin wrote an angry blog post claiming Baron Cohen posed as a disabled veteran and tricked her into doing an interview, calling his humor "evil, exploitive, sick." Showtime then responded to Palin's comments and defended Baron Cohen, clarifying that the character he played, Billy Wayne Ruddick Jr., Ph.D., was never presented as a veteran. Baron Cohen, meanwhile, responded to Palin in character via Ruddick's Twitter, explaining that he only fought for his country once, "when I shot a Mexican who came onto my property," and demanded an apology from Palin.
Palin's interview with Ruddick never made it into the final cut of the show, which Showtime CEO David Nevins hinted at in August: "All I can say about that is there are several people who have thrown themselves into buses that may not be heading their way."
Palin has not yet responded to Baron Cohen's invitation.