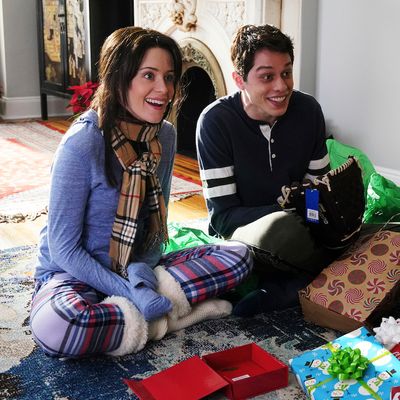 Claire Foy and Pete Davidson in the "Dad Christmas" sketch.
Photo: Steve Molina Contreras/NBC
Though she told Jimmy Fallon that she felt like "a complete imposter" hosting SNL, nevertheless British actor Claire Foy took the reins at 8H for the first time this Saturday night. Foy has steadily built a career with a series of dramatic roles, including a Golden Globe-winning turn as Queen Elizabeth II in the Netflix series The Crown. This year, she saw her star rise even higher with parts that showcased her talent for accents — including spaceman spouse Janet Shearon-Armstrong in First Man and the latest incarnation of Lisbeth Salander in Stieg Larsson offshoot Girl in the Spider's Web. In a night that could really have gone either way, Foy held up her end of things even if she didn't have all that much to do.
1. The War in Words
Somewhere on the battlefields of France, suffering WWI soldier James (Mikey Day) writes missives to his bride (Foy) and hopes for words of comfort. "Dear James," she replies, "Sounds dreadful. Love, Margaret." As he asks for elaboration, he only learns that there's a strange man named Henry living in their house, and that Margaret is on trial for an unnamed crime that she may or may not have committed. Also, Margaret wants to know, "How is World War I going?" This is a funny and well-structured sketch that first appeared on Maya & Marty; this edition is as effective and wily as the first.
2. Dad Christmas
The day after Christmas is now officially "Dad Christmas," at least for two kids (Foy and Pete Davidson) of newly divorced parents (Day and Cecily Strong). This new holiday takes place in a city in Florida far from the beach. Its features include the ceremonial lighting of a cigarette indoors, games such as "What's the Sleeping Situation?" and talking about Jimmy Buffett. Additionally, it's got presents that dad probably should have consulted mom about before he bought them. Yes, living without rules is as terrible as it sounds, but as the Dad Christmas spokeswoman (Aidy Bryant) says, "When you're older, he'll let you do drugs here." This is a smart excavation of circumstances that will be all too familiar to a big chunk of the population.
3. HSN
The hosts of the Home Shopping Network (Foy and Kenan Thompson) bring out longtime HSN fan Tamara Van Burke (Strong) to pitch her Teeny Adorables — ceramic sculptures only as big as a grain of rice. Sadly, she left her entire collection in the Uber and mentioned to the driver they were worth $100,000. Now Tamara can only call herself a "stupid butthole bitch" and fend off the cutting criticisms of her mother (Bryant), who wheels onto the stage unprompted. To make things worse, mom brought her decorative Big Ol' Adorables, which she says are "cute and Christmasy and I didn't forget 'em." The best bit of this is Strong's commitment to tearing her hair out and the bizarro safe-for-TV swears, e.g. "Oh, my dog balls life!"
4. Weekend Update
During the first half of Update, Colin Jost and Michael Che talk about Michael Cohen's testimony, the G20 Summit and Melania's Christmas decorations. After Jost reflects on Putin and MBS's enthusiastic high-five, he says Putin greeted Trump as he always does — "with a violent sack tap." Jost also comes to the First Lady's defense, saying that Christmas decorations are generally tasteless and that if Hillary Clinton had won, Bill would have decked the halls with "100 percent leg lamps." Leslie Jones then comes on to say that, at 51, she is retiring from sex. Nobody wants "an old bitch" who can no longer perform her patented sex move. In the end, Jost convinces Jones her sexual peak is in front of her, and she comes out of retirement. It may not cover a lot of ground, but as usual, Jones sells it.
In the second half, Che says that officials at JFK found a piece of unattended luggage that had 100 pounds of cocaine in it. For reference, he lets everyone see what 100 pounds of cocaine looks like: Steven Tyler. After a few jokes, Beck Bennett comes on as Jules, a guy "Who Sees Things a Little Differently." Rather than talk about the economy or GM plants, he wants to talk about how he lays facedown on a longboard and uses his arms "like fins" to get around. His particular brand of self-regarding irreverence, Jost learns, is due to the fact that Jules has no job because his dad invented OxyContin. This description doesn't quite do it justice, but the character is well observed.
5. Holiday Message
This parody of Mariah Carey's All I Want for Christmas Is You, is the SNL ladies' plea to Robert Mueller. They want "a frickin' ounce of cheer," this holiday season. No, the women don't "need a full impeachment," so long as Don Jr. gets indicted, there's proof that Trump colluded, or even evidence that he killed JonBenet Ramsey. Even during this upbeat tune, the stress of the politics and headlines and tweets proves too much for Cecily Strong. She's apparently taking the maximum amount of anxiety medication she can, but can't help herself from losing it about Ivanka's emails, among other things. There are some great lines here, and undoubtedly viewers who feel exactly the same way these players do.
6. Good Morning Goomah
Mob mistresses Gina Barbarosa (Kate McKinnon) and Sandy Datista (Foy) host their talk show in Sandy's Staten Island apartment. They hate December because they guys tell them "Christmas is for the wives," and instead of real gifts they receive "apartment rings," so named because they can't wear the jewelry outside of their apartments. Screeching wives and impersonal sex mean nothing — just ask Bobby's new goomah (Bryant), who knows her place. Eventually, Sandy's man Tony (Davidson) shows up to complain about orange juice sitting out on the kitchen table before throwing money around and leaving. But as the ladies say, "Wait it out. He's only with her for the kids." The premise is great and there are some great and disturbing details here, though the sketch doesn't really develop its characters.
7. Trump Argentina Cold Open
On a hotel balcony in Argentina, Melania Trump (Strong) comforts a worried Donald (Alec Baldwin). Because Trump can't get the Mueller investigation out of his mind, he calls Michael Cohen (Ben Stiller) for a little solace. Nothing doing. Bat-like Rudy Giuliani (Kate McKinnon) can't help him either. Then Vladimir Putin (Bennett) emerges from the boudoir with Mohammad bin Salman (Fred Armisen) not far behind. Though Putin swears MBS is just a hook-up, it's clear the two share more than just enthusiastic high-fives. Alone again, Trump sings Don't Cry for Me, Argentina, and the rest of his gang joins in to sing, "It's just a witch hunt / And we're all witches." Baldwin himself is either getting over a cold or just exhausted from giving his big Trump cartoon. Despite the big cast of characters and celebrity factor, the satire here feels toothless.
8. Charlie's Grandparents
As AMC re-airs Willy Wonka and the Chocolate Factory, Charlie (Foy) comes home to his mom (McKinnon) and the four grandparents all in one bed. As they're all turning in for the night, Joe and Josephine (Pete Davidson and Heidi Gardner) share a chaste kiss while George and Georgina (Kyle Mooney and Aidy Bryant) find themselves getting a little hot under the covers. Though mom orders Charlie to stir up a pot of cabbage and shirts, and then sings a stilted version of Cheer Up, Charlie, to distract him, there's no escaping the pounding of the progenitors. Actors are delivering lines in the sketch, but most of them are impossible to make out above the slamming of the headboard. The sketch has one note, a note it bangs like a gong. At least the actors are having fun.
9. Netflix Commercial
Netflix wants your eyes. They're producing as many shows as they possibly can. They'll throw money at a pitch about "a girl named Jenny." They'll make a mash-up of The Crown and Saved by the Bell. They'll create a show called Kennymeade Depot that just one faithful viewer watches. They'll do a gritty reboot of Full House, and a series called Leslie Jones in a Van Getting Batteries. As the voice over says, "We've gone crazy!" While there are a couple of good gags in here, the observation isn't an original one and it's been done incisively elsewhere. (See, for instance, Carrie Kemper's piece "Netflix Morning Meeting.")
10. Morning Joe Wedding
During this edition of Morning Joe, Mika Brzezinski (McKinnon) and Joe Scarborough (Alex Moffat) announce that they just got married. Also, apparently, there's news happening somewhere. For much of the time, Mika and Joe discuss their reception and get up in one another's business in a very unsexy way; co-anchor Willie Geist (Day) and Representative Elijah Cummings (Thompson) are forced to look away. Even when Representative-elect Alexandria Ocasio-Cortez (Villaseñor) talks about the new session or BBC's Katty Kay (Foy) breaks in to deliver breaking news about Trump's deals in Russia, they don't get far. The occasion for the sketch is the marriage, but the sketch itself doesn't build or have anything new to offer.
11. Claire Foy Monologue
Foy is happy to be in America, where things are more chaotic than they are in a pre-Brexit Britain. "It's like you're at a party, and you're drunk and you see someone who's much drunker than you are," she says. She also does her best to assuage those afraid of foreigners taking American jobs: Playing Ryan Gosling's wife in First Man, she says, was a job that simply nobody else wanted. She tells a little story about actually meeting the queen and gets the show underway. It's pleasant, but there's little to it.
This episode suffers for a few reasons, but Foy isn't one of them. While she doesn't steal the show, she proves herself a decent supporting player and understands the mechanics of a joke well enough to get some laughs. And as she makes clear in her films, Foy is incredibly adept at accents. The primary issue is the writing, which feels a bit scattered this week. Neither the cold open nor the Update hits. The scope of some sketches feels limited. And some things, like the Morning Joe sketch, can't justify themselves. With two more weeks to go before a holiday break, there's surely a better show ahead. Next up? Aquaman star Jason Momoa.