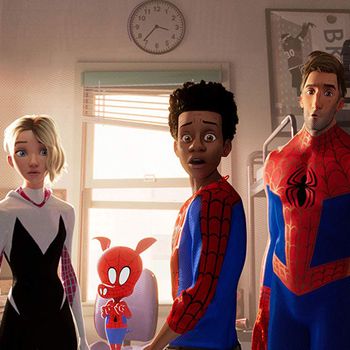 Photo: Sony Pictures Animation/Marvel Entertainment
When Pixar released Toy Story in 1995, it probably didn't realize that it was establishing a visual language for computer-animated feature films that would persist for the next two decades, more or less unchallenged. Innovations in texture and light and moisture rendering have cropped up since, character designs vary. More experimental works get views on Vimeo and occasionally Short Animation Oscars, but rarely perceptively filter their way into big-budget feature fare. There's an overall sensibility and filmic language that we now take for granted as just the way computer animation looks, from The Incredibles to Ice Age.
Of course, the whole point of computer animation is that you can theoretically do anything with it. And it's far from a radical leap, but Spider-Man: Into the Spider-Verse feels like the first major animated film in ages to actively try something stylistically new that didn't involve proprietary Scandinavian building blocks. The film, produced by The Lego Movie's Phil Lord and Christopher Miller, and co-written by Lord, borrow's that film's stop-motion-esque frame rate and shaggy irreverence, and tries for a whole new attempt at translating the experience of reading a comic book to the screen. It's referential to 2-D drawing but still dimensional, a faint texture of crosshatching and Benday dots creeps in the corners and in the nooks and crannies of characters' faces. It's kinetic, often abstract, and relentlessly inventive.
In the wake of the re-rebooted Spider-Man: Homecoming, it also feels like another strong case for the Spider-Man franchise as the most human superhero enterprise in town. Though Spider-Verse's plot involves alternate dimensions and quantum colliders, it maintains the relatively modest, New York–size scale, and is driven by one-on-one confrontations. In this version of the story, Miles Morales (voiced by the boundlessly charismatic Shameik Moore) is a Brooklyn high schooler who is bitten by a genetically altered spider while exploring abandoned subway tunnels with his cool Uncle Aaron (Mahershala Ali). Peter Parker's Spider-Man is already a well-known, long-standing local superhero, but when an interdimensional rift is opened in New York City, and Peter meets his untimely demise, a gaggle of alternate-universe Spider-Beings find themselves sharing a plane of reality alongside newly minted Spider-Man Miles.
These include: Gwen Stacy, a.k.a. Spider-Woman (Hailee Steinfeld); anime schoolgirl Peni Parker (Kimiko Glenn) and her robot spider friend SP//dr; the gritty black-and-white Spider-Noir (Nicolas Cage); and Spider-Ham (John Mulaney), who is a pig. First to arrive, however, is Peter B. Parker (Jake Johnson), a worse-but-not-worst timeline Peter Parker, divorced and depressed and living alone in sweatpants before the space-time rift zapped him. Peter B. reluctantly tries to teach Miles the ropes (webs?) of Spider-Manning as the gang tries to figure out how to get back to their respective dimensions.
All this business, you might think, would drown out the screen debut of Miles, but directors Bob Persichetti, Peter Ramsey, and Rodney Rothman are smart enough to slow down for Miles's getting into the swing of things, while revving up the Spider-People high jinks and letting them ricochet by at a pleasurably disorienting pace. Much like the first Lego Movie, Spider-Verse feels like a bit of a conceptual dare, but it wins with its nano-second sharp timing, and percussive rat-a-tat-tatting of panels and split screens that make the action and visual gags feel jumpy and alive. The final set piece, a kaleidoscope of a Day-Glo quantum storm, is more or less impossible to follow visually, but we like Miles enough at that point, and the film knows we really just want to make sure he's okay. And for the first time in a while for this old comic-book-movie grump, I found myself genuinely hoping he'd be back for another adventure.
Spider-Man: Into the Spider-Verse has been nominated for a 2019 Oscar in Best Animated Feature.