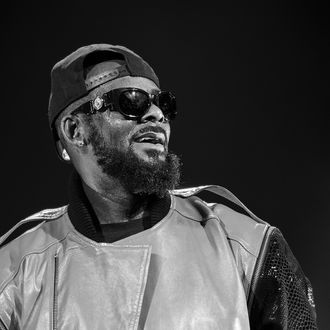 Photo: Mike Pont/Getty Images
According to multiple posts on social media, a private screening of the documentary series Surviving R. Kelly was evacuated on Tuesday night when a threat was called in to NeueHouse Madison Square, in New York City. Tarana Burke, the founder of the #MeToo movement, tweeted "a BOMB THREAT was called in and the event shut down."
The event was attended by prominent activists, including Burke, Jamilah Lemieux, and April Reign. Survivors were also in attendance, including some of the women who recently came forward with allegations against Kelly. Kitti Jones, Jerhonda Pace, Lisa Van Allen, Asante McGee and Lizzette Martinez, parents of survivors, and parents of women and girls who are still living with R. Kelly.
The documentary series, released by Lifetime, follows the various sexual assault allegations and criminal charges R.Kelly has faced over the years, and includes interviews with survivors and detailed the ways in which R. Kelly has allegedly been able to manipulate and control young women for years.
"As a precaution we evacuated. Tonight's all about the safety of everyone, we're not even thinking of what to do next yet," a Lifetime representative told The Hollywood Reporter. According to Lifetime, the call was placed anonymously, but originated from Chicago.
Many of the women at the event on Tuesday evening were part of the movement to #MuteRKelly, which called for the music industry to hold R. Kelly accountable for the multiple crimes and abuses he was accused of. Despite the allegations, the cancellation of several major tour dates, and the removal of his music from Spotify playlists, R. Kelly is still touring and releasing new music.
According to people who attended the event, there were no injuries, though many on at the event pointed out that the emotional effects of the threat for survivors was particularly cruel."There were survivors of R. Kelly in the room," wrote April Reign.
Burke pointed out that the called-in bomb threat wasn't "the worst of it" because "it didn't appear to be credible." The worst, according to her, was that "survivors … had to endure his harassment."