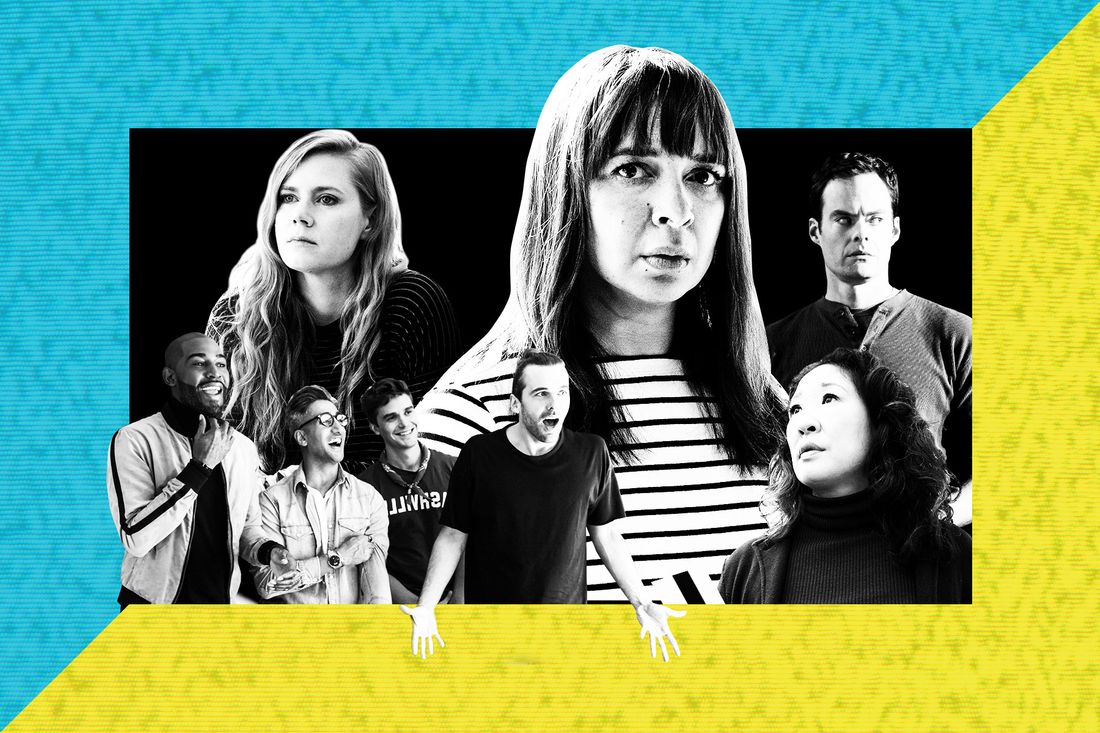 Photo: Maya Robinson/Vulture and Photos by Netflix, HBO, BBC America and Amazon
In strikingly different ways, the best new shows of the past year each offered fresh perspective. They provided windows into worlds that television rarely lets us peer into, like the '80s drag-ball scene or a cult that put down Oregonian roots in that same decade, or told stories using striking visual language that framed a narrative in inventive ways. Even shows that dealt with subject matter that seemed familiar — like stories about hit men or hunting serial killers — transformed it into something brand new.
These are the best new shows of 2018 — the ones that made us see the world through a new pair of eyes.
Ryan Murphy's exploration of ball culture in '80s New York was groundbreaking because of its transgender casting, exciting because of the fierceness the competitors brought to every category, and absorbing because it made us so immediately care about its outcast band of brothers and sisters. Yes, it possessed some flaws, including a somewhat contrived side focus on characters who work for the Trump Organization, and a couple of performances that weren't quite as polished as they could have been. It more than made up for that, though, with one of the most electrifying TV turns of the year from Billy Porter as Pray Tell; impressive acting discoveries in Indya Moore, MJ Rodriguez, and Ryan Jamaal Swain; and an overall sensibility that appropriately managed to be both gritty and sweet.
If you already knew the complicated, bizarre story of what happened when followers of the guru Bhagwan Shree Rajneesh put down roots in rural Oregon in the early '80s, this Netflix docuseries was still pretty fascinating to watch. But if, like me, you didn't remember the details of this American saga, Wild, Wild Country blew your freaking mind. The us-versus-them clash between Antelope, Oregon, locals and residents of Bhagwan's swelling commune gets beyond ugly, leading to a political coup, displays of racial prejudice, a mass poisoning, and murder. Sibling filmmakers Chapman and Maclain Way capture the WTF of it all in restrained fashion, and by revealing the many facets involved in both sides of the story, leaving it up to the audience to judge who's right, who's wrong, or whether it's even possible to make such a blanket proclamation about such a complex series of events.
It seemed like the last thing Americans needed in 2018 was a television series about rich, entitled New Yorkers clawing over one another in an attempt to maintain their grip on power. But Succession proved that assumption wrong. Jesse Armstrong's portrait of the Roy family, led by stubborn patriarch and vaguely Rupert Murdoch–esque media mogul Logan Roy (Brian Cox), was at turns sly, ridiculous, intense and, by the end of season one, tragic. The actors are all superb, but I have to especially give it up for Kieran Culkin, who turned Logan's son Roman Roy into the most deliciously smarmy, lazy douchebro on television. Never change, ya jerk.
Another "this sounds like a bad idea on paper" TV shows that turned into something unexpectedly lovely. The Netflix reboot of the Bravo series could very easily have been a wildly outmoded retread. But by choosing a diverse and instantly appealing new Fab Five and putting them in situations that required them to help men and women who didn't "have much experience with the gays," the new Queer Eye arguably surpassed This Is Us as the Show Most Likely to Make You Weep. By suggesting that perhaps Americans really can bridge their cultural divides and find common ground, it was both the most fulfilling fantasy and most hopeful series of the year.
Maniac is a fantastic head trip about a series of head trips induced in the name of medical science. Emma Stone and Jonah Hill play damaged people who sign up for a pharmaceutical experiment designed to allegedly cure them of all psychological damage. That results in a journey that, in the hands of creator and writer Patrick Somerville and director Cary Joji Fukunaga, is trippy, freakishly funny, and unlike anything else you watched on television this year. Or, for that matter, that you'll watch in 2019.
This HBO series is a whole bunch of things all at once: an action-thriller about a hit man, a satire of Hollywood navel-gazing, a ridiculous comedy of errors that involves kidnappings and Chechen mobsters, and an unexpectedly moving portrait of a veteran who wants to liberate himself from taking orders but cannot, for the life of him, figure out how. This show winds up running much deeper than you might initially expect, and features exceptional performances from series co-creator Bill Hader as well as Henry Winkler at his most hilarious as self-involved acting coach Gene Cousineau.
This adaptation of the scripted podcast by Eli Horowitz and Micah Bloomberg is one of the year's most precisely directed works of television. That's because it was directed by Sam Esmail, the creator of Mr. Robot and a man whose meticulous, '70s conspiracy-thriller sensibilities are a perfect match for this story about a facility that acclimates military veterans to civilian life but may be up to … something else. Starring in her first scripted series, Julia Roberts is consistently convincing as a therapist who's trying to put together the puzzle pieces that will yield a full picture of what her role really is. She's surrounded by equally strong co-stars, including Stephan James, Bobby Cannavale, the ubiquitous Shea Whigham, and Sissy Spacek.
Like Maniac, Forever is a series that keeps taking unexpected left turns, followed by right turns, followed by accelerations straight into outer space. Maya Rudolph and Fred Armisen play a married couple who have gotten used to their routine, something he savors and that she doesn't so much. Then some major life changes — I won't spoil what they are — lead them to reevaluate what they really want from their existence. Like Homecoming, Forever is an Amazon series that runs for a blessed 30 minutes per episode, but packs more imagination, clever twists, and provocative ideas into that time frame than most shows that drag on for an hour. (Or sometimes an hour-plus, especially if you're watching Netflix.) It is weird and surprising in the best way.
This BBC America series from Phoebe Waller-Bridge earned praise for a lot of good reasons: the leading performances by Sandra Oh and Jodie Comer, its masterful building of suspense, the way it drapes its aggressive cat-and-mouse chase in female sexuality. But not enough people talk about how funny this show is. Thanks to Waller-Bridge's wise-cracking sense of humor, which Oh, Comer, and the rest of the cast know exactly how to navigate, Killing Eve makes you laugh just as often as it makes you tense or consumed with figuring out how its plot points will resolve. There have been several good spy/action series during the past year, including the final season of my beloved The Americans and Bodyguard. Killing Eve was the one that most often intentionally put a smile on my face.
The one major disappointment about Sharp Objects being the best new show of 2018 is that it won't — and shouldn't — yield a second season. Still: What a season of television it was. Created by Marti Noxon, adapted from the novel by Gillian Flynn, who wrote or co-wrote several episodes, and directed like a fever dream by Jean-Marc Vallée, Sharp Objects unfolded during the summer months on HBO and felt just right for that humid, hazy season. The characters frequently sweated in the southern Missouri heat on this literary beach read of a series about the manipulative power of memory and the damage that women can do to one another across generations. It trafficked in darkness, for sure. But few shows during the past 12 months were more transfixing than this mesmerizing, disturbing drama.